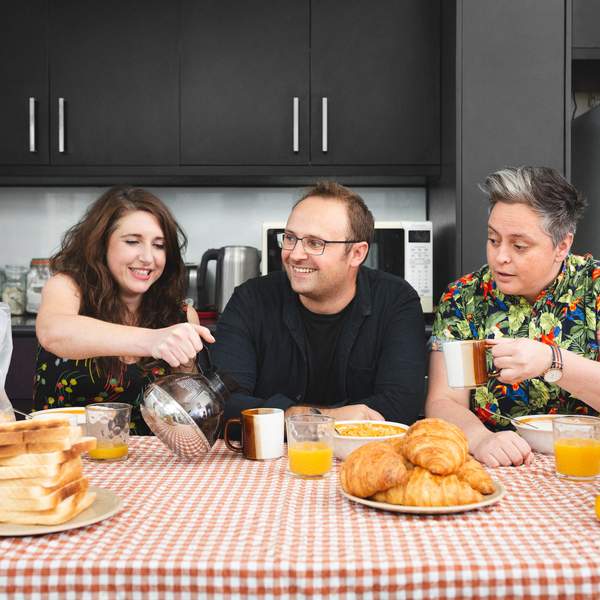 Listen to Breakfasters – 15 October 2020

03:00:00
Joe Ball discusses Switchboard's Rainbow Door service and Dr Jodi Rowley explains the revival of frog activity after the bushfires of last summer.
Playlist for Breakfasters – 15 October 2020
Yabalini (feat. Maälem Hicham Bilali)

Cheb Runner

Good for Some Reason (Spring)

Say Sue Me

Soulful I Need That In My Life

Steve Arrington

Theme for Cecil

Idris Ackamoor & The Pyramids

Love Supremacy

MIKE

L'Imposteur

Lafawndah

Winner

Electric Callas

Kaleidoscope Museum

Sachet

Sailing Swan

Aitis Band

Little Boy

Sault

On

Kelly Lee Owens

Pressure

Blake Scott

To Tell A Picture

Asa Tone

Dissonance

Taves

Sega Move

Mama Odé

Roller Cloud

The Stroppies

I Found Everyone This Way

John Sharkey III

Zine Ezzinet

Nordine Staifi

Upbeat Ritual

Osees

Shoot Through

Sleeper & Snake

Skin Get Bun

G Sudden

Just Foolin'

Gus

Hit

Joanne Robertson

Fibre (Excerpt)

Coby Sey

Like Fire

Jessy Lanza

Thinking of You

Sister Sledge

Mabuhay Boy (Pasta Groove remix)

Vex Ruffin

Pothole Paradise

Aux88
Music, news, sport, weather, information, special guests and regular segments each morning.
Monday to Friday from 6am. We post updates throughout the show (including links to books mentioned etc.) on Facebook and Twitter. You can also email us at breakfasters@rrr.org.au.
---
TEXT US ON:
0466981027
SERVICE MUSIC TO:
music.coordinator@rrr.org.au or breakfasters@rrr.org.au
INTRO TRACK:
Khruangbin - People Everywhere (Still Alive)
Weekly segments
Monday
7:15am
Andrew "Donno" Donninson 'Sports Wrap'
8:15am
Brass Tacks – Various Presenters
Tuesday
7:45am
Elizabeth McCarthy / Fi Wright 'Book Review'
8:15am
Vanessa Toholka 'Tech Talk' / Adam Christou 'Game Changers'
Wednesday
7.15am
Justin "Digga" Calverley 'Down And Dirty' / Michael Harden 'Food Interlude'
Thursday
7:15am
Simone Ubaldi / Hayley Inch 'Film Review'
8.15am
'Feature Creatures' with Sean "The Birdman" Dooley / Entomologist Simon Hinkley / Marine Biologist Ricky-Lee Erickson
Friday
7:45am
'Friday Funny Bugger' with local comedians
---
The podcast intro and outro theme is Soft Illusion and was generously provided by Andras.
https://andras.bandcamp.com/track/soft-illusion