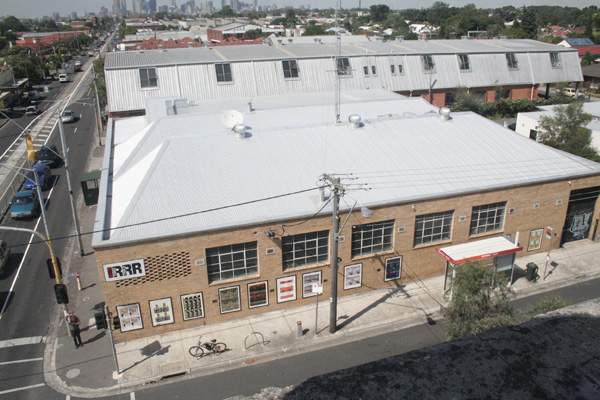 Triple R Broadcasters Ltd
221 Nicholson St (Cnr Nicholson & Blyth)
PO Box 2145
Brunswick East 3057 Melbourne
Australia
Phone: +61 3 9388 1027
Office hours: Monday to Friday 10am - 6pm, Saturday 10am - 4pm
Triple R's offices, studios and performance space are wheelchair accessible. The Triple R Performance Space is wheelchair accessible and can be accessed via a lift located at the front of the building (Nicholson St entrance). Please feel free to contact the station during office hours on +61 3 9388 1027 if you would like to discuss any special requirements.
Triple R is a member of the Community Broadcasting Association of Australia (CBAA)
Any feedback you would like to send us, regarding shows, the station in general can be submitted to feedback@rrr.org.au

Triple R would like to acknowledge the Wurundjeri people of the Kulin nation, the traditional custodians of the land on which we operate today - and pay our respects to their Elders past, present and future, and extend that respect to other Aboriginal and Torres Strait Islander people.


TRIPLE R STAFF

Station Manager
Dave Houchin: station.manager@rrr.org.au
Administration, Accounts & Subscriptions
Administration & Subscriptions
Gemma Helms: admin@rrr.org.au
Accounts
Sarah Barber: accounts@rrr.org.au
Reception
Zoran Ilievski: reception@rrr.org.au
Saturday Reception
Tim Thorpe: timt@rrr.org.au
Programming & Content
Programming & Content Manager
Bec Hornsby: program.manager@rrr.org.au
Music Coordinator
Simon Winkler: music.coordinator@rrr.org.au
Music Interviews & Training Coordinator
Sam Cummins: samc@rrr.org.au
Breakfasters & Talks Producer
Elizabeth McCarthy: talks@rrr.org.au
Talks Producer & Training Coordinator
Dylan Bird: dylanb@rrr.org.au
Content & Communications Coordinator
Mia Timpano: miat@rrr.org.au
Breakfasters
Sarah Smith, Geraldine Hickey & Daniel Burt: breakfasters@rrr.org.au
Projects & Volunteers
Project Manager
Phillipa Overgaard: phillipao@rrr.org.au
Maintenance & Project Coordinator
Brian Driscoll: briand@rrr.org.au
Volunteers Coordinator
Grace Kindellan: gracek@rrr.org.au
The Trip (Subscriber Magazine)

Editor
Mia Timpano: miat@rrr.org.au
Sponsorship & Promotions

Nik Tripp: nikt@rrr.org.au
Lisa Kovacevic: lisak@rrr.org.au
Adam Christou: ac@rrr.org.au
Levi Heeringa: levih@rrr.org.au

Production
Archie Cuthbertson: production@rrr.org.au
Dan Moore: production@rrr.org.au
Matt Wilson: production@rrr.org.au
Technology
Technology Manager
Cameron Paine: sysadmin@rrr.org.au
IT Support
Adam Chamberlin: sysadmin@rrr.org.au
Jack Knight: sysadmin@rrr.org.au
Broadcast Engineer
Bill Runting

Studio Tech
Bryan Bergman