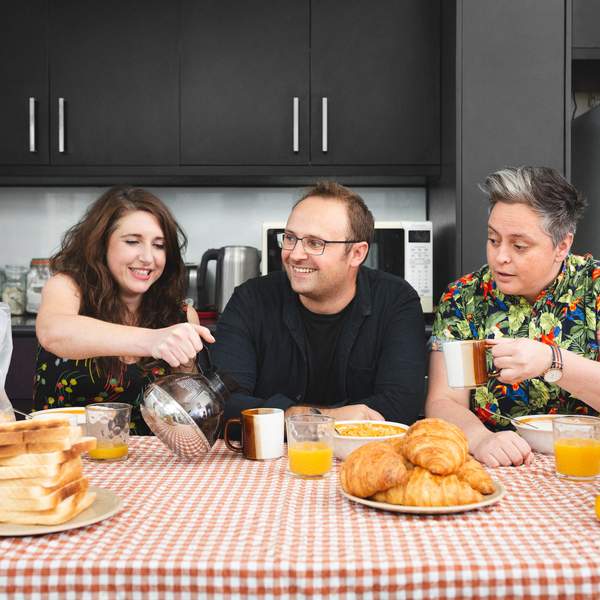 Listen to Breakfasters – 14 October 2020

03:00:00
How have reading habits changed during the pandemic and what goes into a perfect lasagna? The Fakefasters talk to comedian Luka Muller about a double haircut day.
Playlist for Breakfasters – 14 October 2020
Angels and Demons At Play

Sun Ra Arkestra

Everything U Need

Overmono

Chyb (Flats Version)

Low Flung

Susan Says

Bona Dish

If Anyone's Sleepy

Kate NV

Juro Que

Rosalía

Neva (feat. Poison Anna)

Dean Blunt

Rokeby

Sleeper & Snake

When Her (feat. Stas THEE Boss)

Nappy Nina

Taken Away (feat. Amp Fiddler)

Moodymann

Nitsusada (feat. Maria Reis)

Império Pacífico

Continuer

Thibault

Love

Blake Scott

Rewind

Cleo Sol

Tamiditine

Amaria Hamadalher

My Books I Read

Otis Houston Jr.

Blood Cells

Miiesha

Quiero Saber (I Wanna Know)

La Revolución de Emiliano Zapata

Chase the Spirit (feat. Jimetta Rose)

The Koreatown Oddity

This World

Sneaks

3 Segundos

Melenas

Butterfly Finesse (Boogie Mane)

Lala &ce

Spearfish Torpedo

Alien Nosejob

Love Is Yé-Yé (Looking For My Idol)

Fancy Face Groovy Name

NYC Illuminati

Peel Dream Magazine

Ohrwurm Boogie

Mameen 3

Raps

Nídia
Music, news, sport, weather, information, special guests and regular segments each morning.
Monday to Friday from 6am. We post updates throughout the show (including links to books mentioned etc.) on Facebook and Twitter. You can also email us at breakfasters@rrr.org.au.
---
TEXT US ON:
0466981027
SERVICE MUSIC TO:
music.coordinator@rrr.org.au or breakfasters@rrr.org.au
INTRO TRACK:
Khruangbin - People Everywhere (Still Alive)
Weekly segments
Monday
7:15am
Andrew "Donno" Donninson 'Sports Wrap'
8:15am
Brass Tacks – Various Presenters
Tuesday
7:45am
Elizabeth McCarthy / Fi Wright 'Book Review'
8:15am
Vanessa Toholka 'Tech Talk' / Adam Christou 'Game Changers'
Wednesday
7.15am
Justin "Digga" Calverley 'Down And Dirty' / Michael Harden 'Food Interlude'
Thursday
7:15am
Simone Ubaldi / Hayley Inch 'Film Review'
8.15am
'Feature Creatures' with Sean "The Birdman" Dooley / Entomologist Simon Hinkley / Marine Biologist Ricky-Lee Erickson
Friday
7:45am
'Friday Funny Bugger' with local comedians
---
The podcast intro and outro theme is Soft Illusion and was generously provided by Andras.
https://andras.bandcamp.com/track/soft-illusion