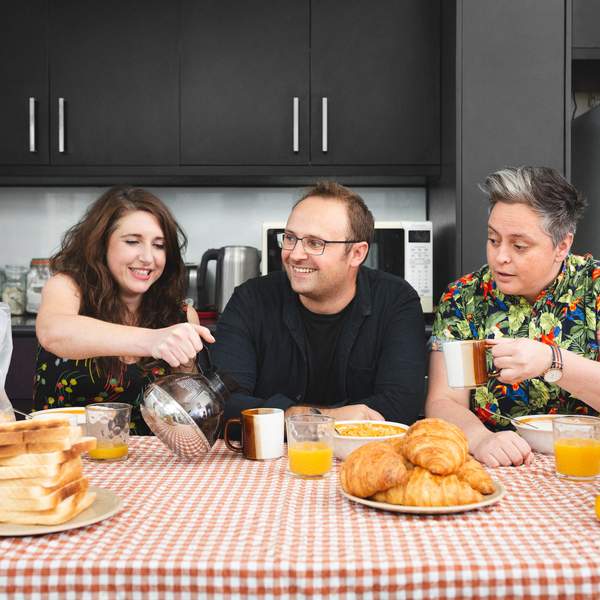 Listen to Breakfasters – 13 October 2020

03:00:00
Samira, Alex and Charlie speak to Urvi Majumdar about upcoming virtual workshops at the Footscray Community Arts Centre.
Playlist for Breakfasters – 13 October 2020
Rave City

India Jordan

Chismiten

Mdou Moctar

East West

Snowy Band

Pelo Cucu

Lido Pimienta

The Plainsman

Blake Scott

Decant

Taves

Future Less Vivid

Sachet

These Days 요즘

Yaeji

It Was Me

Deradoorian

Cup of Coffee 커피 한자

Pearl Sisters

Scorpio On Your Side

Sneaks

Clap Clap

DJ Plead & Anunaku

Whilst the Flowers Look

The Orielles

What Matters the Most

Vex Ruffin

Vanda Tricolor

Asa Tone

Did Ya

Dianas

Deliverance

Sa-Roc

I Don't Stay Up Late

Gum Country

Vereda Tropical

Angela Maria

Aura

MOON RITUALS

Earfquake

K.K. Slider

Perfume

Logic1000

World's Fair

2200

Children of Tomorrow's Dreams

Theatre West

Shellfish Mademoiselle

Róisín Murphy
Music, news, sport, weather, information, special guests and regular segments each morning.
Monday to Friday from 6am. We post updates throughout the show (including links to books mentioned etc.) on Facebook and Twitter. You can also email us at breakfasters@rrr.org.au.
---
TEXT US ON:
0466 98 1027
SERVICE MUSIC TO:
Music Content Producer Sam Cummins: samc@rrr.org.au
INTRO TRACK:
Khruangbin - People Everywhere (Still Alive)
Weekly segments
Monday
7:15am
Andrew "Donno" Donninson - Sports Wrap
8:15am
Ben Eltham - Politics Wrap
Tuesday
7:45am
Elizabeth McCarthy / Fi Wright - Book Reviews
8:15am
Vanessa Toholka - Tech Talk / Adam Christou - Game Changers
Wednesday
7.15am
Justin "Digga" Calverley - Down And Dirty / Michael Harden - Food Interlude
7.45am
Dr. Jen - Weird Science
Thursday
7:15am
Simone Ubaldi / Vyshnavee Wijekumar - Screen Reviews
8.15am
'Feature Creatures' with Sean "The Birdman" Dooley / Entomologist Simon Hinkley
Friday
7:45am
'Friday Funnybugger' with local comedians
8:15am
The Breakfasters Breakdown Quiz
8:45am
Breakfasters Live
---
The podcast intro and outro theme is Soft Illusion and was generously provided by Andras.
https://andras.bandcamp.com/track/soft-illusion