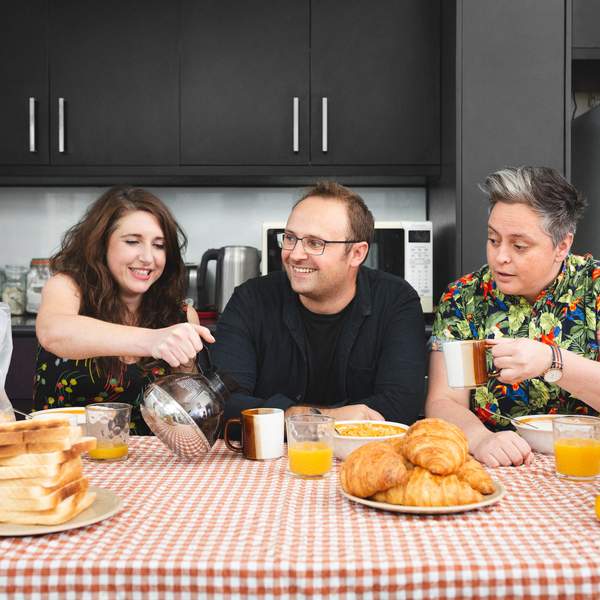 Listen to Breakfasters – 12 October 2020

03:00:00
Samira, Alex and Charlie filling in on the Breakfasters this week. They speak to Roslyn Oades about The Nightline Project.
Playlist for Breakfasters – 12 October 2020
Bookaar Dub

OK EG

Greater Expectations

David Chesworth & Bill McDonald

Ordinary Boy (Floating Points Remix)

Ultraísta

Feel Away (feat. James Blake & Mount Kimbie)

Slowthai

Because of U (feat. Hence Therefore)

Atro

Jardim Zoológico

Lena D'Agua

Errors of Skin Variante

Lucrecia Dalt

Mañana Groove

Mera Bhai

Future Teenage Cave Artists

Deerhoof

Infinite Wisdom

Laura Groves

Be Right Back (Intro)

Tanya Morgan

Going Gone

Dianas

No Fun

Hazy Sour Cherry

Toehead

Fishdoll

Teenage

Kelley Stoltz

Men

Mourn

Bunout

G Sudden

No Llores (feat. Trenttruce, Edule and Emmanuel Coto)

The Koreatown Oddity

Echo Flats

Cousin

Constant Fascination

Hooper Crescent

1 Up

Kllo

The Physical Life of Marilyn

Art Feynman

When You Gonna Go Away

Vex Ruffin

Over and Over

Jessy Lanza

Tudo Que Você Podia Ser

Milton Nascimento & Lo Borges

Bullfloat Zen

BLAKE SCOTT

Precious Gem

Bell Towers
Music, news, sport, weather, information, special guests and regular segments each morning.
Monday to Friday from 6am. We post updates throughout the show (including links to books mentioned etc.) on Facebook and Twitter. You can also email us at breakfasters@rrr.org.au.
---
TEXT US ON:
0466981027
SERVICE MUSIC TO:
music.coordinator@rrr.org.au or breakfasters@rrr.org.au
INTRO TRACK:
Khruangbin - People Everywhere (Still Alive)
Weekly segments
Monday
7:15am
Andrew "Donno" Donninson 'Sports Wrap'
8:15am
Brass Tacks – Various Presenters
Tuesday
7:45am
Elizabeth McCarthy / Fi Wright 'Book Review'
8:15am
Vanessa Toholka 'Tech Talk' / Adam Christou 'Game Changers'
Wednesday
7.15am
Justin "Digga" Calverley 'Down And Dirty' / Michael Harden 'Food Interlude'
Thursday
7:15am
Simone Ubaldi / Hayley Inch 'Film Review'
8.15am
'Feature Creatures' with Sean "The Birdman" Dooley / Entomologist Simon Hinkley / Marine Biologist Ricky-Lee Erickson
Friday
7:45am
'Friday Funny Bugger' with local comedians
---
The podcast intro and outro theme is Soft Illusion and was generously provided by Andras.
https://andras.bandcamp.com/track/soft-illusion