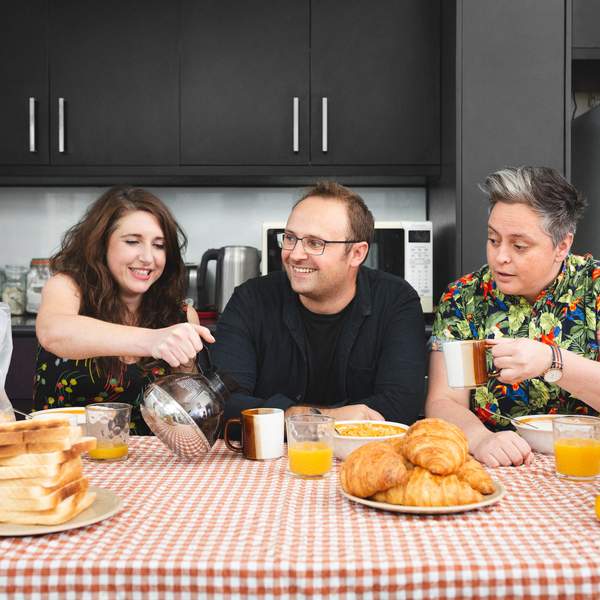 Listen to Breakfasters – 16 October 2020

03:00:00
Last morning for Samira, Alex and Charlie as the Fakefasters. Prue Blake reminisces about international bath house mishaps and Dr Chelse Hyde outlines positive approaches to the upcoming student exam period.
Playlist for Breakfasters – 16 October 2020
Raga Bhairav

Charanjit Singh

Lady Painter

Sleeper and Snake

Just Checking In

Kllo

Will Tell You A Story

Sapphire Slows

Energy

Alfa Mist & Emmavie

Forbidden City, A Cold Moon 故宫 . 冷月

Mindy Meng Wang 王萌

Courtyard

Laura Groves

Kalashnikov

Blake Scott

Roll With Me

Bell Towers

Argos Farfish

Sharhabil Ahmed

TKN

Rosalía & Travis Scott

Are U Down

Jayda G

Fall Please

Tricky & Marta

Kumbh Mela

Ela Stiles

Look Alive

The Stroppies

Love's Refrain

Julie Byrne, Jefre Cantu Ledesma

Music

Les Sins & AceMo

Steamdown

Setwun

Free

SAULT

Sp&cial

Lala &ce

Feel the Vibe (Again)

Foul Play

Creole Brothers

Mama Odé

Open (Passionate)

Kehlani

Oh Yeah

Daft Punk

Abichu Nega Nega

Hailu Mergia
Music, news, sport, weather, information, special guests and regular segments each morning.
Monday to Friday from 6am. We post updates throughout the show (including links to books mentioned etc.) on Facebook and Twitter. You can also email us at breakfasters@rrr.org.au.
---
TEXT US ON:
0466981027
SERVICE MUSIC TO:
music.coordinator@rrr.org.au or breakfasters@rrr.org.au
INTRO TRACK:
Khruangbin - People Everywhere (Still Alive)
Weekly segments
Monday
7:15am
Andrew "Donno" Donninson 'Sports Wrap'
8:15am
Brass Tacks – Various Presenters
Tuesday
7:45am
Elizabeth McCarthy / Fi Wright 'Book Review'
8:15am
Vanessa Toholka 'Tech Talk' / Adam Christou 'Game Changers'
Wednesday
7.15am
Justin "Digga" Calverley 'Down And Dirty' / Michael Harden 'Food Interlude'
Thursday
7:15am
Simone Ubaldi / Hayley Inch 'Film Review'
8.15am
'Feature Creatures' with Sean "The Birdman" Dooley / Entomologist Simon Hinkley / Marine Biologist Ricky-Lee Erickson
Friday
7:45am
'Friday Funny Bugger' with local comedians
---
The podcast intro and outro theme is Soft Illusion and was generously provided by Andras.
https://andras.bandcamp.com/track/soft-illusion