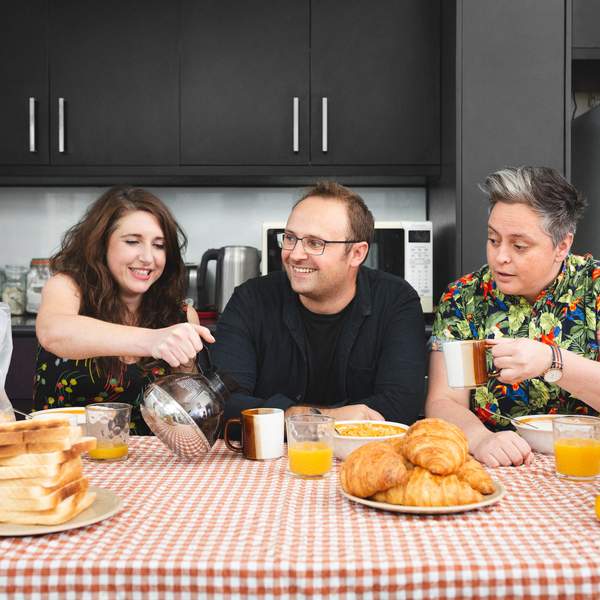 Listen to Breakfasters – 4 December 2019
∙
Highlights
Breakfasters: The Single Player Star Wars Videogame You've Been Looking For
Adam Christou reviews 'Star Wars Jedi: Fallen Order', and Chris KP presents Weird Science.
Playlist for Breakfasters – 4 December 2019
Live It Up

Mental As Anything

Eternal Shore

Moon Duo

After The Storm ft Tyler The Creator

Kali Uchis

Just Like Me

Waterfall Person

Worm

Viagra Boys

Salt In Your Hair

Scott & Charlene's Wedding

Between The Lines

Colleen Green

Wannabe

Hobson's Bay Coast Guard - Live

On The Lips

Frankie Cosmos

Playground

Steve Lacy

Star

Beck

Backfoot

30/70

Murdrum

Liars

Hot Air

CYANIDE THORNTON

I Am a Scientist

Dandy Warhols

F-Q-C #7

Willow

Paul

Big Thief

When It Breaks

Quivers

Lightening Bulb

Dinosaur Jr

Ouch !

Pinch Points

The Hospital Grounds at Night

Sonny and The Sunsets

The Hills

Leonard Cohen

Good Girl

Adalita

Delaney Venn

Cub Dub
Music, news, sport, weather, information, special guests and regular segments each morning.
Monday to Friday from 6am. We post updates throughout the show (including links to books mentioned etc.) on Facebook and Twitter. You can also email us at breakfasters@rrr.org.au.
---
TEXT US ON:
0466981027
SERVICE MUSIC TO:
music.coordinator@rrr.org.au or breakfasters@rrr.org.au
INTRO TRACK:
Khruangbin - People Everywhere (Still Alive)
Weekly segments
Monday
7:15am
Andrew "Donno" Donninson 'Sports wrap'
8:15am
Toby Halligan 'Politics'
Tuesday
7:45am
Elizabeth McCarthy / Michelle Bennett - 'Book Review'
8:15am
Vanessa Toholka 'Tech Talk'
8:15am
Justin "Digga" Calverley 'Down And Dirty'
Wednesday
7:45am
Dr Jen 'Weird Science'
Thursday
7:15am
Simone Ubaldi / Hayley Inch 'Film Review'
8.15am
'Feature Creatures' with Sean "The Birdman" Dooley / Dr Tristan Rich (Lort Smith) / Simon Hinkley (Museums Victoria) / Ricky-Lee Erickson (Museums Victoria)
Friday
7:45am
Laura Dunemann 'Friday Funnybugger'
8:45am
'Breakfasters Live' with different live bands each week
---
The podcast intro and outro theme is Soft Illusion and was generously provided by Andras.
https://andras.bandcamp.com/track/soft-illusion