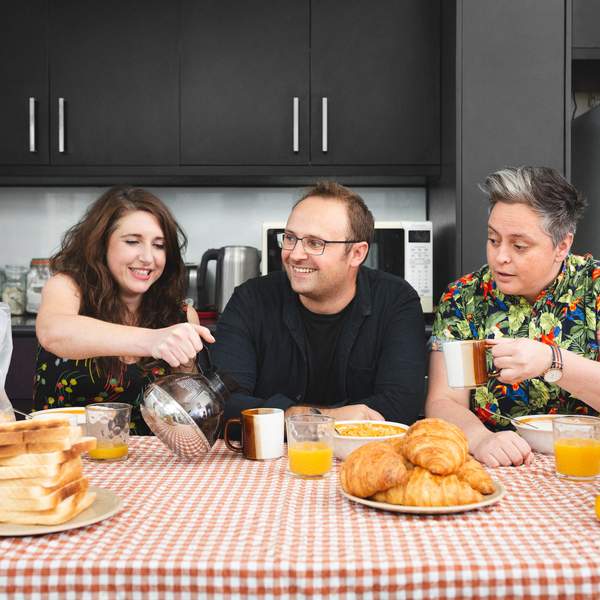 Listen to Breakfasters – 3 December 2019
∙
Highlights
Breakfasters Serenaded by 'Jolly Man in Red' Casey Bennetto
Casey Benneto tells us about 'A Swingin' Bella Christmas'. Plus, Elizabeth McCarthy reviews 'On Drugs' by Chris Fleming, and Vanessa Toholka presents Tech Talk.
Playlist for Breakfasters – 3 December 2019
Slip Away

Charles Bradley

Wu-Tang Forever

Logic

Real Tight

Methyl Ethel

Summer Girl

Haim

I Still Love You

Arthur Russell

It's All Over Now Baby Blue

Marianne Faithful

The Mirror (feat Kirk Lake)

The Liminanas

The Hills

Leonard Cohen

Christmas Time Is Here

Vince Guaraldi Trio

Easy

Mata Hari

"too late"

JEANINES

The Mint feat Navy Blue

Earl Sweatshirt

For The First Time

Best Coast

Echoplex

30/70

Love Without Possession

Mount Eerie

Kids On Fire

Gold Class

Cannon Ball

The Breeders

Salt In Your Hair

Scott & Charlene's Wedding

Spin the Bottle (LIVE)

Juliana Hatfield

Prince Akeem (Skit)

Solomon Childs

Representin' Lovely feat Inspectah Deck & Realio Sparkzwell

Solomon Childs

Star

Beck

Taman Shud (The Drones)

Laura Jean

Indigo

Moloko

Om Shanti

Alice Coltrane

Djabuganydji Bama

KDA Crew
Music, news, sport, weather, information, special guests and regular segments each morning.
Monday to Friday from 6am. We post updates throughout the show (including links to books mentioned etc.) on Facebook and Twitter. You can also email us at breakfasters@rrr.org.au.
---
TEXT US ON:
0466981027
SERVICE MUSIC TO:
music.coordinator@rrr.org.au or breakfasters@rrr.org.au
INTRO TRACK:
Khruangbin - People Everywhere (Still Alive)
Weekly segments
Monday
7:15am
Andrew "Donno" Donninson 'Sports wrap'
8:15am
Toby Halligan 'Politics'
Tuesday
7:45am
Elizabeth McCarthy / Michelle Bennett - 'Book Review'
8:15am
Vanessa Toholka 'Tech Talk'
8:15am
Justin "Digga" Calverley 'Down And Dirty'
Wednesday
7:45am
Dr Jen 'Weird Science'
Thursday
7:15am
Simone Ubaldi / Hayley Inch 'Film Review'
8.15am
'Feature Creatures' with Sean "The Birdman" Dooley / Dr Tristan Rich (Lort Smith) / Simon Hinkley (Museums Victoria) / Ricky-Lee Erickson (Museums Victoria)
Friday
7:45am
Laura Dunemann 'Friday Funnybugger'
8:45am
'Breakfasters Live' with different live bands each week
---
The podcast intro and outro theme is Soft Illusion and was generously provided by Andras.
https://andras.bandcamp.com/track/soft-illusion