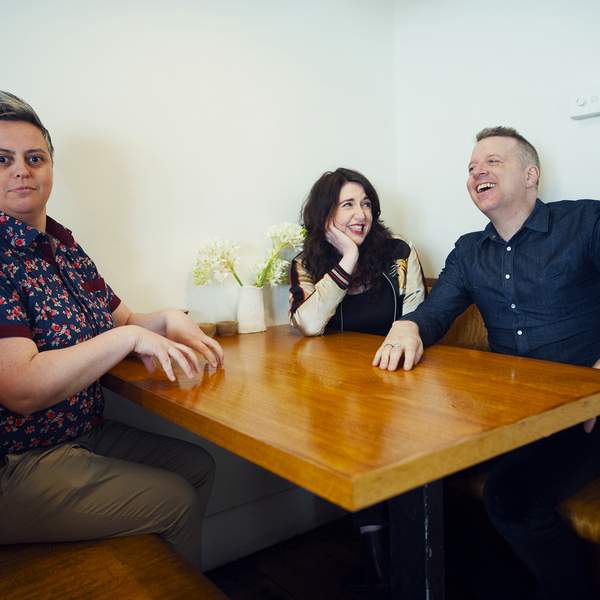 Listen to Breakfasters – 1 May 2019

03:00:00
Highlights
Breakfasters: Whither Peter Dutton's Seat of Dickson?
Playlist for Breakfasters – 1 May 2019
Winter Blues

Emma Russack

Long Way Home

Durand Jones & The Indications

Lingerie

Lizzo

Hurricane Laughter

Fontaines D.C.

Sensory Memory

Jen Cloher

Vossi Bop

Stormzy

Veil Of Shadows

Budos Band

Free To Air

Body Type

Throw Me Now Your Arms

Damien Jurado

All I Know

Fair Maiden

The Good Dancers

Sleepy Jackson

Illusion

Norma Tanega

Afrika

DJ Yoda (ft. Jungle Brothers)

Ode To A Nuthatch

Bibio

Home To You

Cate Le Bon

Continental Breakfast

COURTNEY BARNETT & KURT VILE

The Barrel

Aldous Harding

Lost In My Dream

Drugdealer

Sorry Somehow

Husker Du

Under the Hangar

Honey 2 Honey

Spontaneous feat. Little Dragon

Flying Lotus

Psychedelic Shoes

Etubom Rex Williams & His Nigerian Artistes

Turbulent Love

U-Bahn
Music, news, sport, weather, information, special guests and regular segments each morning.
Monday to Friday from 6am. We post updates throughout the show (including links to books mentioned etc.) on Facebook and Twitter. You can also email us at breakfasters@rrr.org.au.
---
TEXT US ON:
0466981027
SERVICE MUSIC TO:
music.coordinator@rrr.org.au or breakfasters@rrr.org.au
INTRO TRACK:
Khruangbin - People Everywhere (Still Alive)
Weekly segments
Monday
7:15am
Andrew "Donno" Donninson 'Sports wrap'
8:15am
Toby Halligan 'Politics'
Tuesday
7:45am
Elizabeth McCarthy / Fi Wright 'Book Review'
8:15am
Vanessa Toholka 'Tech Talk' / Adam Christou 'Game Changers'
Wednesday
7.15am
Justin "Digga" Calverley 'Down And Dirty' / Michael Harden 'Food Interlude'
Thursday
7:15am
Simone Ubaldi / Hayley Inch 'Film Review'
8.15am
'Feature Creatures' with Sean "The Birdman" Dooley / Simon Hinkley / Ricky-Lee Erickson
Friday
7:45am
'Friday Funny Bugger' with local comedians
---
The podcast intro and outro theme is Soft Illusion and was generously provided by Andras.
https://andras.bandcamp.com/track/soft-illusion