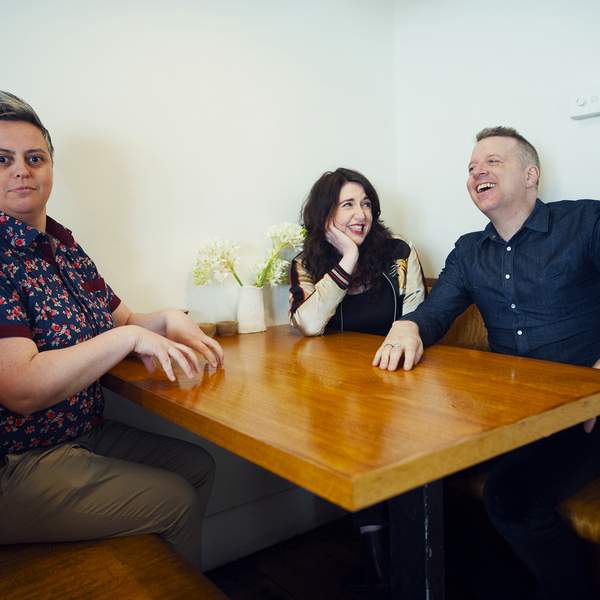 Listen to Breakfasters – 26 November 2018

03:00:00
Playlist for Breakfasters – 26 November 2018
Take Me To the River

Talking Heads

Place In Your Heart (Brainfeeder remix)

Taylor McFerrin

If You Know You Know

Pusha T

No Man No ft. Miguel Atwood-Ferguson

The Putbacks

Sermon (featuring Margo Price)

Mercury Rev

Leerers

Shrimpwitch

Cry At Night

Tender Buttons

The Dome

Nun

The Mirror (feat Kirk Lake)

The Liminanas

Maria's Theme

The Liminanas

In Cahoots

Crepes

White Coats

Baxter Dury, Etienne De Crecy & Delilah Holliday

The Mint feat Navy Blue

Earl Sweatshirt

Hoe Ana

Groupe Folkorique Feitia

End of the Bar

Martin Frawley

Minor Minor

Olli Ahvenlahti

Pilot Light

Cyanide Thornton

Southern Freeez

Tush

Heads Will Roll

Yeah Yeah Yeahs

Slip Away

Charles Bradley

Mammal Love

Easy Browns

Recoup

Fishing

Twice Shy

Bitumen
Music, news, sport, weather, information, special guests and regular segments each morning.
Monday to Friday from 6am. We post updates throughout the show (including links to books mentioned etc.) on Facebook and Twitter. You can also email us at breakfasters@rrr.org.au.
---
TEXT US ON:
0466981027
SERVICE MUSIC TO:
music.coordinator@rrr.org.au or breakfasters@rrr.org.au
INTRO TRACK:
Khruangbin - People Everywhere (Still Alive)
Weekly segments
Monday
7:15am
Andrew "Donno" Donninson 'Sports wrap'
8:15am
Toby Halligan 'Politics'
Tuesday
7:45am
Elizabeth McCarthy / Michelle Bennett - 'Book Review'
8:15am
Vanessa Toholka 'Tech Talk'
8:15am
Justin "Digga" Calverley 'Down And Dirty'
Wednesday
7:45am
Dr Jen 'Weird Science'
Thursday
7:15am
Simone Ubaldi / Hayley Inch 'Film Review'
8.15am
'Feature Creatures' with Sean "The Birdman" Dooley / Dr Tristan Rich (Lort Smith) / Simon Hinkley (Museums Victoria) / Ricky-Lee Erickson (Museums Victoria)
Friday
7:45am
Laura Dunemann 'Friday Funnybugger'
8:45am
'Breakfasters Live' with different live bands each week
---
The podcast intro and outro theme is Soft Illusion and was generously provided by Andras.
https://andras.bandcamp.com/track/soft-illusion