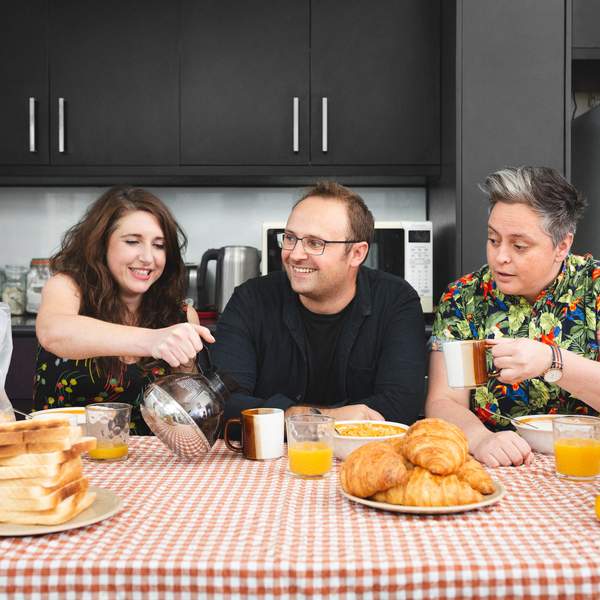 Listen to Breakfasters – 31 March 2020

03:00:00
The crew's guests include Steve Ellen, who discusses mental health during self-isolation.
Playlist for Breakfasters – 31 March 2020
Weedman

Channel Tres

The Enchanter

The Budos Band

Get Up

Mystery Guest

Shadow Banned

Stephen Malkmus and The Jicks

Not In The Game

Soft Rubbish

I Sit Around (Quarantine)

The Bush

Not Too Soon

Throwing Muses

Born To Lose

US Girls

Ooh La La

Run The Jewels feat. Lil Wayne, DJ Premier, Greg Nice

Matter of Time

Floodlights

Running Red Lights

The Avalanches

Aekadelphia

Waxahatchee

Overtime

No Statues

Laundry

R.A.P Ferreira

Ordinary Pleasure

Toro y Moi

Temple

Thao & The Get Down Stay Down

From the Bush (live)

Warumpi Band

Slappy

Karate Boogaloo

Shame

Seaside

Coast Road

Snowy Band

Cemetery Lifestyle

BC Camplight

Come Back and Love Me

Hinds

Spare Me The Time

Zoe Fox & The Rocket Clocks

My Dreams

The Gun Club

Shiny Suit Theory

Jay Electronica

Tihoussay

Tamikrest

Teenage Birdsong

Four Tet
Music, news, sport, weather, information, special guests and regular segments each morning.
Monday to Friday from 6am. We post updates throughout the show (including links to books mentioned etc.) on Facebook and Twitter. You can also email us at breakfasters@rrr.org.au.
---
TEXT US ON:
0466 98 1027
SERVICE MUSIC TO:
Music Content Producer Sam Cummins: samc@rrr.org.au
INTRO TRACK:
Khruangbin - People Everywhere (Still Alive)
Weekly segments
Monday
7:15am
Andrew "Donno" Donnison - Sports Wrap
8:15am
Ben Eltham - Politics Wrap
Tuesday
7:45am
Fi Wright and others - Book Reviews
8:15am
Vanessa Toholka - Tech Talk / Adam Christou - Game Changers
Wednesday
7.15am
Justin "Digga" Calverley - Down And Dirty / Michael Harden - Food Interlude
7.45am
Dr. Jen - Weird Science / Emma Grey - Economics wrap
Thursday
7:15am
Simone Ubaldi / Vyshnavee Wijekumar - Screen Reviews
8.15am
'Feature Creatures' with Sean "The Birdman" Dooley, Entomologist Simon 'Bugman' Hinkley and others
Friday
7:45am
'Friday Funnybugger' with local comedians
8:15am
The Breakfasters Breakdown Quiz
8:45am
Breakfasters Live
---
The podcast intro and outro theme is Soft Illusion and was generously provided by Andras.
https://andras.bandcamp.com/track/soft-illusion