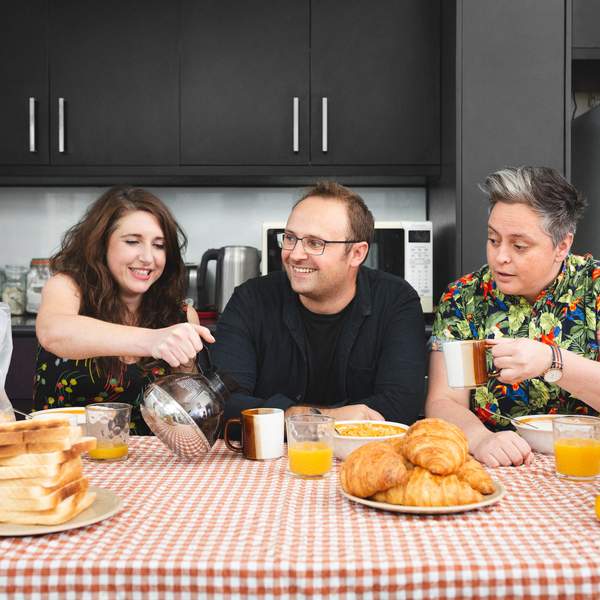 Listen to Breakfasters – 30 March 2020

03:00:00
Daisy Jeffrey, one of the lead organisers of the Australian Climate strike, chats about her book 'On Hope'.
Playlist for Breakfasters – 30 March 2020
More Than Enough

Snowy Band

Cemetery Lifestyle

BC Camplight

Laundry

R.A.P Ferreira

Come Back and Love Me

Hinds

Tihossay

Tamikrest

What's Wrong

Baro and Silent J (ft Remi)

All of Me Wants All Of You

Sufjan Stevens

Machine

Primo

Bleed All Over

Mark Lanegan

Life of Tears

Walter & The Admirations

Shiny Suit Theory

Jay Electronica

You'll Miss Me When I'm Not Around

Grimes

Not In The Game

Soft Rubbish

Persona Non Grata

Bright Eyes

don't bother me (live)

scott & charlene's wedding

This is Skoo

Scuti

Running Red Lights

The Avalanches

Ooh La La

Run The Jewels feat. Lil Wayne, DJ Premier, Greg Nice

Teenage Birdsong

Fourtet

Octagon City

Mystery Guest

Hatsheput

Rapsody

Instant Disassembly

Parquet Courts

Hope

Cable Ties

Fuckin' and Rollin'

Phantastic Furniture
Music, news, sport, weather, information, special guests and regular segments each morning.
Monday to Friday from 6am. We post updates throughout the show (including links to books mentioned etc.) on Facebook and Twitter. You can also email us at breakfasters@rrr.org.au.
---
TEXT US ON:
0466981027
SERVICE MUSIC TO:
music.coordinator@rrr.org.au or breakfasters@rrr.org.au
INTRO TRACK:
Khruangbin - People Everywhere (Still Alive)
Weekly segments
Monday
7:15am
Andrew "Donno" Donninson 'Sports Wrap'
8:15am
Brass Tacks – Various Presenters
Tuesday
7:45am
Elizabeth McCarthy / Fi Wright 'Book Review'
8:15am
Vanessa Toholka 'Tech Talk' / Adam Christou 'Game Changers'
Wednesday
7.15am
Justin "Digga" Calverley 'Down And Dirty' / Michael Harden 'Food Interlude'
Thursday
7:15am
Simone Ubaldi / Vyshnavee Wijekumar 'Screen Review'
8.15am
'Feature Creatures' with Sean "The Birdman" Dooley / Entomologist Simon Hinkley / Marine expert Lauren Timms
Friday
7:45am
'Friday Funny Bugger' with local comedians
---
The podcast intro and outro theme is Soft Illusion and was generously provided by Andras.
https://andras.bandcamp.com/track/soft-illusion