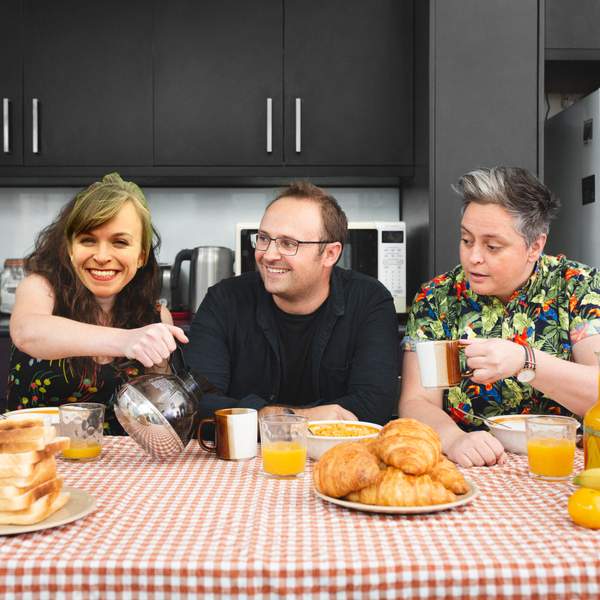 Listen to Breakfasters – 1 December 2020
∙
Highlights
Breakfasters: Don't You Know Who Josh Earl Is?
Playlist for Breakfasters – 1 December 2020
Walking Flames

Actress feat. Sampha

ROYGBIV

Boards of Canada

Charcoal Baby

Blood Orange

4 Dads

Big Yawn

Hold Music

Lyndon Blue

The Other Black Dog

Genesis Owusu

The Recipe

JK-47

Lift Me Up

Vince Staples

GADIGAL LAND feat. Dan Sultan, Joel Davison, Kaleena Briggs, Bunna Lawrie.

Midnight Oil

Straws In The Wind

King Gizzard and the Lizard Wizard

No More Worries (Oh Yeah)

Bones & Jones

Karolina

Jack Name

Mi Mujer

Nicolas Jaar

The Anthem

Onra

Searching Spirit

Dirty Projectors

It Was Me

Deradoorian

Lifetime

Romy

fue mejor

Kali Uchis

Low Desk : High Shelf

The Green Child

Eat an Eraser

Princess Goes To The Butterfly Museum

Going Gone

Dianas

Do It

Good Sad Happy Bad

River Red - Madalyn Merkey remix

Andras
Music, news, sport, weather, information, special guests and regular segments each morning.
Monday to Friday from 6am. We post updates throughout the show (including links to books mentioned etc.) on Facebook and Twitter. You can also email us at breakfasters@rrr.org.au.
---
TEXT US ON:
0466981027
SERVICE MUSIC TO:
music.coordinator@rrr.org.au or breakfasters@rrr.org.au
INTRO TRACK:
Khruangbin - People Everywhere (Still Alive)
Weekly segments
Monday
7:15am
Andrew "Donno" Donninson 'Sports Wrap'
8:15am
Brass Tacks – Various Presenters
Tuesday
7:45am
Elizabeth McCarthy / Fi Wright 'Book Review'
8:15am
Vanessa Toholka 'Tech Talk' / Adam Christou 'Game Changers'
Wednesday
7.15am
Justin "Digga" Calverley 'Down And Dirty' / Michael Harden 'Food Interlude'
Thursday
7:15am
Simone Ubaldi / Hayley Inch 'Film Review'
8.15am
'Feature Creatures' with Sean "The Birdman" Dooley / Entomologist Simon Hinkley / Marine Biologist Ricky-Lee Erickson
Friday
7:45am
'Friday Funny Bugger' with local comedians
---
The podcast intro and outro theme is Soft Illusion and was generously provided by Andras.
https://andras.bandcamp.com/track/soft-illusion