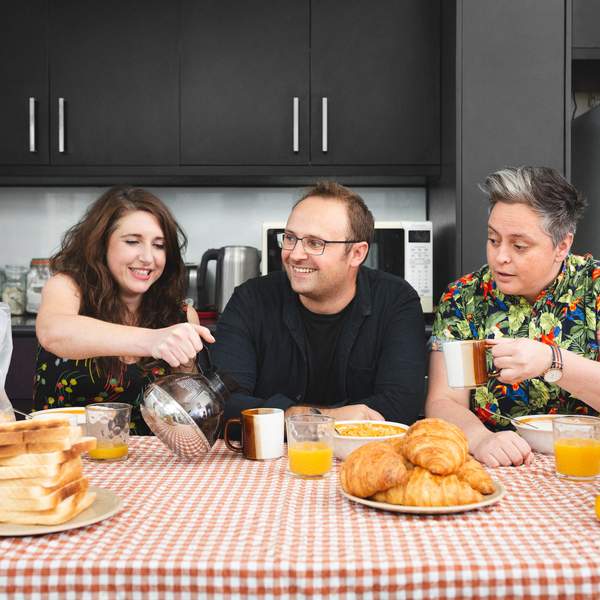 Listen to Breakfasters – 22 September 2020

03:00:00
This year's Queer Screen Film Festival is online; Artistic Director Lisa Rose talks about pulling it together.
Playlist for Breakfasters – 22 September 2020
Today

Smashing Pumpkins

Once More 1984

Alien Nosejob

United Girls Rock N Roll Club

Chai and Hinds

Campfire

Kevin Morby

Moonlight

Future Islands

Running Off (feat Oh Land)

Tricky

Ultraparadiso

Gillian Moss

Calculated Risk

Estere

Je Suis Le Bebe

Naked Roomate

I put a spell on you

Screamin' Jay Hawkins

Time's Up (Feat Junglepussy) [Remix]

Sampa The Great

Idle Hands

Obscura Hail

Breakfast

Bill Callahan

SICK (day #132)

Hydra Fashion Week

Fearless

Sault

Gong of Catastrophe

Osees

Love Is Confirmed

SaD

In Women Colour

Haviah Mighty

I Seek Misery

Die! Die! Die!

Can't Pay Won't Pay

Asian Dub Foundation

Flesh without blood

Grimes

Seven Seconds

Porridge Radio

Cross Me Out

Sweeping Promises

Music Makes Me High

The Avalanches
Music, news, sport, weather, information, special guests and regular segments each morning.
Monday to Friday from 6am. We post updates throughout the show (including links to books mentioned etc.) on Facebook and Twitter. You can also email us at breakfasters@rrr.org.au.
---
TEXT US ON:
0466981027
SERVICE MUSIC TO:
music.coordinator@rrr.org.au or breakfasters@rrr.org.au
INTRO TRACK:
Khruangbin - People Everywhere (Still Alive)
Weekly segments
Monday
7:15am
Andrew "Donno" Donninson 'Sports Wrap'
8:15am
Brass Tacks – Various Presenters
Tuesday
7:45am
Elizabeth McCarthy / Fi Wright 'Book Review'
8:15am
Vanessa Toholka 'Tech Talk' / Adam Christou 'Game Changers'
Wednesday
7.15am
Justin "Digga" Calverley 'Down And Dirty' / Michael Harden 'Food Interlude'
Thursday
7:15am
Simone Ubaldi / Hayley Inch 'Film Review'
8.15am
'Feature Creatures' with Sean "The Birdman" Dooley / Entomologist Simon Hinkley / Marine Biologist Ricky-Lee Erickson
Friday
7:45am
'Friday Funny Bugger' with local comedians
---
The podcast intro and outro theme is Soft Illusion and was generously provided by Andras.
https://andras.bandcamp.com/track/soft-illusion