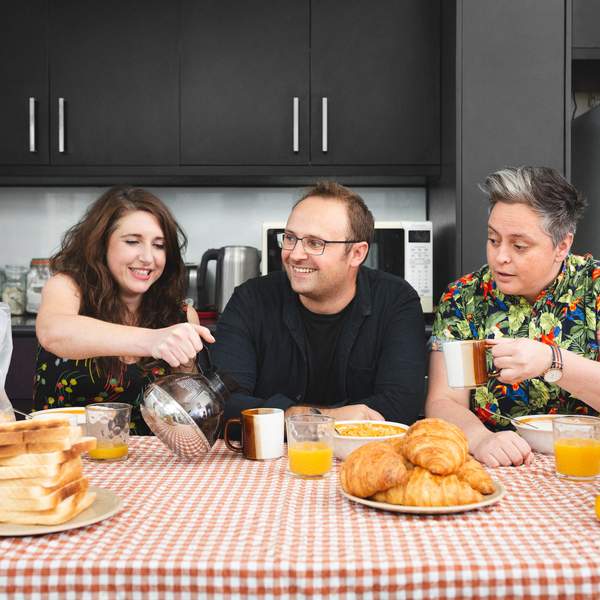 Listen to Breakfasters – 17 September 2020

03:00:00
Lucy Fox from The Travelling Sisters tell us about their new web series Meet The Mullets.
Playlist for Breakfasters – 17 September 2020
I'll Probably Be Asleep

Hachiku

Don't You Evah

Spoon

I Love Only You

Smokescreens

We Got Love ft. Ms. Lauryn Hill

Teyana Taylor

Fever

Blake Scott

Solipsism

Fenne Lily

Lover

Ella Styles

Tuesday

Pookie

Spider Fingers

PLASTIC

Signed Sealed Delivered

Sharon Jones and The Dap Kings

Juicy

The Notorious BIG

Sick

Hydra Fashion Week

Idle Hands

Obscura Hail

3 Days Man (Extended Pee Wee Ferris & John Ferris Mix)

Bellydance

Pan and Broom

Bright Eyes

Senseless

Gregor

Upright

Sweeping Promises

United Girls Rock N Roll Club

Chai and Hinds

Music Makes Me High

The Avalanches

Beauty

Blisstake

Sour Face (2000 Black remix)

Byrony Jarman-Pinto

Wanting To be Alone

Thibault

Ultraparadiso

Gillian Moss
Music, news, sport, weather, information, special guests and regular segments each morning.
Monday to Friday from 6am. We post updates throughout the show (including links to books mentioned etc.) on Facebook and Twitter. You can also email us at breakfasters@rrr.org.au.
---
TEXT US ON:
0466981027
SERVICE MUSIC TO:
music.coordinator@rrr.org.au or breakfasters@rrr.org.au
INTRO TRACK:
Khruangbin - People Everywhere (Still Alive)
Weekly segments
Monday
7:15am
Andrew "Donno" Donninson 'Sports Wrap'
8:15am
Brass Tacks – Various Presenters
Tuesday
7:45am
Elizabeth McCarthy / Fi Wright 'Book Review'
8:15am
Vanessa Toholka 'Tech Talk' / Adam Christou 'Game Changers'
Wednesday
7.15am
Justin "Digga" Calverley 'Down And Dirty' / Michael Harden 'Food Interlude'
Thursday
7:15am
Simone Ubaldi / Hayley Inch 'Film Review'
8.15am
'Feature Creatures' with Sean "The Birdman" Dooley / Entomologist Simon Hinkley / Marine Biologist Ricky-Lee Erickson
Friday
7:45am
'Friday Funny Bugger' with local comedians
---
The podcast intro and outro theme is Soft Illusion and was generously provided by Andras.
https://andras.bandcamp.com/track/soft-illusion
Presenters