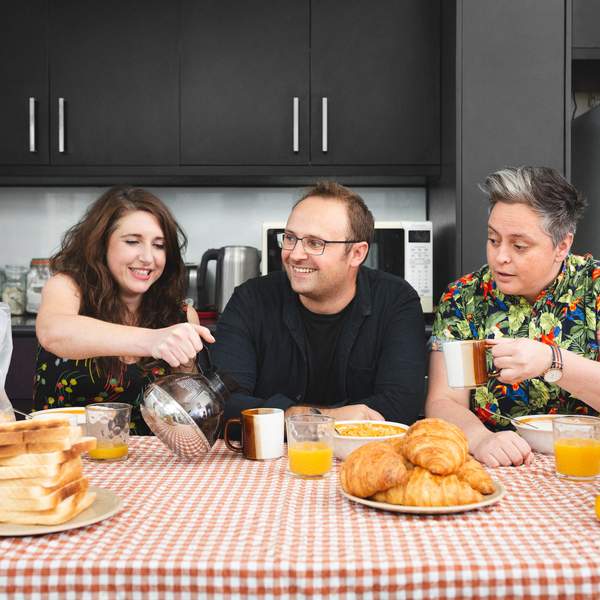 Listen to Breakfasters – 14 September 2020

03:00:00
Museums Victoria's manager of public information Siobhan Motherway tells us about Ask A Curator Day.
Playlist for Breakfasters – 14 September 2020
I Love Only You

Smokescreens

Wanting To be Alone

Thibault

3 Days Man (3AM - Cosmic Shtick) Peewee and John Ferris

Bellydance

Dragonball Durag

Thundercat

Flip This

Peaches

Can't Pay Won't Pay

Asian Dub Foundation

Fever

Blake Scott

If I Had My Way

OSees

Invisible Desire

Lou Canon

Pan and Broom

Bright Eyes

54 46 was my Number

Toots & The Maytals

Raggamuffin

Koffee

Telephone

Allegra Kreiger

Sour Face (2000 Black remix)

Byrony Jarman-Pinto

Human Nature

Madonna

Darwins Liquor Cabinet

Brzowski & C Money Burns

Blood Reflections

Segue

Fun In The Sun (LIVE)

Cash Savage and The Last Drinks

United Girls Rock N Roll Club

Chai and Hinds

35

Bill Callahan

Cross Me Out

Sweeping Promises

Destroyer

J. McFarlane's Reality Guest

Ultrapardiso

Gilligan Moss
Music, news, sport, weather, information, special guests and regular segments each morning.
Monday to Friday from 6am. We post updates throughout the show (including links to books mentioned etc.) on Facebook and Twitter. You can also email us at breakfasters@rrr.org.au.
---
TEXT US ON:
0466 98 1027
SERVICE MUSIC TO:
Music Content Producer Sam Cummins: samc@rrr.org.au
INTRO TRACK:
Khruangbin - People Everywhere (Still Alive)
Weekly segments
Monday
7:15am
Andrew "Donno" Donnison - Sports Wrap
8:15am
Ben Eltham - Politics Wrap
Tuesday
7:45am
Fi Wright and others - Book Reviews
8:15am
Vanessa Toholka - Tech Talk / Adam Christou - Game Changers
Wednesday
7.15am
Justin "Digga" Calverley - Down And Dirty / Michael Harden - Food Interlude
7.45am
Dr. Jen - Weird Science / Emma Grey - Economics wrap
Thursday
7:15am
Simone Ubaldi / Vyshnavee Wijekumar - Screen Reviews
8.15am
'Feature Creatures' with Sean "The Birdman" Dooley, Entomologist Simon 'Bugman' Hinkley and others
Friday
7:45am
'Friday Funnybugger' with local comedians
8:15am
The Breakfasters Breakdown Quiz
8:45am
Breakfasters Live
---
The podcast intro and outro theme is Soft Illusion and was generously provided by Andras.
https://andras.bandcamp.com/track/soft-illusion