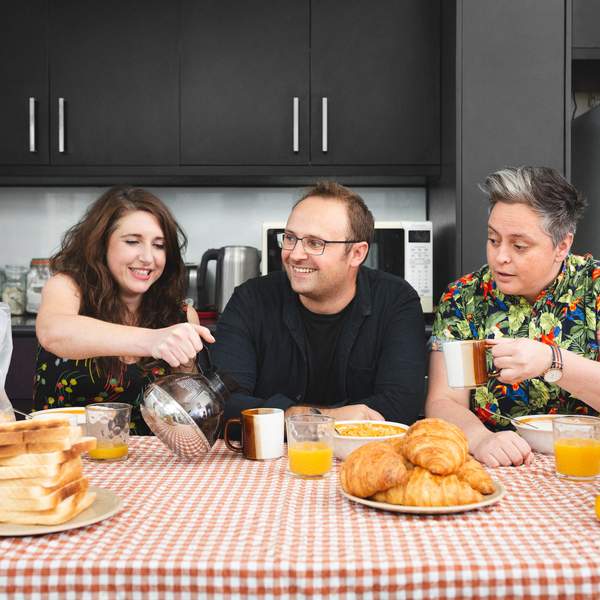 Listen to Breakfasters – 3 September 2020
∙
Meni Valle talks about her book Ikaria: Food And Life In The Blue Zone.
Playlist for Breakfasters – 3 September 2020
Fed Up

Brick Head

Some Of Us

King Gizzard & The Lizard Wizard

Black Balloons reprise (feat Denzel Curry)

Flying Lotus

Midnight Blue

Bonds Fushou

Do The Jerk

Lost Animal

A Perfect Day

Cut Copy

Rosa Parks

OutKast

Too Many Girls

The Mystery Lights

I Know The Soul By Its Presence In Others

Chloe Alison Escott

Campfire

Kevin Morby

Color Love

Jenny O.

Having Your Fun

Focus

Soulful I Need That In My Life

Steve Arrington

When We Are

Nubya Garcia

Can't Get You Out Of My Head

Tom Snowdon

Up The Down Escalator

The Chameleons

Georgia Waves

Sofie

Love as a Ghost

Documenta

Green Magic

Monster Rally

If I Had My Way

Osees

Warwick

The Bats
Music, news, sport, weather, information, special guests and regular segments each morning.
Monday to Friday from 6am. We post updates throughout the show (including links to books mentioned etc.) on Facebook and Twitter. You can also email us at breakfasters@rrr.org.au.
---
TEXT US ON:
0466981027
SERVICE MUSIC TO:
music.coordinator@rrr.org.au or breakfasters@rrr.org.au
INTRO TRACK:
Khruangbin - People Everywhere (Still Alive)
Weekly segments
Monday
7:15am
Andrew "Donno" Donninson 'Sports wrap'
8:15am
Toby Halligan 'Politics'
Tuesday
7:45am
Elizabeth McCarthy / Fi Wright 'Book Review'
8:15am
Vanessa Toholka 'Tech Talk' / Adam Christou 'Game Changers'
Wednesday
7.15am
Justin "Digga" Calverley 'Down And Dirty' / Michael Harden 'Food Interlude'
Thursday
7:15am
Simone Ubaldi / Hayley Inch 'Film Review'
8.15am
'Feature Creatures' with Sean "The Birdman" Dooley / Simon Hinkley / Ricky-Lee Erickson
Friday
7:45am
'Friday Funny Bugger' with local comedians
---
The podcast intro and outro theme is Soft Illusion and was generously provided by Andras.
https://andras.bandcamp.com/track/soft-illusion