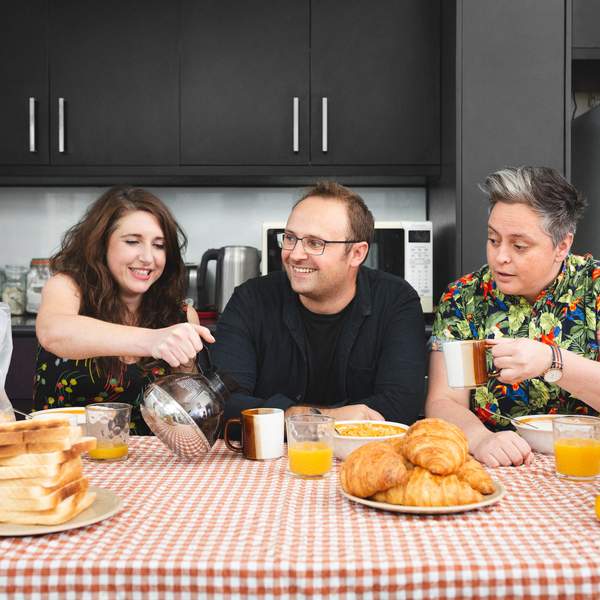 Listen to Breakfasters – 28 May 2020
∙
Highlights
Breakfasters: Sarah Smith Shares Some Exciting News!
Playlist for Breakfasters – 28 May 2020
Let Me In

Moodymann

In My Car

Gold Panda

Indigenous Land (LIVE)

DRMNGNW

Floating On A Highway

Nat Vazer

One-Stop

Ain't No Weight

Ouster Stew

Crack Cloud

Vice

Cool Sounds

Demon in profile

Afghan Whigs

Marauders

Thao and The Get Down Stay Down

What's Chasing you

Marlon William

Africa

Nadia Nakai

Natural Woman

Kaiit

Susan

Jack Ladder and the Dreamlanders

Dead Friends

Party Dozen

Kitchen Floor

Jess Cornelius

Your Body Changes Everything

Perfume Genius

Drop It Like It's Hot

Snoop Dogg

Grand Ideas

Alice Skye

Out of Reach

Bananagun

If I Was God

The Colours That Rise

Becoming

Kamasi Washington

I See You

Phoebe Bridgers

Make That Up For Me

Sweet Whirl

Wheel

Katie Von Schleicher

Black Crow

Waak Waak Djungi

We Got Love ft. Ms. Lauryn Hill

Teyana Taylor
Music, news, sport, weather, information, special guests and regular segments each morning.
Monday to Friday from 6am. We post updates throughout the show (including links to books mentioned etc.) on Facebook and Twitter. You can also email us at breakfasters@rrr.org.au.
---
TEXT US ON:
0466981027
SERVICE MUSIC TO:
music.coordinator@rrr.org.au or breakfasters@rrr.org.au
INTRO TRACK:
Khruangbin - People Everywhere (Still Alive)
Weekly segments
Monday
7:15am
Andrew "Donno" Donninson 'Sports wrap'
8:15am
Toby Halligan 'Politics'
Tuesday
7:45am
Elizabeth McCarthy / Michelle Bennett 'Book Review'
8:15am
Vanessa Toholka 'Tech Talk' / Adam Christou 'Game Changers'
Wednesday
7.15am
Justin "Digga" Calverley 'Down And Dirty' / Michael Harden 'Food Interlude'
Thursday
7:15am
Simone Ubaldi / Hayley Inch 'Film Review'
8.15am
'Feature Creatures' with Sean "The Birdman" Dooley / Simon Hinkley / Ricky-Lee Erickson
Friday
7:45am
'Friday Funny Bugger' with Laura Dunneman / Nat Harris / Matt Stewart
8:45am
'Breakfasters Live' with different live bands each week
---
The podcast intro and outro theme is Soft Illusion and was generously provided by Andras.
https://andras.bandcamp.com/track/soft-illusion