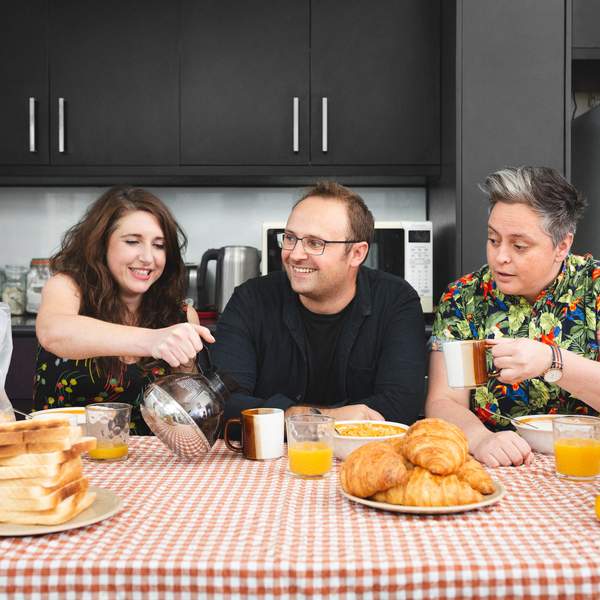 Listen to Breakfasters – 14 May 2020

03:00:00
The team talks to Corrine Hall, co-author of the book 'Victress: Women Who Paved the Way in Australian Sport'.
Playlist for Breakfasters – 14 May 2020
Ouster Stew

Crack Cloud

Tomorrow's Dust

Tame Impala

Train Love

Your Old Droog

Octagon City

Mystery Guest

Rack of His

Fiona Apple

One Life, Might Live

Little Simz

DUA

13 Million Year Old Ghost

Can't X-Plane

Can't X-Plane

Down Past The Bottom

Lucinda Williams

Trying

Bully

Dumb

Hanni El Khatib

As You Go

Crepes/The Ocean Party

NTE

Buscabella

Bring It On

Playgroup

It's A Shame (My Sister)

Monie Love

Absolutes

R.A.P Ferreira

Patterns Of Nature

Sweet Whirl

Primer Tiempo

Melenas

The Present

Simona Castricum

Arabia

The Delcos

A Hero's Death

Fontaines DC
Music, news, sport, weather, information, special guests and regular segments each morning.
Monday to Friday from 6am. We post updates throughout the show (including links to books mentioned etc.) on Facebook and Twitter. You can also email us at breakfasters@rrr.org.au.
---
TEXT US ON:
0466981027
SERVICE MUSIC TO:
music.coordinator@rrr.org.au or breakfasters@rrr.org.au
INTRO TRACK:
Khruangbin - People Everywhere (Still Alive)
Weekly segments
Monday
7:15am
Andrew "Donno" Donninson 'Sports Wrap'
8:15am
Brass Tacks – Various Presenters
Tuesday
7:45am
Elizabeth McCarthy / Fi Wright 'Book Review'
8:15am
Vanessa Toholka 'Tech Talk' / Adam Christou 'Game Changers'
Wednesday
7.15am
Justin "Digga" Calverley 'Down And Dirty' / Michael Harden 'Food Interlude'
Thursday
7:15am
Simone Ubaldi / Hayley Inch 'Film Review'
8.15am
'Feature Creatures' with Sean "The Birdman" Dooley / Entomologist Simon Hinkley / Marine Biologist Ricky-Lee Erickson
Friday
7:45am
'Friday Funny Bugger' with local comedians
---
The podcast intro and outro theme is Soft Illusion and was generously provided by Andras.
https://andras.bandcamp.com/track/soft-illusion
Presenters