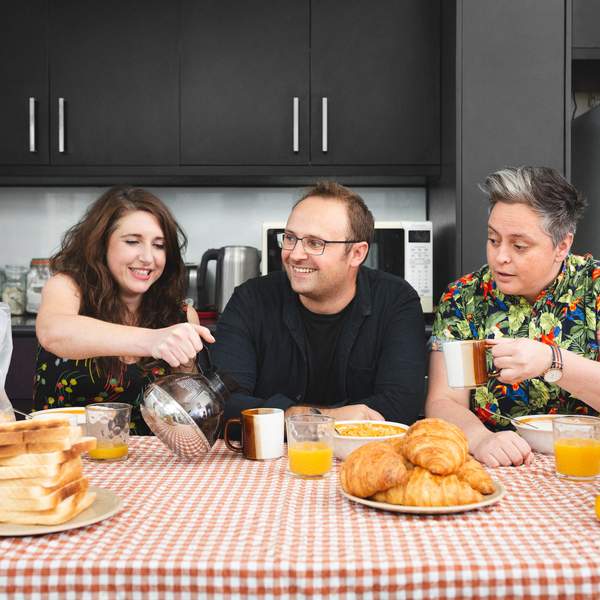 Listen to Breakfasters – 6 May 2020

03:00:00
Discover why Fitzroy FC, one of the founding clubs of the VFL, lost its way with Russell Holmesby, author of 'The Death of Fitzroy Football Club'.
Playlist for Breakfasters – 6 May 2020
Never Come Back (Morgan Geist Remix)

Caribou

"all mirrors (johnny jewel remix)"

ANGEL OLSEN

Ladies

Fiona Apple

How Far

Gorillaz (feat Skepta & Tony Allen)

Peaches

The Stranglers

You Beauty

Dianas

Dear Mama

2Pac

I Know It

Chicano Batman

Burlap string

Courtney Marie Andrews

Dumb

Hanni El Khatib

Kyoto

Phoebe Bridgers

Falling Clouds

Dyson Stringer Cloher

There Must Be More Than Blood

Car Seat Headrest

Dear April (Justice Remix)

Frank Ocean
Music, news, sport, weather, information, special guests and regular segments each morning.
Monday to Friday from 6am. We post updates throughout the show (including links to books mentioned etc.) on Facebook and Twitter. You can also email us at breakfasters@rrr.org.au.
---
TEXT US ON:
0466 98 1027
SERVICE MUSIC TO:
Music Content Producer Sam Cummins: samc@rrr.org.au
INTRO TRACK:
Khruangbin - People Everywhere (Still Alive)
Weekly segments
Monday
7:15am
Andrew "Donno" Donninson - Sports Wrap
8:15am
Ben Eltham - Politics Wrap
Tuesday
7:45am
Elizabeth McCarthy / Fi Wright - Book Reviews
8:15am
Vanessa Toholka - Tech Talk / Adam Christou - Game Changers
Wednesday
7.15am
Justin "Digga" Calverley - Down And Dirty / Michael Harden - Food Interlude
7.45am
Dr. Jen - Weird Science
Thursday
7:15am
Simone Ubaldi / Vyshnavee Wijekumar - Screen Reviews
8.15am
'Feature Creatures' with Sean "The Birdman" Dooley / Entomologist Simon Hinkley
Friday
7:45am
'Friday Funnybugger' with local comedians
8:15am
The Breakfasters Breakdown Quiz
8:45am
Breakfasters Live
---
The podcast intro and outro theme is Soft Illusion and was generously provided by Andras.
https://andras.bandcamp.com/track/soft-illusion