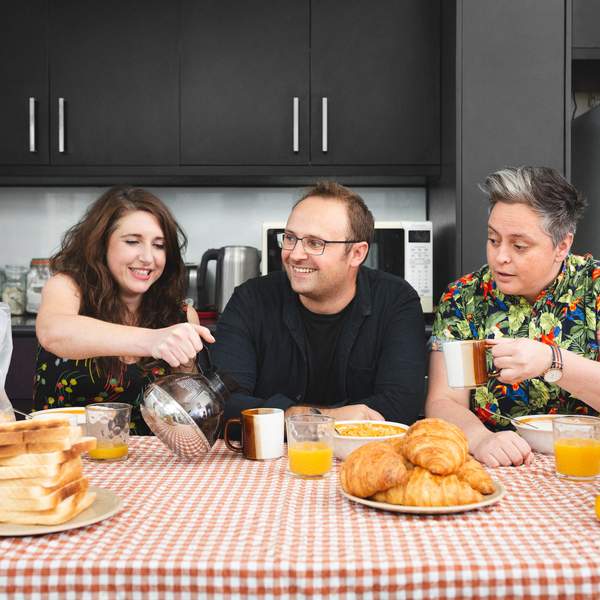 Listen to Breakfasters – 27 April 2020

03:00:00
Astrophysicist Lisa Harvey-Smith tells us about a free virtual workshop for kids.
Playlist for Breakfasters – 27 April 2020
Marriage For All Or None At All

Karate Boogaloo

Jau Ocean

Lexicon (feat NAPPYNAPPA and Rob Stokes)

Drums on The Wheel

Aesop Rock

You and I

Pale Lights

My Favourite Mistake

Esther Rose

Comedy Show

Primo!

The Baby and The Bottle

RVG

The Hum

Bedouine

Coming Thru

Lido Pimienta

PDLIF

Bon Iver

Vice

Cool Sounds

Lay My Love

John Cale & Brian Eno

Never Came Back

Caribou

Slice Of Heaven

Dave Dobbyn & The Herbs

Ladies

Fiona Apple

Waterfalls

TLC

Mermaid

Big Thief

Dumb

Hanni El Khatib

Out of Reach

Bananagun

Then You Came Along

Affectionately

Strange Girl

Laura Marling

Tyler

Dog Futon

Grape Blunts

Coolzey

Chocolate Souffle

Shabazz Palaces
Music, news, sport, weather, information, special guests and regular segments each morning.
Monday to Friday from 6am. We post updates throughout the show (including links to books mentioned etc.) on Facebook and Twitter. You can also email us at breakfasters@rrr.org.au.
---
TEXT US ON:
0466981027
SERVICE MUSIC TO:
music.coordinator@rrr.org.au or breakfasters@rrr.org.au
INTRO TRACK:
Khruangbin - People Everywhere (Still Alive)
Weekly segments
Monday
7:15am
Andrew "Donno" Donninson 'Sports Wrap'
8:15am
Brass Tacks – Various Presenters
Tuesday
7:45am
Elizabeth McCarthy / Fi Wright 'Book Review'
8:15am
Vanessa Toholka 'Tech Talk' / Adam Christou 'Game Changers'
Wednesday
7.15am
Justin "Digga" Calverley 'Down And Dirty' / Michael Harden 'Food Interlude'
Thursday
7:15am
Simone Ubaldi / Hayley Inch 'Film Review'
8.15am
'Feature Creatures' with Sean "The Birdman" Dooley / Entomologist Simon Hinkley / Marine Biologist Ricky-Lee Erickson
Friday
7:45am
'Friday Funny Bugger' with local comedians
---
The podcast intro and outro theme is Soft Illusion and was generously provided by Andras.
https://andras.bandcamp.com/track/soft-illusion
Presenters