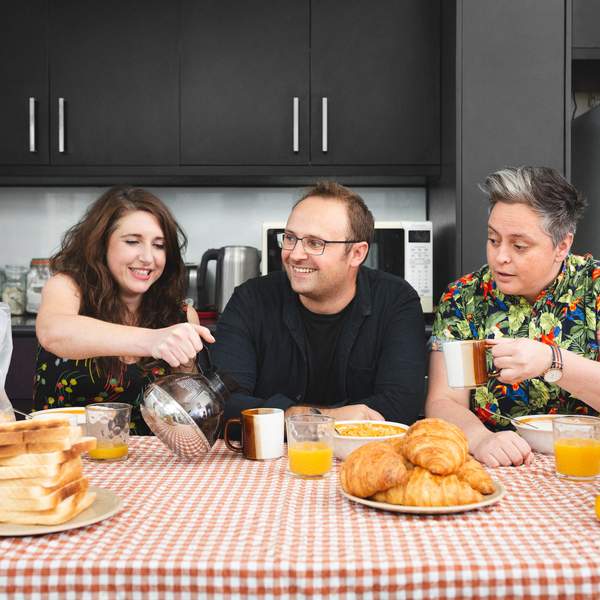 Listen to Breakfasters – 6 April 2020

03:00:00
Magda Szubanski joins the team for a chat.
Playlist for Breakfasters – 6 April 2020
Prettiest Part of Me

Affectionately

Every 1s a Winner

Ty Segall

Ooh La La

Run The Jewels

Sweetness

Sweet Whirl

Showdown

Badge and Talkalot (feat Georgia Anne Muldrow)

Laundry

R.A.P Ferreira

One-Stop

Ain't No Weight

Prince

Nothing Compares 2 U

The Day Lou Died

Mystery Guest

Summertime

Orville Peck

Panic

Anne Hamilton

Cemetery Lifestyle

BC Camplight

Personality

No Statues

Move

The Bobby Lees

I Beat You

Vicious Visions

Reach Out I'll Be There

Morning Reign

Losing You

Solange

Shiny Suit Theory

Jay Electronica

Perspective

Narrow Adventure

Lovely Day

Bill Withers

Midnight Dipper

Warmduscher

Shugar Water

Jackie Lynn

Common Sense

Viagra Boys
Music, news, sport, weather, information, special guests and regular segments each morning.
Monday to Friday from 6am. We post updates throughout the show (including links to books mentioned etc.) on Facebook and Twitter. You can also email us at breakfasters@rrr.org.au.
---
TEXT US ON:
0466981027
SERVICE MUSIC TO:
music.coordinator@rrr.org.au or breakfasters@rrr.org.au
INTRO TRACK:
Khruangbin - People Everywhere (Still Alive)
Weekly segments
Monday
7:15am
Andrew "Donno" Donninson 'Sports Wrap'
8:15am
Brass Tacks – Various Presenters
Tuesday
7:45am
Elizabeth McCarthy / Fi Wright 'Book Review'
8:15am
Vanessa Toholka 'Tech Talk' / Adam Christou 'Game Changers'
Wednesday
7.15am
Justin "Digga" Calverley 'Down And Dirty' / Michael Harden 'Food Interlude'
Thursday
7:15am
Simone Ubaldi / Hayley Inch 'Film Review'
8.15am
'Feature Creatures' with Sean "The Birdman" Dooley / Entomologist Simon Hinkley / Marine Biologist Ricky-Lee Erickson
Friday
7:45am
'Friday Funny Bugger' with local comedians
---
The podcast intro and outro theme is Soft Illusion and was generously provided by Andras.
https://andras.bandcamp.com/track/soft-illusion