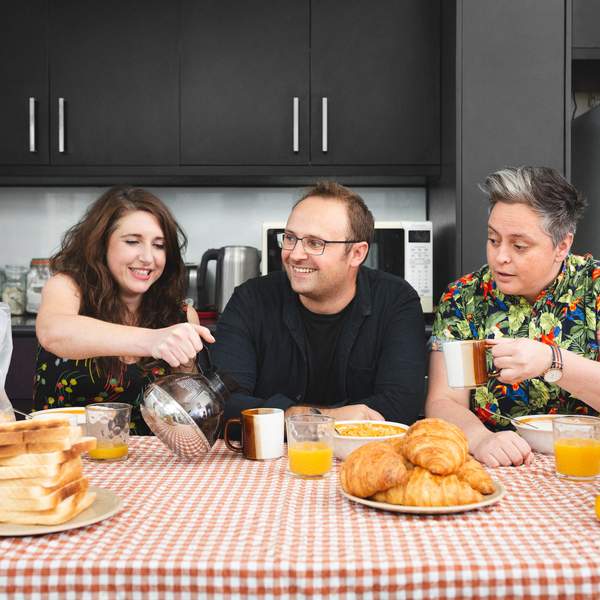 Listen to Breakfasters – 2 April 2020
∙
Author Vivian Pham tell us all about her new book 'The Coconut Children'.
Playlist for Breakfasters – 2 April 2020
Feeling Real Good

Space Ghost

Common Sense

Viagra Boys

Perfect

Sorry

Don't Worry Be Happy

Bobby McFerrin

Are You In Love?

Basia Bulat

Freedom Is Free

Chicano Batman

Cemetery Lifestyle

BC Camplight

Beesech Me

CLAMM

Million Dollar Baby

Dianas

Not given lightly

Chris Knox

Genius of Love

Tom Tom Club

Hooker Jon

Black Lips

Something I Do

SWEET WHIRL

Grown Man

Snowy Band

You Gots to Chill

EPMD

Spare Me The Time

Zoe Fox & The Rocket Clocks

Running Red Lights

The Avalanches

Leaving

Chitra
Music, news, sport, weather, information, special guests and regular segments each morning.
Monday to Friday from 6am. We post updates throughout the show (including links to books mentioned etc.) on Facebook and Twitter. You can also email us at breakfasters@rrr.org.au.
---
TEXT US ON:
0466981027
SERVICE MUSIC TO:
music.coordinator@rrr.org.au or breakfasters@rrr.org.au
INTRO TRACK:
Khruangbin - People Everywhere (Still Alive)
Weekly segments
Monday
7:15am
Andrew "Donno" Donninson 'Sports wrap'
8:15am
Toby Halligan 'Politics'
Tuesday
7:45am
Elizabeth McCarthy / Fi Wright 'Book Review'
8:15am
Vanessa Toholka 'Tech Talk' / Adam Christou 'Game Changers'
Wednesday
7.15am
Justin "Digga" Calverley 'Down And Dirty' / Michael Harden 'Food Interlude'
Thursday
7:15am
Simone Ubaldi / Hayley Inch 'Film Review'
8.15am
'Feature Creatures' with Sean "The Birdman" Dooley / Simon Hinkley / Ricky-Lee Erickson
Friday
7:45am
'Friday Funny Bugger' with local comedians
---
The podcast intro and outro theme is Soft Illusion and was generously provided by Andras.
https://andras.bandcamp.com/track/soft-illusion