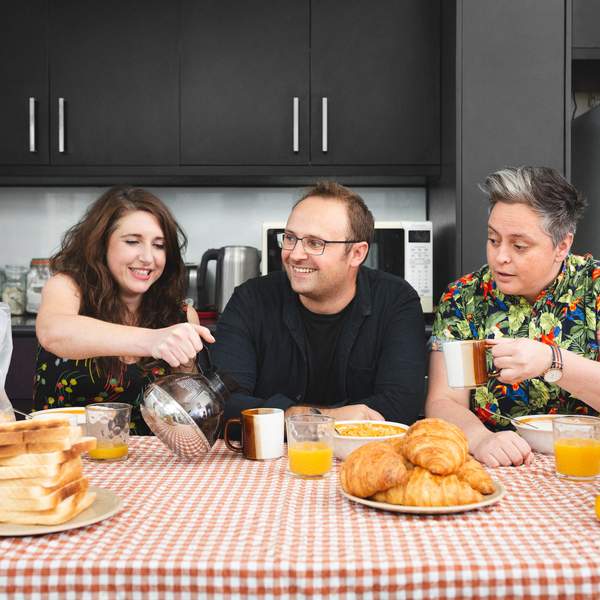 Listen to Breakfasters – 25 March 2020
∙
Margaret Simons discusses her Quarterly Essay 'Cry Me A River: The Tragedy of the Murray-Darling Basin'.
Playlist for Breakfasters – 25 March 2020
Never Change

Snowy Band

Silver Springs

Fleetwood Mac

Come Down On Jupiter

The Orielles

Give | Take

Porridge Radio

Common Sense

Viagra Boys

We Will Always Love You (feat Blood Orange)

The Avalanches

Spare Me The Time

Zoe Fox & The Rocket Clocks

Pillow

Cable Ties

KV Crimes

Kurt VIle

Cant Cool Me Down

Car Seat Head Rest

Running

Gil Scott-Heron & Makaya McCraven

The Neverending Story

Jay Electronica

The Quiver to the Bomb

US Girls

Teenage Birdsong

Four Tet

Come Back and Love Me

Hinds

Islands In The Stream

Dolly Parton & Kenny Rogers

Octagon City

Mystery Guest

Outside if Ourselves

Girlatones

Overtime

No Statues

Circumstances Beyond Our Control

Use No Hooks

Matter of Time

Floodlights

The Way We Get By

Spoon

Elizabeth

#1 Dads
Music, news, sport, weather, information, special guests and regular segments each morning.
Monday to Friday from 6am. We post updates throughout the show (including links to books mentioned etc.) on Facebook and Twitter. You can also email us at breakfasters@rrr.org.au.
---
TEXT US ON:
0466981027
SERVICE MUSIC TO:
music.coordinator@rrr.org.au or breakfasters@rrr.org.au
INTRO TRACK:
Khruangbin - People Everywhere (Still Alive)
Weekly segments
Monday
7:15am
Andrew "Donno" Donninson 'Sports wrap'
8:15am
Toby Halligan 'Politics'
Tuesday
7:45am
Elizabeth McCarthy / Michelle Bennett 'Book Review'
8:15am
Vanessa Toholka 'Tech Talk' / Adam Christou 'Game Changers'
Wednesday
7.15am
Justin "Digga" Calverley 'Down And Dirty' / Michael Harden 'Food Interlude'
Thursday
7:15am
Simone Ubaldi / Hayley Inch 'Film Review'
8.15am
'Feature Creatures' with Sean "The Birdman" Dooley / Simon Hinkley / Ricky-Lee Erickson
Friday
7:45am
'Friday Funny Bugger' with Laura Dunneman / Nat Harris / Matt Stewart
8:45am
'Breakfasters Live' with different live bands each week
---
The podcast intro and outro theme is Soft Illusion and was generously provided by Andras.
https://andras.bandcamp.com/track/soft-illusion