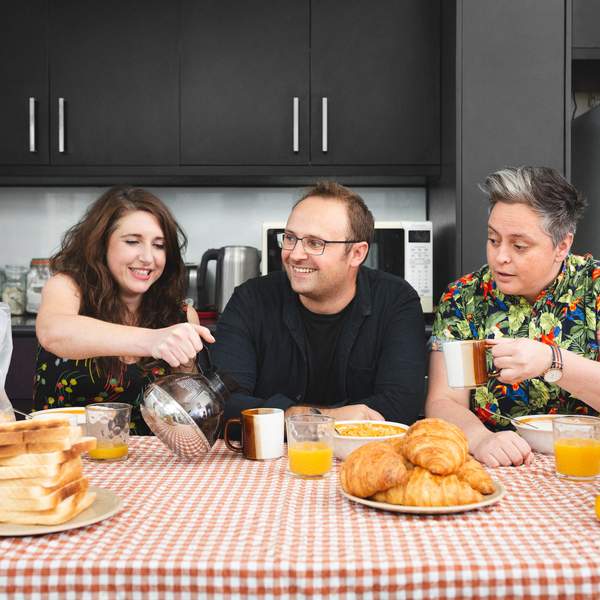 Listen to Breakfasters – 17 February 2020

03:00:00
Maya Newell catches up with Breakfasters to discuss new film In My Blood It Runs.
Playlist for Breakfasters – 17 February 2020
Love Is In The Air

John Paul Young

He Loves Me

Brittany Howard

Take It Back

Denzel Curry and Kenny Beats

Picking Fights

MOON CUP

Slave

MOODY BEACH

Loves Missing

Iggy Pop

Cars In Space

Rolling Blackouts Coastal Fever

Midnight

Khruangbin & Leon Bridges

Sorry

Beyonce

Good Bad Times

Hinds

Mirror Ball (demo)

The Crayon Fields

Young Americans

Durand Jones & The Indications

I'm In Love With An Angel

Joe Tossini and Friends

Self-Made Man

Cable Ties

Holding Me Holding You

Black Lips

The Bucket

Kings of Leon

At The Door

The Strokes

Contagious

Banoffee

Dog

CLAMM

American Dollars

U.S. Girls

I'm New Here (Makaya McCraven remix)

Gill Scot-Heron
Music, news, sport, weather, information, special guests and regular segments each morning.
Monday to Friday from 6am. We post updates throughout the show (including links to books mentioned etc.) on Facebook and Twitter. You can also email us at breakfasters@rrr.org.au.
---
TEXT US ON:
0466981027
SERVICE MUSIC TO:
music.coordinator@rrr.org.au or breakfasters@rrr.org.au
INTRO TRACK:
Khruangbin - People Everywhere (Still Alive)
Weekly segments
Monday
7:15am
Andrew "Donno" Donninson 'Sports Wrap'
8:15am
Brass Tacks – Various Presenters
Tuesday
7:45am
Elizabeth McCarthy / Fi Wright 'Book Review'
8:15am
Vanessa Toholka 'Tech Talk' / Adam Christou 'Game Changers'
Wednesday
7.15am
Justin "Digga" Calverley 'Down And Dirty' / Michael Harden 'Food Interlude'
Thursday
7:15am
Simone Ubaldi / Hayley Inch 'Film Review'
8.15am
'Feature Creatures' with Sean "The Birdman" Dooley / Entomologist Simon Hinkley / Marine Biologist Ricky-Lee Erickson
Friday
7:45am
'Friday Funny Bugger' with local comedians
---
The podcast intro and outro theme is Soft Illusion and was generously provided by Andras.
https://andras.bandcamp.com/track/soft-illusion