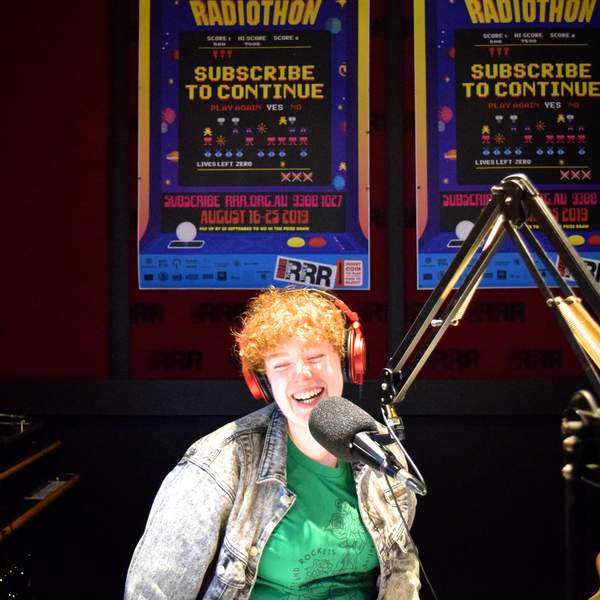 A show about sleep, dreams, nightmares and what happens in your head after dark.
How did you first connect with Triple R?
I first visited the station a few years ago for a pitch meeting for a show called All The Best. It's a storytelling show based at FBi Radio in Sydney, and they collaborate with other stations like SYN and Triple R. I came along to a show meeting at Triple R and I thought everyone here was intimidatingly cool and great, so it was pretty bloody exciting when I ended up working here for a year as All The Best's Victorian State Coordinator.
What/when was your first show?
I'd been making pre-recorded stories and podcasts for a while but was staunchly avoiding anything live-to-air, but then I was invited to be a guest on Multi-Storied (RIP) to talk about All The Best. Live radio was just as scary as I thought it would be, but Elizabeth and Lou were so lovely and encouraging. After that, pretty much every time I saw Elizabeth she'd ask me when I was doing a graveyard. I avoided it until December 2017, when I did some overnighters (including New Year's Eve/Day!) and realised how much fun live radio can be. I hosted a summer fill of Frank (also, RIP) doing SleepTalker — based on my podcast of the same name — and then in 2018 it became a weekly thing!
What's your favourite Triple R story?
My first Radiothon as a regular broadcaster was pretty special. I was living with Fi Wright at the time, and she hosted the graveyard after my very first Radiothon show last year. Doing that handover, and then winding down after the Radiothon buzz while Fi was broadcasting an incredible themed playlist, was such a good feeling.
Your favourite other Triple R program and why?
What a hard question to answer! I adore the Wednesday grid, and I'm a big Beth AQ fan, so I think I'm gonna have to say The Glasshouse.
What does Triple R mean to you?
I don't know what I can say here that hasn't been said a thousand times before about community radio. But here goes. Triple R is the home of a bunch of supportive weirdos with great taste, and they've all helped this weirdo get better taste, be a better person, and feel less lonely in my weirdnesses.
The studio door has accidentally jammed shut with you stuck inside. If there was only one CD in there with you, what would you want it to be, and why?
This is kinda cheating, because it won't actually fit onto a CD, but if I can stretch the boundaries of this question I'd love to choose Ben Seretan's My Life's Work (https://benseretan.bandcamp.com/album/my-lifes-work). It's so incredibly soothing, plus it goes for 24 hours so I'd have time for a snooze.