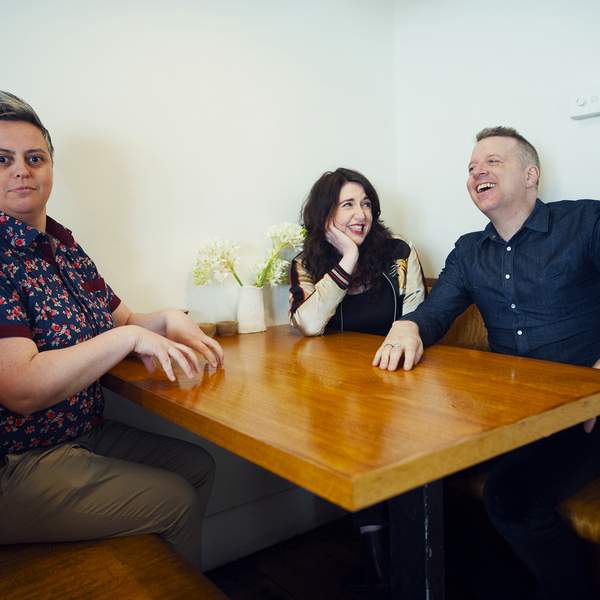 Listen to Breakfasters – 17 October 2018
∙
Filling in for the Breakfasters this week are Areej Nur, Nat Harris and Tom Trumble.
Playlist for Breakfasters – 17 October 2018
Music, news, sport, weather, information, special guests and regular segments each morning.
Monday to Friday from 6am. We post updates throughout the show (including links to books mentioned etc.) on Facebook and Twitter. You can also email us at breakfasters@rrr.org.au.
---
TEXT US ON:
0466981027
SERVICE MUSIC TO:
music.coordinator@rrr.org.au or breakfasters@rrr.org.au
INTRO TRACK:
Khruangbin - People Everywhere (Still Alive)
Weekly segments
Monday
7:15am
Andrew "Donno" Donninson 'Sports wrap'
8:15am
Toby Halligan 'Politics'
Tuesday
7:45am
Elizabeth McCarthy / Michelle Bennett - 'Book Review'
8:15am
Vanessa Toholka 'Tech Talk'
8:15am
Justin "Digga" Calverley 'Down And Dirty'
Wednesday
7:45am
Dr Jen 'Weird Science'
Thursday
7:15am
Simone Ubaldi / Hayley Inch 'Film Review'
8.15am
'Feature Creatures' with Sean "The Birdman" Dooley / Dr Tristan Rich (Lort Smith) / Simon Hinkley (Museums Victoria) / Ricky-Lee Erickson (Museums Victoria)
Friday
7:45am
Laura Dunemann 'Friday Funnybugger'
8:45am
'Breakfasters Live' with different live bands each week