How To Make Your Own Eggplant Lasagne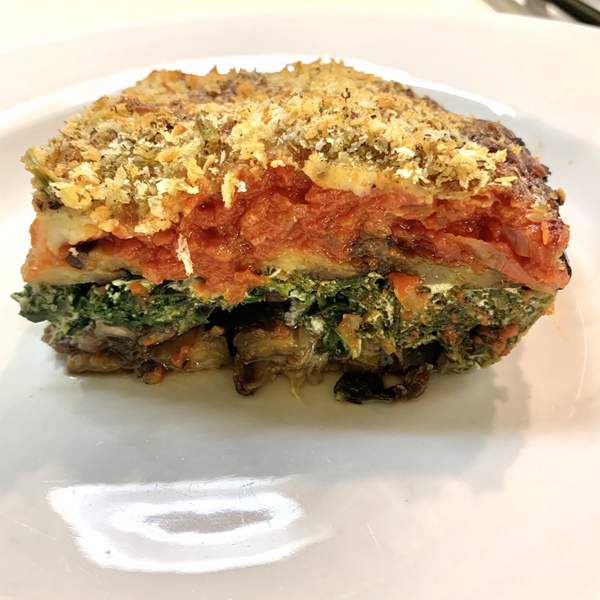 Eat It host Cam Smith shows us how to rustle up a tasty and nourishing eggplant lasagne (well, technically an eggplant al forno), along with a fresh and zesty salad. Best of all: it's super-easy to throw together.
RECIPE AND PHOTOS CAM SMITH
The whole thing started with a couple of eggplants I got from John at the market. They'd been abandoned and ignored for a good week in a little basket on my kitchen bench.
John is, of course, an integral part of Eat It with his market reports delivered over many years. He is my tomato whisperer, veggie explainer, and, most importantly, my touchstone to all things regarding the culture, food and outlook of Italians in this town. John wouldn't be happy with me if I let them go to waste.
Pasta Norma? No, I've been eating a bit too much pasta during the lockdown; I had my own personal curve that was in need of some flattening and still does, if I'm honest.
I needed to do something with a bit of a halo of health, something not too carb-dense. I thought of doing an eggplant parma, but there were two of them, one was going to miss out and then, I thought…. oven, casserole dish and lots of leftovers for later.
It was Forno time!
Here's the recipe and how to assemble it, as well as a lovely little salad of spinach, radicchio, orange and red onion.
EGGPLANT AL FORNO
This is one of those recipes that we call "an assembly".
It all seems a bit daunting, but just work through it, and before you know it, you will be pulling this dish from the oven and the world will be a slightly better place.
There are four main preparations that need to be done (one is kinda optional), and then they are all put together and thrown into the oven.
I'll deal with each separately.
OK, here we go.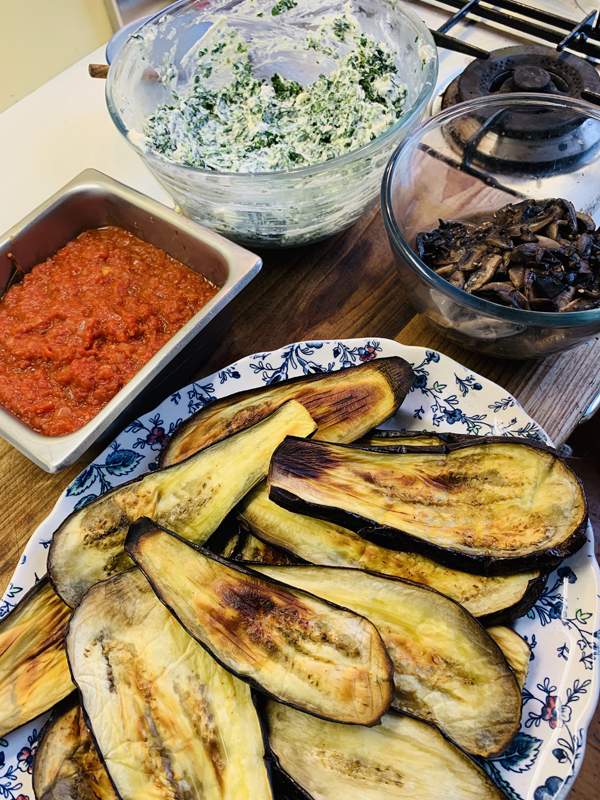 You'll need:
Two eggplants
250g ricotta (or vegan alternative)*
One egg (optional)
500g frozen spinach
Parmesan (or vegan alternative)
Onion
Two cloves of garlic
Two 400g tins of chopped tomatoes
One or two bay leaves (or a bunch of basil)
Dash of salt
Dash of sugar
250g mushrooms (optional)
Couple of handfuls of panko bread crumbs
Couple of tablespoons of zataar
Handful of grated parmesan (or vegan alternative)
Handful of grated cheddar (or vegan alternative)
* If you're vegan, you might also like to whip up your own ricotta; there are heaps of easy-as recipes for this online.
First things first: get comfy in the kitchen. Need a drink? Yeah, go on. Music? Absolutely!
Eggplant
Slice lengthwise about a centimetre thick. Lay them on a board or a couple of big plates and lightly salt on both sides.
After about ten minutes or so, you should see that the salt has pulled out some moisture from the slices. Rinse off the excess salty water and pat dry with either paper towels or a tea towel.
Line a baking tray with some baking paper. Arrange the eggplant on the tray. Brush with a bit of olive oil and leave in the oven (180 degrees Celsius) until nice and brown. You will probably need to do it in a couple of batches.
Spinach
Put ricotta in a bowl. Now mix in a whole egg (if you're using it), and a generous handful of finely grated parmesan.
Defrost the frozen spinach, squeeze out excess liquid (so it's not too sloppy), and mix together with the ricotta mix.
Tomatoes
Cook off an onion in olive oil until clear and fragrant. Add a couple of cloves of crushed or chopped garlic (don't burn the garlic or John will start the finger-waving!).
Add a couple of tins of the best chopped tomatoes you can find. Add a bay leaf or two (or, if you have one, a bunch of basil), a little dash of salt, and a tiny little dash of sugar (around half a teaspoon).
Bring to the boil and simmer, uncovered, to reduce and concentrate the flavour of your Napoli sauce.
Set aside.
Mushrooms
I had a bag of mushrooms in the bottom of the fridge and they added some nice flavour and texture to the dish. But if you don't have any... don't worry! I sliced them and fried them off with some olive oil and a touch of salt and set them aside.
OK, you're nearly there, there's just the crust that needs to be sorted.
Crust
I had some panko bread crumbs into which I mixed a bit of zataar, together with some grated parmesan and cheddar.
Now... let's put this thing together!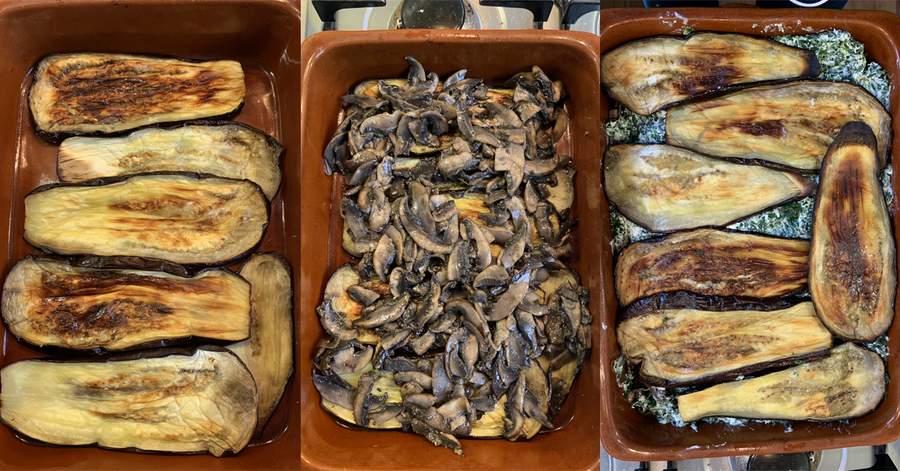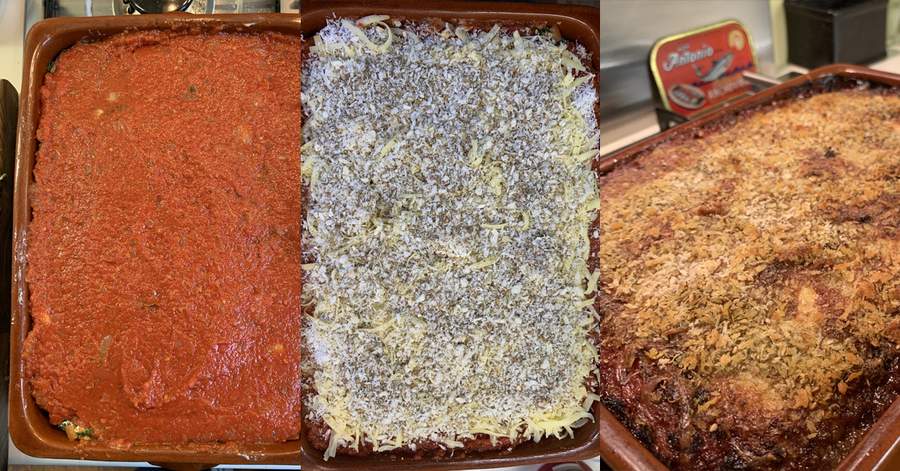 Assembly
First layer is half the eggplant. Lay them nice and close together.
Next comes the mushroom layer. Spread nicely.
Spread the spinach layer and top with the final layer of eggplant.
You are sooo close.
Now spread over the slightly thickened Napoli sauce.
And lastly, the cheese layer. Crown your creation with the breadcrumb mixture for the crust.
You've done it! Now all that's left is the cooking.
Cooking
Put the dish on a tray and place it in the middle shelf of your oven and cook at around 180 degrees Celsius for about an hour, reducing the temperature a bit in the last 15 minutes or so.
You'll know it's ready when the crust is nice and brown, and the sauce is bubbling away, and your kitchen is smelling fantastic.
Let's get this salad done to go with it.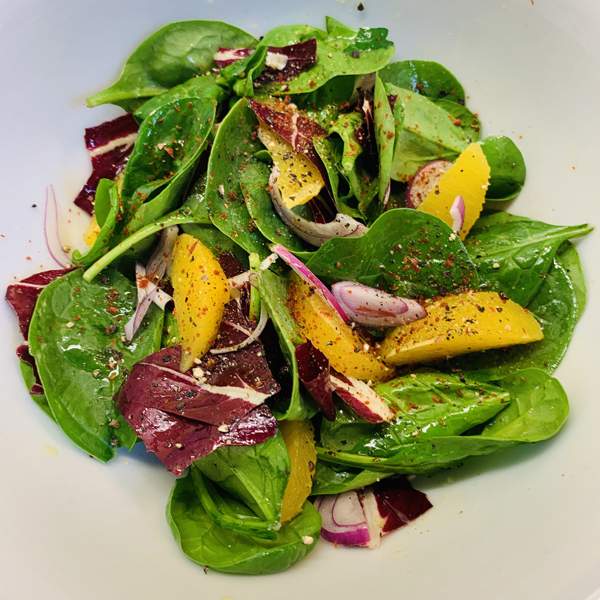 SALAD
Bart Simpson once said, "You don't make friends with salad!" I reckon this will… Well, it should be worth a smile.
It's a bit of sunshine in a bowl and works beautifully with a winter's navel orange.
You'll need:
Some baby spinach
Some torn radicchio
Sliced red onion
Orange slices
A sharpish vinaigrette
Throw all the ingredients in a bowl. Mix in the vinaigrette and season with a bit of salt, a grind or two of some coarse black pepper, and, if you have some, a pinch of Aleppo pepper to warm it up and give it a little red blush.
OK... let's eat!
---
Cam Smith presents Eat It on Sundays from midday to 1pm. Recently, the Melbourne Food & Wine Festival inducted him into their Legends Hall Of Fame – go, Cam! You can keep up with Cam's latest recipes and food finds on his Instagram.