From an episode of Uncommon Sense∙Presented by Amy Mullins
Interview
Uncommon Sense: How Unions, Musicians & Others Are Fighting To Save The John Curtin Hotel
Luke Hilakari, Secretary of the Victorian Trades Hall Council tells host Amy Mullins the full story behind the fight to save the John Curtin Hotel. "It's a bit of a disturbing story really. We put in a joint bid, and by we, I mean the Electrical Trade Union of Victoria and RMIT. That bid was over 6 million dollars, and the place sold for 5.5 [million dollars]… to an offshore developer," explains Hilakari.
A green ban has now been announced as part of mounting efforts to protect the Curtin Hotel, a socially and culturally significant pub in Carlton. Union workers will refuse to take any building job on the Curtin Hotel and form a physical picket line with musicians and community members if necessary.
Luke tells of a worrying trend, "over the last 30 years, if you think of live music venues across Melbourne... we've lost 16 of them. So one by one they're being sort of picked off, and then Melbourne loses part of that cultural character, which we think is unacceptable."
"It was one of the first places in which women drank in a bar, led by Zelda D'Aprano. It was one of the first places where Aboriginal bands were regularly playing – it was a really progressive joint where a lot of firsts happened in Victoria and to lose it… I think it's disgusting. And so if we have to have people to come round to physically protect it, well then that's what we should be doing."
Listen to Felicity Watson from the National Trust speak of the heritage laws and rules concerning the Curtin Hotel, and read their Victorian Heritage Register nomination submission detailing the significance of the pub.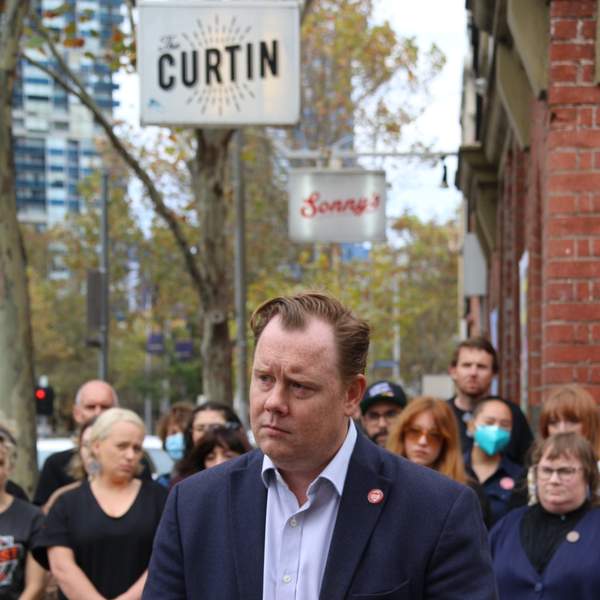 Listen to Uncommon Sense: How Unions, Musicians & Others Are Fighting To Save The John Curtin Hotel
19:16∙9 May 2022
∙