From an episode of Breakfasters∙Presented by Daniel Burt, Monique Sebire and Nat Harris
Interview
Breakfasters: Joanna Agius, Harriet Devlin & Marc Ethan on FLOW Festival - Showcasing Deaf/Hard of Hearing Arts
A special Auslan interpreted interview about FLOW Festival - Australia's multi-arts festival for and by the d/Deaf and Hard of Hearing community. Producers Joanna Agius OAM and Harriet Devlin, and Auslan interpreter Marc Ethan join the Breakfasters to tell us about the festival, happening this weekend at Darebin Arts Centre (Saturday 16th & Sunday 17th September, 2023 from 11am-9pm).
During the interview, presenters Mon, Dan, and Nat would look at Joanna when addressing her, who, in relying on visual cues, would look at Marc (interpreter), who would interpret for her on mic. In this interview we only hear (audibly) the voices of Harriet and Marc (interpreter) on mic.
As the festival's First Nations producer, Joanna Agius has been awarded an Order of Australia Medal for her contributions to the Deaf Aboriginal community and coordinated the presence of First Nations artists at the festival for the first time.
The trio discuss with Harriet and Joanna festival highlights, including: a smoking ceremony presented in Auslan, weaving workshop, Aboriginal children's storytime in Auslan, deaf Aboriginal art exhibition, pah! storytelling, film, panels, workshops, and more.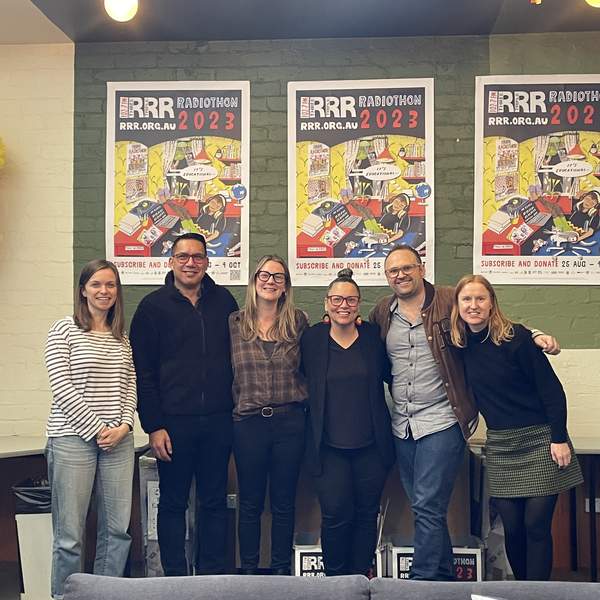 Listen to Breakfasters: Joanna Agius, Harriet Devlin & Marc Ethan on FLOW Festival - Showcasing Deaf/Hard of Hearing Arts
12:33∙12 September 2023
∙