Getting to Know Melbourne Soul Family 30/70
By Triple R volunteer writer Katherine Smyrk
What could be more Melbourne than naming yourself after a postcode in the city's inner-north? Probably nothing, which is why it's fitting for the 30/70 collective, who represent their home base of Northcote on stages around Australia and the world.
With their third album Fluid Motion being selected as Triple R's Album of the Week, we thought we'd do a quick dive into what makes so many worship at the many feet of this Melburnian future-jazz collective.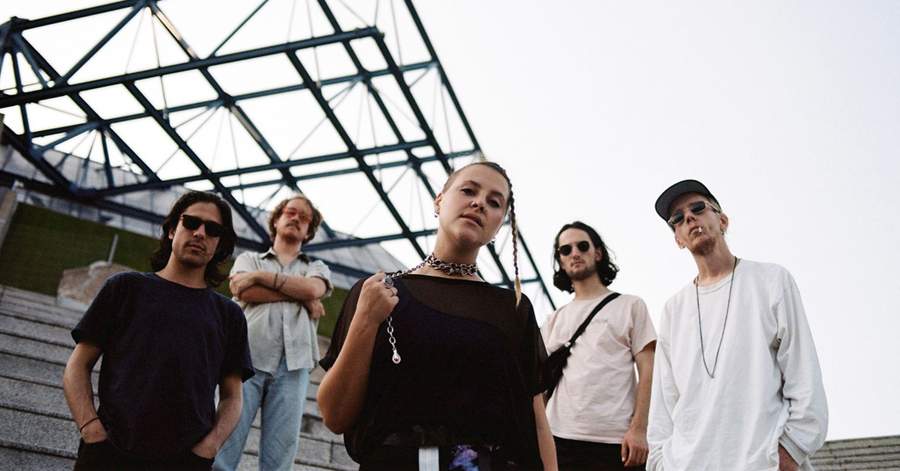 I like to imagine 30/70 as a rambunctious share-house that happens to also produce incredible jazz/funk/neo-soul music. It's ever-changing, hard to pin down, and filled with love and creativity.
'I've lived with nearly everyone in the band,' singer Allysha Joy told Sungenre. 'We're all like really close family, so it's all cool. It's funny. They're like my brothers.'
Most of the members of the collective have side bands, solo projects – people come and go as their lives push and pull them; something that would be familiar to anyone who has lived in share-houses.
'The band itself is changing constantly over the years. It started off as an instrumental trio, it's grown to an 11-piece and now it's stripped back to a five-piece,' Allysha explained on Triple R's Stylin'. 'The idea behind the collective is just to support each other through our musical journeys and to explore different possibilities, and there's been so many projects that have started and ended through the five year period that we've been all making music together. It's constantly changing and expanding. It's like this little fragile ecosystem.'
Although the band's roots are unequivocally Melbourne-planted, the collective has recently taken off, taking their special sound around Europe. They found a home in the UK; both Fluid Motion and their second LP Elevate were released by London's Rhythm Section, and a number of 30/70 members contributed to this year's jazz compilation Sunny Side Up, released by London legend Gilles Peterson.
Gilles said of the compilation earlier this year, 'Unlike other cities with storied histories in jazz culture, the sound of Melbourne is free of any jazz customs to follow behind, leaving musicians free to incorporate hip hop, house or R&B. Jazz is the mindset, the output is infinitely diverse.'
The same themes came up when Allysha described the new album on Stylin': 'There's a lot of diversity. It's kind of wild and I guess it's reflective of 30/70 and all the members in it and the fact that we're all bringing in tunes and ideas and things – there's breakbeat, there's classic soul bangers, there's a drum and bass track there for a minute. There's so many different things.' She cites a range of influences, from Erykah Badu to fellow Melburnians Hiatus Kaiyote to Ella Fitzgerald.
Another important part of it all for Allysha and 30/70 is making music with a message. Matching the diverse genres, the songs explore everything from heartache to climate change. 'We're all very focused on seeking change within government and within ourselves, for the environment and for social change and for engagement in community – and that's definitely a thread within the music. A lot of my lyrics are based around the female experience, the cultural experience of Australia, and how we can better ourselves and our community.'
And it always comes back to Melbourne – their home town, where they record, where they love to play.
'It's just like mad community in Melbourne,' Allysha told Reform Radio in Manchester. 'I nearly cried on stage last night thinking about it… [There are] just so many people doing it for what seems to me to be the right reasons, spreading a positive energy and taking others with you, not just doing it for themselves, but to spread the energy of Melbourne, Australia and the energy of soul and jazz music. And that's something I feel like in Melbourne is so strong, and that I'm super proud of.'
---
30/70 will launch Fluid Motion at the Corner Hotel Saturday 7 December. Tickets and more details available here.
Triple R subscribers can go in the draw to win a free download copy of the album. Be sure to enter by Sunday 8 December.
Katherine Smyrk is a Melbourne-based writer of fiction and non-fiction, and the Deputy Editor of The Big Issue. When she's not reading or writing she is usually eating cheese, playing footy or dancing to Beyoncé. You can follow her on Twitter.