From an episode of Uncommon Sense∙Presented by Amy Mullins
Interview
Uncommon Sense: Bob Brown, Giant Of The Conservation Movement, Reflects On His Life, Activism And Connection To Nature
Former Leader of the Australian Greens, environmentalist, and giant of the conservation movement Bob Brown speaks in-depth with host Amy Mullins. In a wide-ranging and deep conversation, Bob reflects on his life of activism, protest, and deep personal connection with nature including the giant native trees of Tasmania, as depicted in an inspiring documentary, THE GIANTS (in cinemas April 20, co-directed by Rachel Antony and Laurence Billiet).
Bob reflects on his shyness since childhood and how he had to overcome it to advocate for the environment and other social and political issues. He encourages others to do the same. "I've been nervous all through my life and I think other people need to know. ...[There's] that Bertrand Russell dictum; "the trouble with the world is that the stupid are cocksure, but the intelligent are full of self-doubt." Well, get over it, intelligent people. ...We're reticent and forbearing, but the problem is if you don't overcome that, the wreckers rule the roost. ...We've got an inner reserve when we know that we're paving the way for a better society that's quite untapped, but gee it's strong," says Brown.
Bob Brown's wise advice to us all is to "Get active... But above all, look after yourself. It's no good being unhappy about everything. ...Life's long and you mustn't be too despairing. It's logical to look at the world and get depressed about it, but then look after yourself. And one of the best ways of doing that is becoming active – in whatever form – with other like-minded people. It's a salve to our own souls. I know that from my own experience and I'm just lucky to be at this end of life, not only to have a good companion, but to be surrounded by other people who are thinking, 'Yes, we've got to change this' – and we will change it."
Image Credit: The Giants, 2023.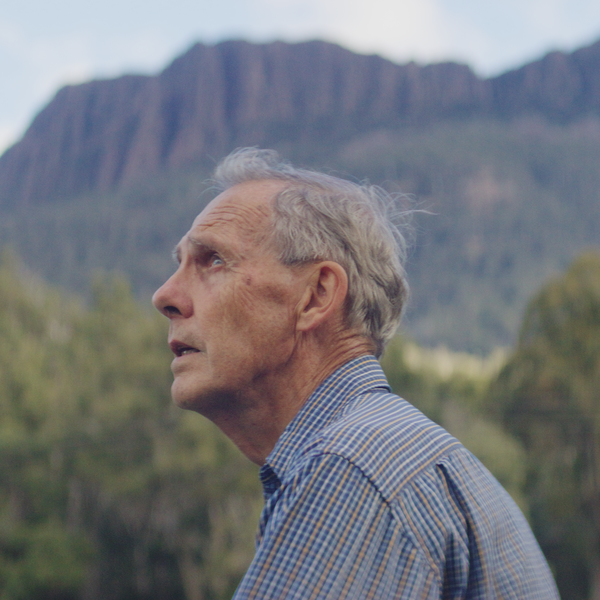 Listen to Uncommon Sense: Bob Brown, Giant Of The Conservation Movement, Reflects On His Life, Activism And Connection To Nature
46:04∙18 April 2023
∙