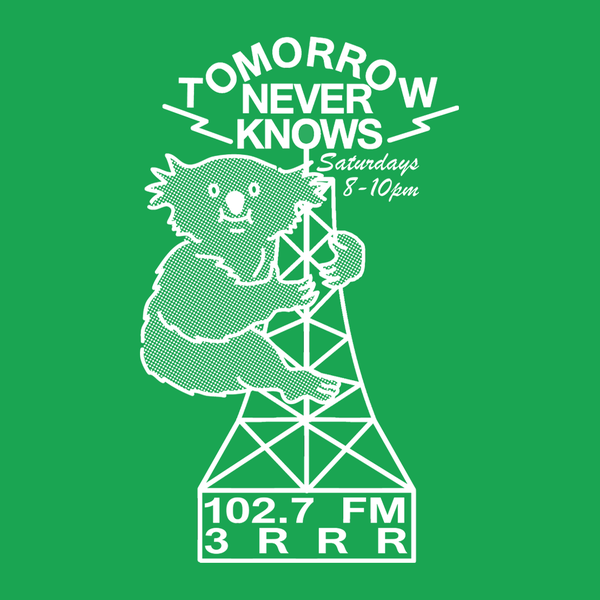 Listen to Tomorrow Never Knows – 17 August 2019

02:00:00
Emerald invites special guests Loose Tooth and Andy Wilson (from former Triple R show Strange Holiday) for day two of Radiothon.
Playlist for Tomorrow Never Knows – 17 August 2019
Super Mario Brothers

Overworld

Loaded (Farley Mix 7")

Primal Scream

Can't get Blue Monday out of my head

Kylie Minougue, New Order

Mary Hartman Mary Hartman (Adam Cruz Tribute Version)

Sounds of the Inner City

Brenda

Ara Koufax

Keep On

Loose Tooth

This Is The Day

The The

Head Over Heels

Tears For Fears

Call Me (Please)

Bell Towers

Killcord

Wilson Tanner

La Vie En Rose

Grace Jones

Live Mix Start*

*Andras

Main Theme

Town With No Name OST

How Many?

Andras

The Gunner and the Goo

Bjorn Lynne

Should I Stay or Should I Go

386 DX

Live Mix End*

*Andras

Sweet Harmony (Fertility Dance Mix)

The Beloved

Precision

Logic 1000

Live Mix Start*

*Paul Gorrie

Vox Automation

ERP

0998.0989.12

The Exaltics

John Cena

Sho Madjozi

F-K-P-W

Paul Woolford

Live Mix End*

*Paul Gorrie

Goodbye Horses (Demo 1)

Q Lazzarus
Turn off your mind and float down stream every Saturday night as Emerald plays everything from the emerging to the internationally renowned. With two hours of tunes spanning neo-soul to rock 'n' roll. Tomorrow Never Knows charts the differences between the parties of tonight and the headaches of tomorrow.
---
Presenters