Meet Beci Orpin – the Artist Behind the Triple R Radiothon Artwork
The only arcade game Beci Orpin grew up playing was Street Fighter – 'mostly because I thought Chun-Li was cool and it was fun seeing her beat the crap out of Ken,' she says. Learn how she became such a gun in the Melbourne visual arts world – and how she cooked up our 8-bit-inspired Radiothon artwork.
Interview by Triple R volunteer Kayley Langdon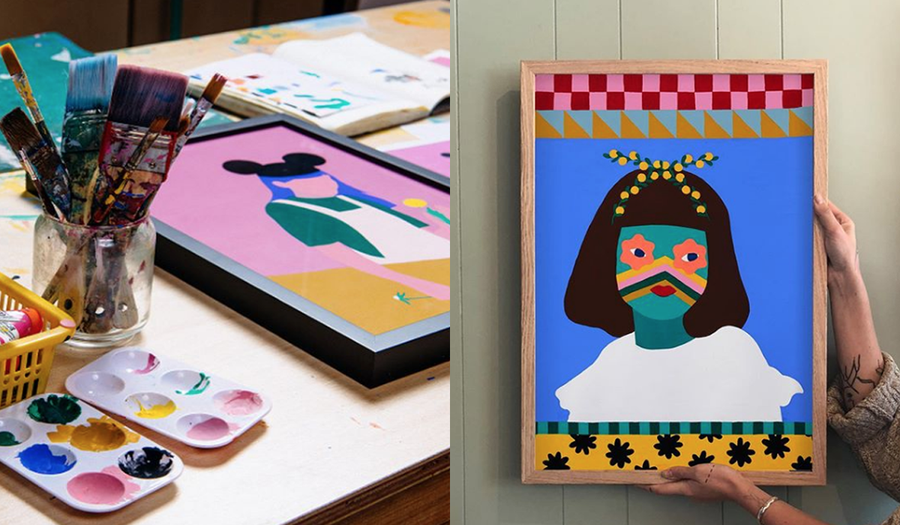 Beci Orpin's work can be found in many different places around our city. The Melbourne-based artist has worked with and created designs and illustrations for Beatbox Kitchen store-front and Taco Truck, Gorman clothing, and Who Gives a Crap to name a few. She's even made her own how-to books on craft. Her work is easily recognised by bold colours, geometric lines, shapes, characters and an overall air of positivity.
Kayley Langon: You're very well established in the Melbourne art scene, collaborating and doing illustrations for Melbourne staples such as the Melbourne International Film Festival 2016 campaign identity, Beatbox Kitchen storefront and truck as well some Christmas projections at Federation Square in 2018. Have you always lived in Melbourne?
Beci Orpin: I'm Melbourne born and bred. At one stage we were going to move to the US, as a lot of my work was there, then I got pregnant with my first child and I wanted to be with my family for that. I also think if all creatives left Melbourne it would be pretty crap; some need to stay here and fly the flag.
What are your views of the artist community here in Melbourne? Was it difficult to carve out a place for yourself?
Melbourne is a big enough city for there to be a lot going on, but then small enough for it to have a supportive creative community. I've always felt very supported here, and I'm constantly surprised by how many people show up to exhibition openings/gigs/events etc. There is a lot of love!
Do you sense a specific theme or style to Melbourne art at the moment? Where do you fit into this?
I live in a bubble and like it that way. Although I'm conscious of what is going on creatively around me, I try to vary the type of things I see and let in, rather than be influenced by work that has similarities to mine. SO there could be a trend – but I'm trying to ignore it, if so.
I would also say I'm not really involved in the Melbourne 'art scene' as such (perhaps a broader creative scene?), and would never classify myself as and artist. I pay my bills by running a commercial design studio. Being an artist comes with certain labels which I'm not interested in being part of (power to those who are, though!). Essentially, I just like to make things look nice!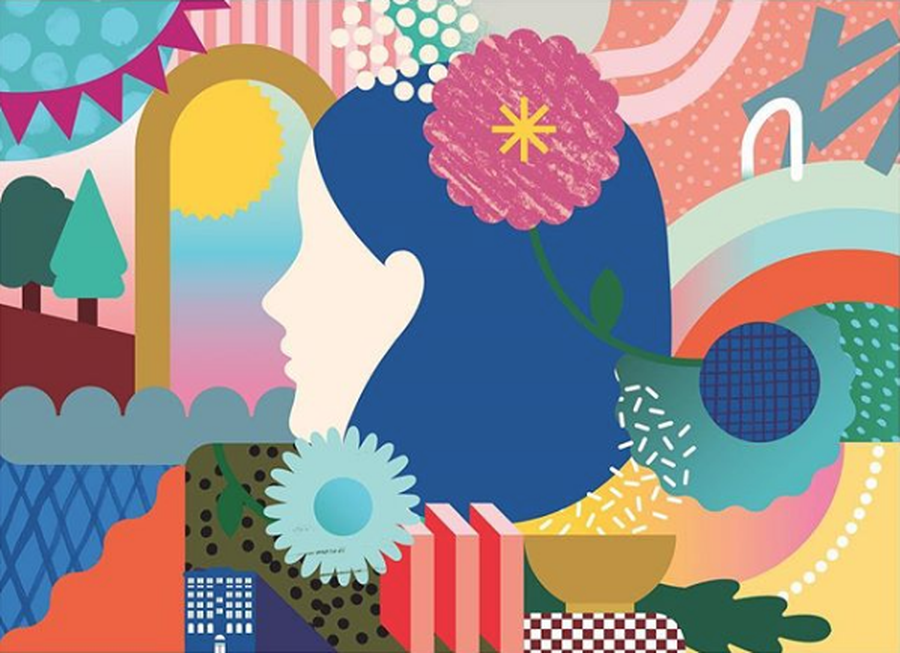 What first inspired you to do art? What is your earliest memory of thinking this could be a career for you?
My parents wouldn't really let me watch much TV, so I was either playing outside or drawing and making things. My dad was a builder, so I was often tinkering in the shed with him from a young age. I always knew I wanted to draw and make things for living, but I wasn't sure what that was going to be.
What different mediums do you use or have you tried? What would you say is your favourite?
I get bored easily, so I try different mediums all the time. Most of my commercial work is done on computer using vector illustration, which I love. I've all dabbled in different types of sculpture, fabric, last cut wood, collage. I'm currently trying to paint more – I'm really loving it.
Is there a common theme within your artwork? How has this theme evolved and changed over time?
A common theme would be girls/the female form/geometric shapes/a sense of optimism. It's changed over time depending what my influences are, what mediums I'm working in.
You posted a very inspiring image after the most recent election with positive thoughts and ideas, such as 'consume less', 'be kind' and 'show compassion'. Does your art often reflect your current mood, environment or lifestyle?
That graphic was made in response to the way I felt about the election result and it went viral! I made it quite spontaneously, and didn't think about it so much, just made it to make myself feel better – but it resonated with a lot of people, which was great (it's now also coming out in book and jigsaw puzzle form!). All of my personal work reflects a current mood, but my commercial work is pretty much made to keep clients happy (with bit of me in there, too).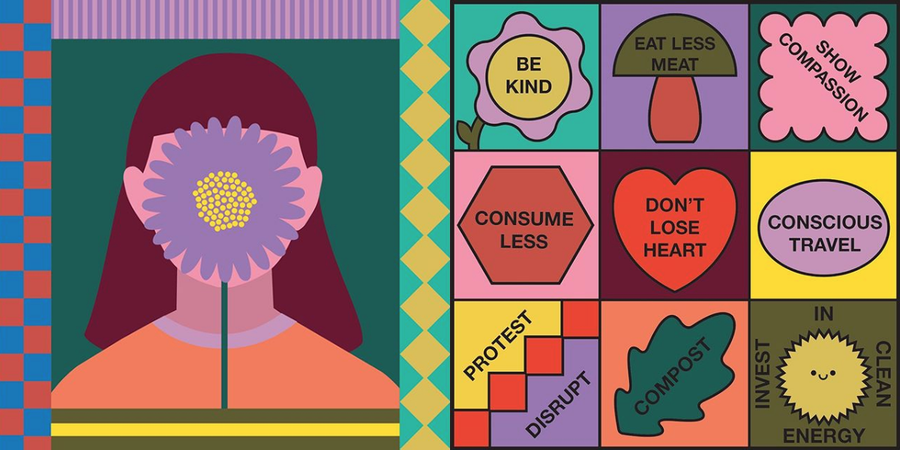 What or who are your current inspirations?
This a hard question as it changes everyday. My family and friends are the best inspiration. Some mainstays are children book illustrators I grew up with (Dick Bruna is my all time hero), '80s manga, Alexander Girard, Nathalie Du Pasquir, '90s riot grrls. Some current inspos are tattooist Luciano Calderon, model Paloma Elessser, photographer Osamu Yokonami, clothing label Cecilie Bhansen.
You have done a fair few collaborations, from magazines like Lunch Lady to fashion design with Gorman. What do you like about collaborating? What do you take away from those experiences?
Collaborations when done right are great because they give you the opportunity to work on something you would not usually work on. It also brings the other parties expertise and experience.
Your book Moving Your Body and your Out of Bounds exhibition exploring the idea of 'play' both incorporate activities for children and adults. How has having children changed the way you do art or the art that you do?
Seeing humans you helped create become their own people can teach you things that are indescribable, so, of course, they have changed a bunch of things for me. From a pragmatic point of view, they taught me how to work in a very efficient way. Maybe having kids helped increase my sense of 'play' and 'fun', but it was a theme in work before they arrived, too.
Where do you do most of your work from? What keeps you motivated?
I am writing this from my home studio, but I have an external studio in Brunswick where I spend most of my working time. It's a great space, which I share with my husband's business (Beatbox Kitchen/Taco Truck, etc) and I feel lucky to have it. Being curious and having lots of ideas I want to explore keeps me motivated. And feeding my family/paying bills is pretty good motivation, too.
How do you know when a piece of your work is complete?
I just know!
You hold many different workshops and have even put together craft books such as Find & Keep and Make & Do. What makes you want to share your work and knowledge when it comes to design and illustration? Who taught you what you know?
I learn a lot from the process of teaching and preparing classes. Sharing things about my work also helps me understand the how/what/why of what I do, too – it's like therapy! Plus, it feels way better to share ideas than to keep secrets.
Prior to the Radiothon poster, did you have a connection to Triple R?
I was on the morning show in 2017 regularly talking about design stuff. I also contributed a piñata DIY to The Trip that year. This summer I helped my friend Jess Lilley co-host a design based show as well. Was so fun!
How did you come up with the arcade game illustration for Radiothon?
I was given a very definite brief and mood board, which both showed an arcade game was what RRR wanted.
The poster is somewhat of a Space Invaders theme, did you toss up any other classic arcade games to use?
Space Invaders fit the brief best.
What did your earlier drafts for the poster look like?
Pretty close to the current actually. Although I'm satisfied with how the artwork turned out, the very definite theme in the brief meant there is not very much 'Beci' in the artwork at all – if you knew my work, you probably wouldn't think I had done the artwork. Originally, I wanted to go in a more 'retro futuristic' direction or perhaps take it closer to '90s video game graphics, but this didn't work with the already established slogan 'Subscribe to Continue', so there wasn't much choice but to make it arcade games.
Do you play or have you played many video games?
Not at all, actually – as I said, I was brought up without TV, so definitely no video games! I had a boyfriend in the '90s who was obsessed with Street Fighter, so I played bit of that, but mostly because I thought Chun-Li was cool and it was fun seeing her beat the crap out of Ken.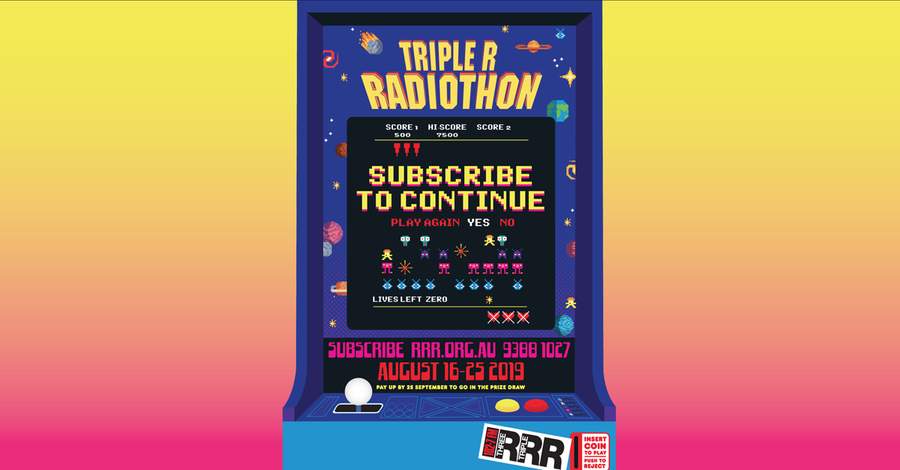 ---
Hop over to beciorpin.com or instagram.com/beciorpin to check out heaps more of Beci's work. Kayley Langdon is a long-time Triple R volunteer, maintaining the CD library and downloading recent releases for our digital library.