What Is Radiothon?
It's a time; it's a celebration; it's a state of mind, man.
But above all, it's a fundraiser.
It's when we ask all you awesome people who love Triple R to put your hand in your pocket and shell out some dough to keep us alive.
Triple R is a not-for-profit community media organisation that runs on the goodwill, hard work, passion and dedication of 800 volunteers and staff, and the generosity of the subscribers, donors and sponsors who fund the station.
Since its inception 43 years ago, the station has been providing an alternative to networked commercial and public media, giving voices to issues of social justice, and many people, causes and opinions that may not otherwise be heard.
Your annual subscription fee funds the station, and you become a member of a genuine and broad station community. You also help Triple R to fulfil an independent agenda, free of government and corporate influence.
So, we need you. Which is to say: we really, really need you. And at Triple R, a little bit of money goes a long way.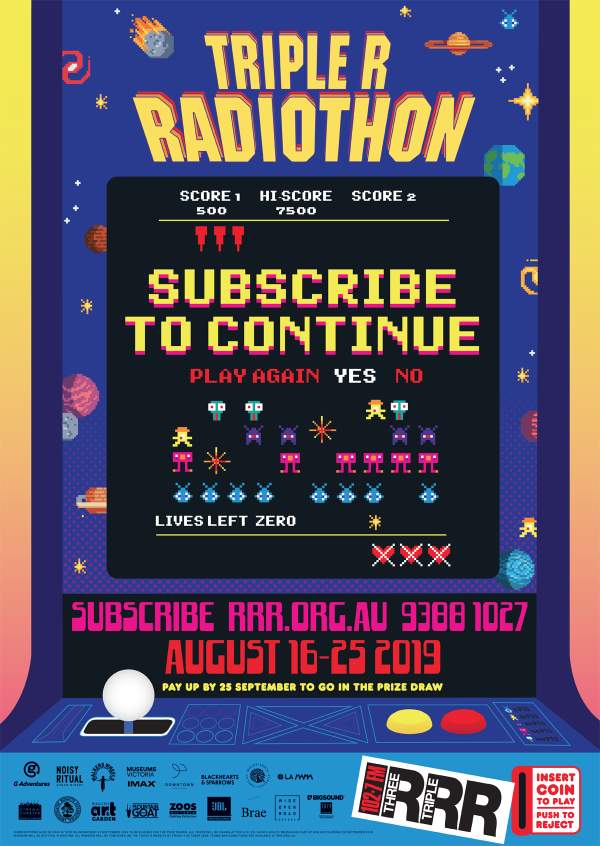 Here's what a subscription will set you back:
Passionate $150
Full $85
Concession/Strapped/Under 18 $40
Business $150
Band/Musician $85
DJ/Producer/Audiophile $85
Visual Artist/Designer $85
Should you subscribe (or renew your subscription) and pay up anytime from Friday 16 August to Wednesday 25 September, you'll automatically go in the draw to win hundreds of prizes. This year, there's some pretty killer stuff on offer, including a trip for two to Cambodia, season passes to Golden Plains and Meredith with accommodation chucked in, 30 cases of Mountain Goat beer, and oh-so much more.
In addition to all these ace things you can win, you'll also get the benefits that come with subscribing any time:
the opportunity to attend Triple R subscriber events (including Live to Air shows in the station's Performance Space and preview film screenings at local cinemas);
the chance to win heaps of on-air prizes throughout the year (tickets to gigs, movies and more);
discounts at businesses around town;
full access to the Triple R audio archives;
The Trip magazine delivered to your letterbox three times a year;
the iconic 3RRR FM bumper sticker;
plus, the knowledge that you're helping keep this independent broadcaster on air for another year.
OK, OK. Subscribing – sounds like a logical and infinitely wise thing to do. So, where do I sign up?
Great question!
You've got three options.
1. Head over to rrr.org.au/subscribe. It's so easy to do it this way, it's semi-ridiculous. (Not that quality online user experiences are ridiculous… Oh, you know what we mean.) You can also choose to 'auto-renew' your subscription – this way you won't accidentally forget to re-subscribe at this awesome time of year.
2. Give us a call on (03) 9388 1027. During Radiothon we've got phone room volunteers here round the clock. Give them a buzz and they'll sort you out, lickety-split.
3. Visit us at 221 Nicholson Street, Brunswick East. You can do it here at our front desk. Just make sure you pop past during our business hours: between 10am and 6pm Monday to Friday, or from 10am to 4pm on Saturdays.
Finally, thank you! Triple R Subscribers are truly top human beings. You make us what we are. So once you've subscribed, don't forget to give yourself a seriously big pat on the back – you deserve it.
What's with these new subscriber category descriptions?
Oh! You noticed! That's so cool.
We thought it was time to let folks know that the categories are actually a little broader than they may have appeared in the past – hence why we've turned Band into Band/Musician, Artist into Visual Artist/Designer, and plain old DJ into DJ/Producer/Audiophile.
Nothing else about the categories has changed, mind you. They're the same as they've always been – just with slightly more descriptive names.
Looking for the prizes? Head over this way.