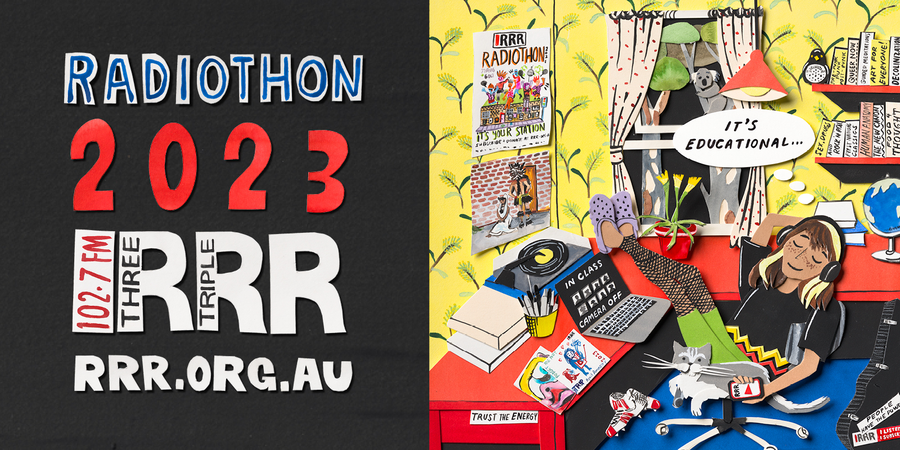 Friday 25 August – Wednesday 4 October
It's Educational!
Radiothon is upon us again! Radiothon is Triple R's annual subscription and donation drive. It's the biggest, the greatest, and the most important time of all on the Triple R calendar. It's our chance to celebrate the station and the wonderful community we've created, but it's also the time when we ask you to help keep the school bells ringing at Triple R for another year by subscribing and donating to the station. Your support is vital.
For nearly half a century, Triple R has been on the airwaves, providing you with lessons greater than anything you might find in the classroom. The only way we've been able to do this is through you – the listener – supporting us and keeping us on the airwaves. You've allowed us to stay on air, remain truly independent, and provide a platform for music and ideas that may otherwise never be heard.
Our theme this year is 'It's Educational', a throwback to our humble beginnings coming out of RMIT, but also a reminder to all that as a station, we're here providing an education, every single day. We're here to shape minds, form opinions, impart knowledge, and so much more.
Times are tough right now – from the pandemic to a cost of living crisis, we understand that life is difficult for many. Although the station's sponsorship revenue has bounced back since the pandemic, the costs to run the station have greatly increased and continue to rise. In order for Triple R to continue offering listeners a genuine, intelligent and considered alternative on the airwaves, your subscriptions and donations this year are even more critical.
We really hope that you'll enrol to the school of Triple R and become a Subscriber and Donor for Radiothon 2023.
What's in it for me?
Of course, it's not just an education you receive when you subscribe to Triple R – plenty of other benefits await you! Including…
exclusive access to our Live at RRR gigs and in-conversations in the Triple R Performance Space
free subscriber-only film screenings at select cinemas
discounts at loads of businesses around town when you flash your subscriber card
the chance to win regular giveaways, both on-air and online
full access to the Triple R audio archives
free promotion of your events via rrr.org.au
this here magazine delivered to your letterbox three times a year
discounts on Triple R merch
all the prizes on offer, if you subscribe during Radiothon
the iconic Triple R bumper sticker, and
the unbeatable feeling of knowing you're a part of the Triple R community, and keeping us on the airwaves for another year.
When is Radiothon?
Get your diaries out! Radiothon 2023 begins at 6am Friday 25 August and goes all the way through until 5pm Wednesday 4 October.
Everyone who subscribes during this time goes in the running to win one of the brilliant Radiothon prizes.
How Much Does It Cost to Subscribe?
You can subscribe under any of the following categories – take your pick!
Passionate $195
Full $85
Concession $40
Business $500
Band/Musician $85
DJ/Producer/Audiophile $85
Visual Artist/Designer $85
(And yes, you can subscribe your bubs and pets too!)
You can find out more about our new Passionate and Business subscription prices here.
How do I subscribe and donate?
The easiest homework you'll ever have to do – simply click on the Subscribe and Donate buttons, then follow the prompts. All donations over $2 are tax deductible, too. You also have the option to 'auto-renew' your subscription, which means you'll never forget to re-subscribe again!
If you don't have internet access, you can still give the station a call during office hours on (03) 9388 1027, and a real life human will help process your subscription and/or donation for you! We won't be running a full phone room this year, so if you are able to subscribe and/or donate online, please do!
Join the school of Triple R! Subscribe and donate to support your station.
PS: Did we mention the prizes?