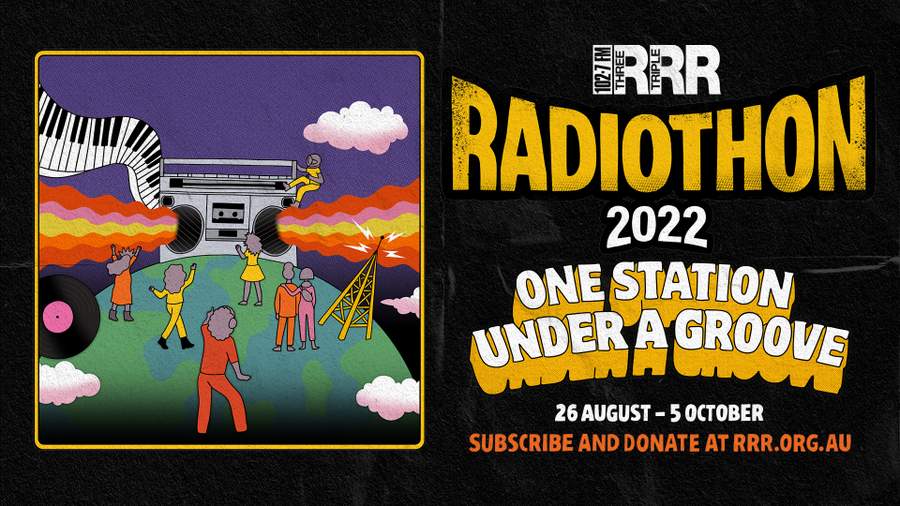 Aug 26 - Oct 5
ONE STATION UNDER A GROOVE!

The single biggest event on the Triple R calendar, Radiothon, is on now. It's when the station celebrates this incredible community we've all created together, and asks you to subscribe and donate, if you possibly can, to keep the mothership afloat. Your support is vital - and it could also win you some incredible prizes.
Triple R is listener-funded, truly independent radio, which means we rely on your subscriptions to operate. For decades now, you've done us proud. Your support has allowed us to stay on air and provide a platform for music and ideas that may otherwise never be heard. Can you even imagine?
Dear listeners, your subscription at Radiothon is absolutely critical to keeping the lights on and keeping this station alive and kicking.

We know that everyone has had a really tough couple of years – musicians, businesses, organisations and communities are still working out what life looks like as we come out of the haze. And so are we. But one thing we know is that the passion and commitment of our hundreds of incredible volunteer broadcasters has held us all together through the isolation of the pandemic years.
While uncertainty remains a part of our lives, we're excited that the music and culture loving communities of Melbourne have started venturing out again. We've relaunched the Triple R Performance Space with weekly live to air events for our subscribers, and this year, we wanted a Radiothon theme that said, we're getting the clubhouse happening again, and we want you IN IT! The homage to George Clinton and P-Funk with, 'One Station Under A Groove', captures that feeling of unity we feel at Triple R. Despite the challenges and isolation of the last few years, the radio, the groove, has kept us all connected.

What's In It For You?
This subscribing business is a win, win, win kind of deal. Just some of the benefits for you include:
exclusive access to our Live at RRR events in the Performance Space. Gigs over the last few months include Cash Savage & The Last Drinks, CLAMM, Jen Cloher, Party Dozen and loads more - just for you
free subscriber-only film screenings at select cinemas
discounts at loads of businesses around town when you flash your Subscriber Card
hundreds of incredible prizes on offer when you subscribe during Radiothon - from Intrepid tours, to VIP tickets and a year's worth of beer
the chance to win regular on-air prizes throughout the year
full access to the Triple R audio archives
The Trip magazine delivered to your letterbox three times a year
the iconic Triple R bumper sticker (scientifically proven to get you good vibes on the road), and most importantly,
the unbeatable warm glow you get from being part of the Triple R community and knowing that independent broadcasting is on the air because of YOU.

When is Radiothon?
Radiothon 2022 is on now and runs through until 5pm Wednesday 5 October.
Everyone who subscribes during this time goes in the running to win one of the incredible Radiothon prizes.

What Will It Set Me Back?
You can subscribe in a bunch of different categories:
Passionate $150 Full $85 Concession/Strapped/Under 18 $40 Business $150 Band/Musician $85 DJ/Producer/Audiophile $85 Visual Artist/Designer $85
Your choice!
Plus, all donations over $2 are tax deductible.
How Do I Subscribe And Donate?
Simply click on the Subscribe and Donate buttons, then follow the prompts.
You can also choose to "auto-renew" your subscription – this way you won't accidentally forget to re-subscribe at this critical time of year.
If you have any problems subscribing online, you can still give us a call on (03) 9388 1027 and one of our friendly staff members will process your subscription and/or donation for you – but if you can, online is the best way to go. We are unable to run a phoneroom again this year, so we won't have heaps of people to take your calls.
Thank you legends!
Subscribers are the lifeblood of Triple R. No matter how big or small your contribution, you are the reason we are on the air, and you are an integral part of the Triple R community.

Get on under the groove with us at Radiothon time!
Hey, did somebody say Radiothon prizes?