Made You Laugh: Tom Gleisner Explains What Makes a Successful Comedy Show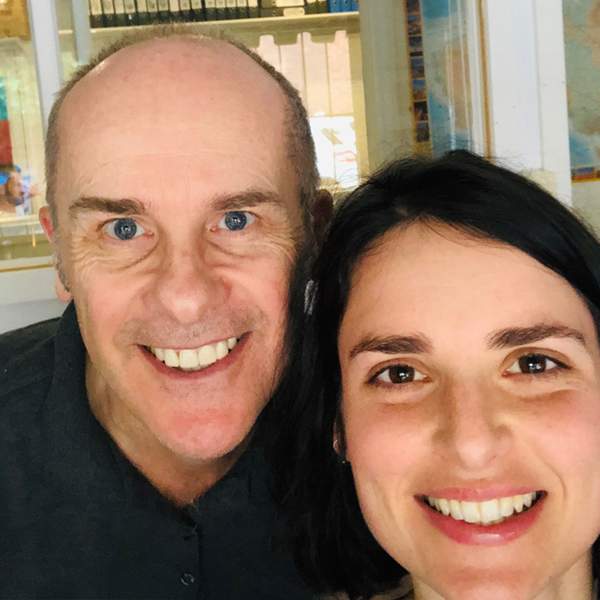 He's helped make so many iconic Aussie comedies – from Frontline to The Castle to Utopia. But how did Tom Gleisner get into this caper? And why have the Working Dog team enjoyed so much success? Steph and Daniel Teitelbaum have a natter with the multi-talented Tom to find out.
Tom Gleisner is a director, producer, writer and comedian of critically acclaimed Working Dog Productions. He's also the chairman of Challenge, an Australian cancer support organisation, and patron and co-founder of the Learning for Life Autism Centre. Tom and Working Dog's comedy – across TV, film, books, radio and on stage – is clever, laugh-out-loud funny and consistently stands the test of time (and location, being picked up and enjoyed all over the world). Talking to Tom, we wanted to know how it all started and how he and his team go about producing hit after hit across so many media.
How did how did it all start? We go way back to the early '80s at Melbourne University. There were a bunch of people who just all got together and found each other; it was quite an unusual occurrence. I was studying Arts/Law and I auditioned for something called the Law Revue. Anyone could audition – standards weren't high. It was a revue, which is exactly what that word means: a series of unconnected acts. That's where I bumped into several people I'm still working with today, including Santo Cilauro, who was also studying Arts/Law at the time. We went to school together, but didn't even know each other. It was a big school and we were in different years… he only spoke Italian. Rob Sitch, who was studying medicine at the time, found himself in the Law Revue too. We met, gravitated to each other, and here we are.
You never intended to go with the law? No, I did – that was the intention. I sort of drifted into this current career of mine; it was never a burning ambition. My father was a solicitor, so I just assumed that I'd graduate and go into a respectable career; it just never happened.
You've been working with each other for over 30 years. Has the process of working together changed over the years? We've got a little more sophisticated in some areas, but at its core I think we sit around and try and make each other laugh. Whatever that then becomes in terms of a project might have changed over the years, but, at its heart, Rob, Santo and I just love and celebrate amusing each other.
How do you go with terrible suggestions that come up in the writers' room? Anyone sitting in on one of our writing meetings – certainly one of our script editing meetings – would probably come away thinking we don't like each other. I say that because over the many years – a bit like a marriage, I guess – some of the niceties get stripped away. If you're working with someone you don't know that well, you tend to soften criticism, whereas we have no time and there's no point.
That's liberating, isn't it? Absolutely. We know it's coming from the right space. We're not trying to bring each other down. We're just trying to get to the best possible version of the idea.
You drifted into this career, which includes writing, directing and producing. What do you love the most: the whole creative process or the end product? I think it's the creative control. We were sort of singled out in our early years doing stuff at the ABC. We gained something of a reputation as being not so much difficult to work with but very particular. And we were rather amused by that because we figured, well, that's not really an insult – it's actually a compliment. We care about what we do. And in those early days, because we were pretty new to all this, we didn't have a lot of control. We might write something and a few of us might perform it, but then it was taken away and edited and produced in a way that was out of our hands.
So as soon as we possibly could – and this was fairly early in our careers – we put ourselves in a position to be our own production company. The first show that we embarked upon as Working Dog, as our own creative entity rather than working for someone else, was a show called Frontline. It was a series in the '90s about a fictional current affairs program. That was the first time we rolled the dice on doing something totally on our own – writing it, shooting ourselves, Santo dragged out the camera (which was unheard of), editing it and getting it out there.
And it was wonderfully successful. How's that feeling? It was an enormous relief because we never take anything for granted. Even if within the confines of our writers' room we think an idea is great, it doesn't mean it's necessarily going to work. Sometimes it can be poor timing or bad luck.
What did you grow up watching? I grew up on a pretty mixed diet of American and UK comedy. I've always loved comedy. I knew Monty Python, The Goodies and all the sitcoms, but I also knew M*A*S*H and the American side of comedy. That's probably what makes Australian comedy unique, that we've absorbed both traditions.
You guys have also done a play at MTC, radio back in the day, books… How do you compare the media? They're all different and that's what we like. We enjoy the challenge, especially something we haven't done before. As you mentioned, a few years back we did a play called The Speechmaker for the MTC and we just loved it, because for us it was a learning curve, having to sort of cast off our film and TV hats and try something on stage. I hope we never stop exploring new ideas and new avenues for our crazy concepts because I think that keeps us fresh.
Interpretive dance? At shopping centres.
What do you think makes a successful show? Interesting question. I wish I could have something profound by way of an answer. I'll go back to where I began: that Rob, Santo and I just like making each other laugh. I think if we can do that in the early stages by way of a concept or a couple of lines, and then hopefully not lose it in the process of turning that laughter into a show, I think you got a pretty good chance.
---
Steph and Daniel Teitelbaum are siblings who perform comedy cabaret together as 'The Illegitimate Love Children of Bob Downe and Magda Szubanski'. You may have heard them on the Triple R airwaves, presenting their show The Velcro Couch during Tabula Rasa in November 2018, or filling in on Breakfasters over the summer. This article originally appeared in The Trip, Triple R's subscriber magazine.