John Waters: a Beginner's Guide
By Plato's Cave presenter Sally Christie
Affectionately known as the 'Pope of Trash', John Waters has been dousing the public in his unique brand of filth for over 50 years. His films are known for breaking the boundaries of 'good' taste with an assault of one on-screen gross-out after another.
Waters made his first short film, Hag in a Black Leather Jacket, in 1964 on an eight-millimetre camera gifted to him by his grandmother. In 1972 Waters gained notoriety with the release of the cult classic Pink Flamingos – you know, that film where Divine eats real dog shit.
Over the years, Waters has: been embraced by the public as a 'filth elder'; guest starred on The Simpsons; written seven books; hosted an annual summer camp; made a name for himself as a visual artist; and inspired a Tony award-winning musical. This October, John Waters brings his spoken word show, Make Trouble, to Melbourne – and for those of you that are new to Waters' filthy world, we've put together a handy beginner's guide.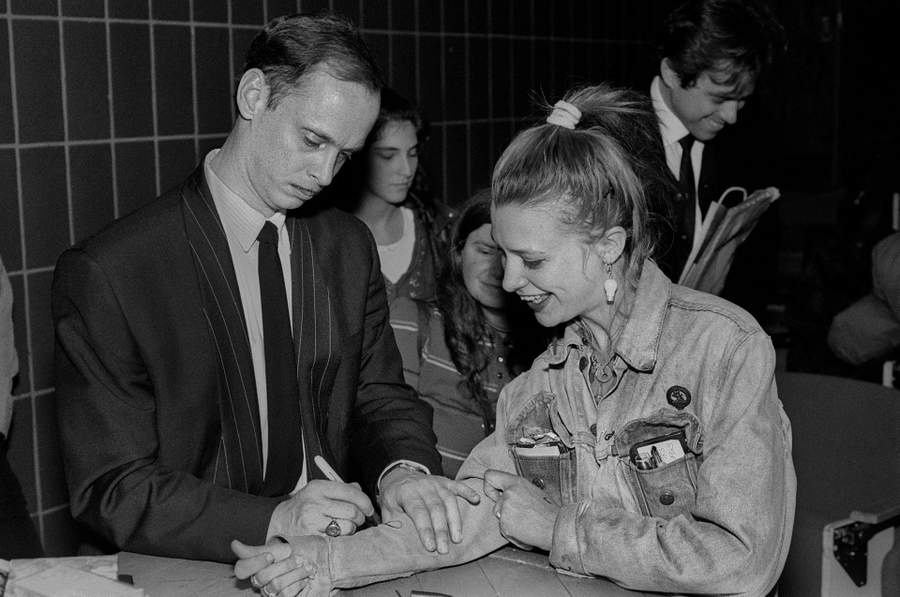 I Love You, Baltimore
It's no secret that John Waters loves his home town, Baltimore. Every single Waters film is based there, and some of his most memorable characters are inspired by locals. In his book Shock Value, Waters says, 'If I'm thinking up a film, I go out on the streets of Baltimore for a little inspiration. I start my day in a local blue-collar bar and grill where I read my Daily Variety and Hollywood Reporter as truck drivers gobble their breakfast and ignore me.' In a recent tweet, Donald Trump called Baltimore 'a very dangerous and filthy place'. Waters was quick to knock him down saying, 'Give me the rats and roaches of Baltimore any day over the lies and racism of your Washington, Mr Trump!'
Divine Intervention
Harris Glenn Milstead was Waters' collaborator, close friend and muse. In high school, Milstead was harassed for being 'different' and was a complete outsider; this is, of course, what attracted Waters to him. Milstead discovered drag and transformed into what would become one of the world's most iconic and influential drag queens, Divine. Waters considered Divine to be 'the most beautiful woman in the world' and nearly always cast Divine as his leading lady. Divine wanted to be a superstar and was well on his way to achieving this. He had a successful music career, began working on films other than Waters', and landed a recurring role on Married… With Children. Divine tragically died at the age of 42 of an enlarged heart, three weeks after the release of his and Waters' most successful collaboration, Hairspray. Waters bought a grave next to Divine's, so they can spend eternity together.
The Dreamlanders
Waters' cast and crew largely consist of his close friends, aka The Dreamlanders. The Dreamlanders were the 'bad kids' from Baltimore – the outsiders who became family through working on Waters' films. Mink Stole, Mary Vivian Pearce and Pat Moran have been involved in every feature Waters has made and still collaborate on various projects. Over the years, many Dreamlanders have passed away, including Edith Massey, Van Smith, Cookie Mueller and David Lochary. The death of so many close friends is the reason Waters recently told Vice Magazine that he didn't believe in karma, saying, 'I wish I did believe in karma. I wish I did because Mike Pence would be dead and Divine would still be alive.'
Helter Skelter
After the tragic Tate/LaBianca murders in 1969, Waters became obsessed with the story, to the point that he named The Dreamlanders the killers in his 1970 film, Multiple Maniacs, before the Manson family were caught. When Charles Manson and his family went to trial, Waters left Baltimore for LA and attended every day of the infamous trial. Eventually Waters formed a friendship with one of the family members, Leslie Van Houten. Van Houten was one of Charlie's girls and convicted for her part in the LaBianca murders. Waters has been visiting Van Houten in jail for almost 30 years now and considers her to be one of his closest friends. In his book Role Models, Waters writes, 'Leslie is hardly a Manson girl today. Sixty years old, she looks back from prison on her involvement in the LaBianca murders in utter horror, shame and guilt, and takes full responsibility for her part in the crimes.' Waters actively campaigns for Van Houten's parole and recently told The Guardian, while he is friends with Quentin Tarantino, his latest film, Once Upon a Time… In Hollywood will not help Van Houten's chances at parole. He said, 'No movie can really help her, because it just reminds people over and over and over. Just be glad your kid never met Manson.'
---
John Waters one-man show, Make Trouble, presented by RRR, is on at Arts Centre Melbourne, 8pm Friday 18 October. Tickets are on sale now.
---
Sally Christie is a writer, critic and educator from Melbourne, Australia. She has written for numerous publications with her research interests focusing on censorship and the occult in cinema and pop culture in education. Sally currently co-hosts Plato's Cave, a film criticism program and podcast on Triple R. Sally is a proud member of Melbourne-based film collective Cinemaniacs. Find her on Instagram.