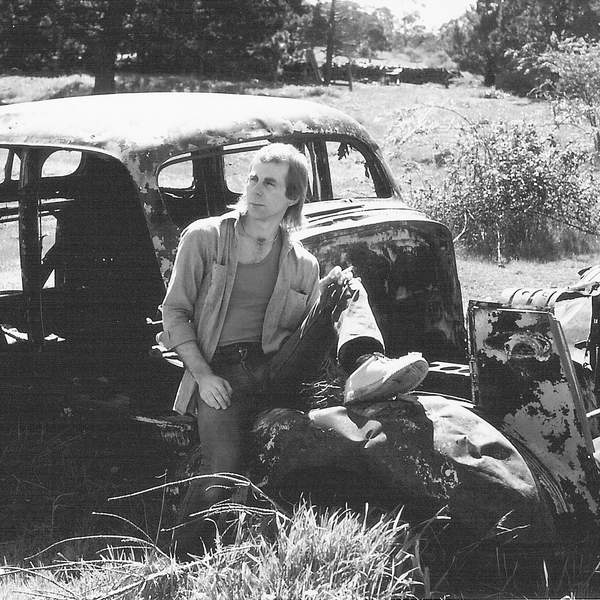 In the April 2011 edition of The Trip magazine, Brian Wise, Max Crawdaddy and Samson McDougall each told us a little bit about why they reckon Stephen 'The Ghost' Walker was an exceptional broadcaster (and all-round human being) , following the Stephen Walker celebration and benefit at The Forum.
We're revisiting this story in light of The Ghost's passing on Wednesday 3 July 2019. We hope it evokes some warm memories.
______________________________________________________________________
By Brian Wise
'In my younger and more vulnerable years my father gave me some advice that I've been turning over in my mind ever since,' says Nick Carraway, narrator of F. Scott Fitzgerald's The Great Gatsby. 'Whenever you feel like criticising anyone,' went the advice, 'just remember that all the people in this world haven't had the advantages that you've had.'
Indeed, 'The Ghost' – or Stephen Walker as he is sometimes known – has been a font of advice for more than two decades. Not just to myself but to many others. Even if you do not know him all you have to do is to tune into his radio program to share the knowledge.
A few of us have also shared at least one simple advantage that might have eluded others: We are children of the radio age, not quite but almost dreaded baby boomers. We grew up when radio was king and we heard The King and his ilk.
We were tied to the radio. At dinner we sat around the radio in the kitchen an old Bakelite Pye and listened to serials like Hopalong Cassidy and Biggles. No doubt Stephen heard the portentous words 'Who knows? The Phantom knows.'
Can you imagine what it must have been like for a 6 or 7 year old to hear Little Richard shriek 'a wop bop a loo bop a lop bam boom.' Then Elvis went into the army and radio was hijacked by milksops like Pat Boone who incredibly, had a hit with Richard's 'Tutti Frutti.' It is the most frightening cover version you will hear. We knew who we liked and it wasn't Pat Boone!
Americans had Wolfman Jack but we had our own local radio heroes. Stan Rofe was one of those who ruled the airwaves playing 'the platters that matter' (you might have heard that one on The Cave). Sometimes Stan would repeat a song saying, 'I like it so nice I'm playing it twice.' He would play 'My Big Blon' Baby' (Jerry Lee Lewis) or The Strolling Bones. In fact, he met the Stones, was the MC for their shows at The Palais.
Not just personalities DJs of this era had created their own unique persona. Sound familiar? Would The Ghost Who Talks fit right in there?
Disc Jockeys, as we called them, even got to choose some of their own music – before the Top 40 format arrived from America. Can you imagine that on commercial radio now? In the '70s, Graeme Berry had the Album Show on 3XY and Chris Winter presented Room to Move on the ABC - Further important inspirations. By the time we got to university we not only had the love of music but we knew that radio could be more than just DJs sloganeering, you could also play music that was way out and be informative about it.
Years after he had been retired from commercial radio, Stan Rofe took over my Sunday night timeslot on Triple R when I moved to Saturday mornings. Gary Young operated the panel. Stan, of course, was full of stories but his style of radio was out of date by then for a commercial audience. I realised that his most important quality was not his voice: he had 'great ears.' Stan could pick a truly great song instinctively; he did not need phone out research, focus groups or consultants. He could also construct great brackets of music and then tie all the songs together with his anecdotes. This would have you glued to the radio.
So The Ghost did not just appear on Triple R thirty years ago. I imagine that he had been plotting the scenario for years – maybe from when he was a teenager in the '60s.
In his years as Program Director, Stephen proved that he, like Stan Rofe, had great ears. You could hear the results in the programming. He had this notion that Triple R should appeal to people out in the 'burbs, not just Fitzroy. He had the revolutionary idea (for community radio) of a breakfast team. He heard Julian from Crud and persuaded him to do a ten-part series. It blossomed. I think the old guard did not approve of this new approach but Stephen had the idea that Triple R's educational licence meant education in the broadest sense.
As Stephen's time as PD fades it becomes a little easier for his successors. Yet almost all of them have pretty much kept to the Walker template – and, I might add, have achieved even greater success. If it is not broken, why fix it?
When I gave up working full-time I would often be in Triple R on a Friday afternoon and would encounter Stephen in his programming role. If I had done something he did not like he would stroke his chin and muse, 'Mm, that was interesting the way you did that - I don't think I've heard that before.' Or he might say, 'Why don't you try this next time' and suggest a strategy. 'You don't have to give all the information about an album in one week if you are going to play it again,' he would say. He remains the only person I know, who listens to radio more than I do.
'We might hate commercial radio but we can learn from its production techniques,' Stephen would say, pointing out the finer points of presentation: how sponsorship should be used; how time calls should be given; how back and forward announcements can be varied; how you can construct a bracket of music and segue from song to song; how you should not use two words ('out of') when you can use one ('from'); how there is a difference between tunes and songs! You get the message.
I still receive gems of wisdom in my occasional phone calls and visits. Others do too. You can hear this in many programs. Tim Thorpe who also spends a lot of time in the station is the receptacle of the same wisdom. So, I suspect, is Karen Leng. Others too. You can tell who listens carefully. We are not trying to do the Skull Cave but we are trying to produce something as seamless.
One Friday afternoon recently I was in a car with my partner and the radio, of course, was on Triple R. We listened to a few songs and I said, 'Stephen is not doing the show today.' 'How can you possibly tell? The music sounds the same,' came the response. Almost but not quite. Also, the segues were slightly longer. Surely that is the sign of someone who has imprinted his own style on a program and a station – when they don't even have to talk. (I remember Richard Thompson once telling me – after he had worked with Bob Dylan and Keith Richards – that he thought the sign of a true legend must be when they didn't have to talk to you!).
Sometimes we mere mortals can feel like a novice cricketer looking at Don Bradman's career; you know that you can never be as good but you can hope to learn how to play a few similar strokes. And this is where Stephen gave me his latest piece of advice, that made me feel a lot better after the 2010 Radiothon. 'You know,' he said, encouragingly, 'it's okay to be second best.'
______________________________________________________________________
By Max Crawdaddy
Anyone who knows Stephen, knows that he LOVES a chat. Not on the phone or over the internet, but face-to-face, sitting down holding court with either one or many people.
Years ago when RRR was in Victoria Street, Fitzroy, Stephen was a staple part of my Friday arvo routine. I'd drop into the station after work and after saying howdy to the usual crew, snagging my mail and lamenting the slaughter of this or that football team with Chris Hatzis, I'd make my way to Stephen's desk.
Often I'd have to wait my turn for an audience with him. He'd be doing the usual Program Manager thing; taking phone calls, maybe having to find a 'fill' for a show later that night with only a land-line, smoke-signals and e.s.p. at his disposal.
So to kill time, I'd ferret through reject 7"/12" singles and L.Ps waiting for Stephen to finish his Program Manager business. By Friday afternoon it was slim pickings after Stephen had cast an eye over the covers and credits, even slimmer once his ears had given them a once over.
After he'd finish his Program Manager duties, we'd sit at his desk talking about the new releases, old releases, up-coming tours and old tours, new books, comics, films and classics endlessly. His desk was in the path of the on-air studios and the kitchen, so there was a steady stream of bods passing by. Most would stop to have a chat or catch-up on the latest. They were like moths to a luminous globe. Bruce Berryman would flutter past un-wrapping an import of the brand new Run DMC album Raisin' Hell or a station bod would flit by excited cos they got wind of a 'whisper' that The Cramps were touring later that year.
In fact a lot of talk happened at his desk as people stopped by to proudly display their new 'finds', others would sidle up for a hushed talk about this and that. Then the moths would disperse as Stephen headed home to the Hills'.
When Stephen moved to St Kilda my Friday arvo routine changed. I'd stop by his beach apartment then we'd hit the bookstore, have a coffee and a smoke and of course A CHAT.
When his MS started to take a hold it became difficult for him to leave the house. We share a love of Robert Crumb, Robert Williams and Charles Bukowski, so rather than hitting the book stores to spend time with these guys, I'd bring them to him. We'd study a re-print of this or that work of genius fiction, then spend hours poring over a variety of records like the new On-U Sound album, a The The re-mix and something from Steinski or Jim Thirwell… Man, where does he get this stuff? All of a sudden, Stephen would finish his tea, grab his bag and his stick and say, 'okay then' and we'd pile into the 'bourbon-express' (my dearly departed old Ford) and make our way up Punt Road to RRR in Brunswick, to get there in time for the Skull Cave.
These trips and the conversations en-route are STILL some of my favourites. They were vast and varied, covering the mundane to the magnificent, while I weaved through the traffic. Unfortunately not much of it can be repeated here, not that the Ghost's work is 'blue' but we did sometimes cover some colourful subjects, plus names would need to be changed to protect the guilty.
Fast forward to the next century and Walker's M.S. put him in a wheel-chair. All those devoted moths that rallied around his desk for so many years now started to ask what they could do to help the Ghost.
A few years ago I was talking to Marilen Tabacco, an old friend of Stephen's about how fantastic it would be for he and his wife, if we could organise some kind of gig for him to help. I'd spoken to others at the Rs, Phil Wales, Brian Wise and they all agreed that maybe a gig of some sort should take place but where, what, who and how? It's now 2009 and I'm talking with Marilen again about the idea of a gig, who brings in artist manager - Michael Lynch and we decide to maybe get a few more like-minded people involved. I have another quiet word with a few people at 3RRR and make several subtle phone-calls. By the time Stephen's 60th birthday rocks up in April 2010, we have enough on paper to talk to a number of his friends during the evening. We talk about artists, bands, venues, M.S. and the new research that's going on overseas and Stephen's up-coming 30 year anniversary on RRR in 2011. Not long after, we had to present our ideas to the man himself. He didn't seem keen on the plan at first, but after a few more phone calls and a meeting with him, he came around. We started working on the plans.
It was decided that a benefit would be held in early 2011, so that monies collected could be used to get Stephen ground-breaking treatment in Germany. After all, 2011 is the YEAR OF THE GHOST – 30 years on RRR.
Stephen suggested a number of artists, bands and performers he'd like to be on the bill, we spoke about venues and dates and then got on the phone to the aforementioned to see, who, what and where was available.
We approached Big Day Out co-mastermind Vivian Lees with an idea to poach one of his acts to head-line the benefit. The dream was to have Nick Cave do a solo-spot on piano at the end of the night and build a show around his appearance. Unfortunately after meeting with Viv, Cave wasn't gonna happen due to tour commitments at the time. A few more calls to Mick James and Bossman Dave at the Rs to keep them in the loop and maybe scam some inspiration after the slightly crushing news that Nick won't be involved in the event. All was not lost, Viv came back to us later with not only a 'killer' act to head-line but also a support line-up, a date AND a venue! The Dirty Three, Ronnie Peno, The Sand Pebbles, Dan and Gareth from The Drones, Dave Graney and the Lurid Yellow Mist, the wonderful Skull Cave All Stars, M.C. Brian Nankervis with Denise Hylands and Fee B-Squared, RRR DJs Karen Leng, Tony Biggs and myself would all play The Forum, Monday, January 31st 2011, celebrating 30 Years of Rocking RRRadio for Stephen Walker.
We've ALL been to incredible shows over the years but this gig was amazing. I've not felt such a 'one-ness' and love in a room. T'was a lot more like a party where just about everyone seemed to know each other and they certainly knew the GUEST/GHOST of honour. I can't say what the highlight was, because for me the entire evening was a highlight. Having said that, it was great to see the dream of Nick Cave being involved become a reality. The whole night was a blast and so cool that Stephen will be taking ALL that love from the thoughtful sold-out crowd at The Forum with him to Germany. Now that's some of the best medicine ever.
­­­­­­­_____________________________________________________________________
By Samson McDougall
Reflecting on the recent Stephen Walker Benefit Gig brings on a montage of remarkable moments elegantly framed in the deep blues of the Forum's interior skyline. These images would surely differ from attendees to performers to organisers to Walker himself, but there was an undeniable focus of energy that night. We found ourselves in glorious surrounds to enjoy a ripper of a party put on by a selfless few, to help a man who has given a part of himself to the music community for thirty years. Given that proceeds would contribute to stem-cell treatment for Walker's MS, there was a gravity attached to the night that transcended the flawless, often stirring performances by all comers – an assortment of local artists that have moved Walker to move his listeners throughout the years.
These sentiments were invariably shared by the performers and DJs I spoke to about the night. 'It's the Ghost, you couldn't fuck this up,' says Breakfaster Fee B-Squared. 'You couldn't have some lame-arse shit happening, you'd have to be on your game. It was exciting, wondering who they would end up with. And to end up with genuine fans of Stephen's like Dirty Three and Warren Ellis saying what a privilege it was – it was amazing. I think Triple R listeners really get what music is, what it can do for you and how it makes you feel. The greatest honour as a broadcaster is when somebody tells you that you've somehow shaped their music collection. On the night you heard that a number of times, that Stephen had been this integral part of Triple R, the soundscape that became community radio throughout Melbourne and a real alternative to all the other shit that's out there. They wanted to give something back to him.'
'He always gave people the freedom to play and say what they needed to on the station,' says fellow, on-the-night DJ and Kinky Afro host Karen Leng of Walker's tenure as Triple R Program Manager. 'There was always a philosophy and an aesthetic there and he intuitively understood what was good about Triple R, where it should sit in terms of media in Melbourne and how it should agitate and stir the pot but also be accessible to the people as well. There was such a great feeling in the room on the night. When he spoke, it was everything you get on air. You could tell how much he loves the station, how much he values the audience and how happy he was that everybody was there, it was very touching.'
Given the quality of the music on the night, highlights are difficult to pinpoint. From the first bars of Sand Pebbles' Wild Season to the death throes of Dirty Three's Authentic Celestial Music, the standard of delivery bordered on astonishing. Walker commented that if he had have had a microphone with him for the night he could have presented the thing as a Skull Cave instalment with twenty minute brackets. With a different guest singer for each song, each indicative of a particular element of Walker's musical tastes, it was the Skull Cave All-Stars that truly captured the ethos of the evening – a rag-tag bunch of misfits together especially for this one-off occasion. When I suggest to band facilitator (a term he's not entirely comfortable with) and guitar player Phil Wales that any chance to permanently alter the trajectory of a man's life for the positive is a rare and powerful thing, he tells me that by reading the smile on Walker's face you'd realise that we already have.
By make-up the All-Stars –Phil Wales, Gary Young, David Bridie, Rob Craw, Pete Lawler and assorted guests – was representative of the association between the radio station and the wider music community. 'It's one of those things that Triple R and the music community do well,' Wales says. 'The relationship between the two has been acknowledged time and again. They put together an event that you'd pay for even without a cause. That it does have a cause attached to it makes it very easy for everyone to get behind it. There was an amazing spirit in the room that night. It was very evident on stage.'
With each of the All-Stars' hand-picked cover songs, the matching of vocalist to tune accentuated the connection between Walker's ears and the breadth of his listener base through the musicians he's spruiked over his thirty years of broadcasting. The All-Stars' set built through David Bridie's rendition of Magazine's A Song From Under The Floorboards, Black Cab's Andrew Coates and James Lee's version of Joy Division's Transmission, Kerri Simpson's chanting and prowling interpretation of Patti Smith's Gone Again, Rob Craw's channelling of Iggy Pop's Johanna and The Wolfgramm Sisters' absolute nailing of MC 900 Foot Jesus' Killer Inside Me and Tim Buckley's ghostly Song to the Siren. It was an all-enveloping snapshot of any given Skull Cave episode and evidence of not only Triple R's own, but the wider music community's respect for The Ghost himself.
Referring to MS as 'a mess' on the night, Walker also quipped that it's a bitter joke when your surname is the one thing you can't do. Though open about his deteriorating health, Walker has never been of the nature to focus on this aspect of his life on-air and therefore the announcement of the benefit show equated to a public outing of himself as an MS sufferer. 'It's irrelevant to most people who listen on the radio,' Walker says. 'It's like saying I've got pink shoes on today; they may think so what? It's been a very positive thing coming out about it, there have been great bonuses. I've had some great emails and I met people on the night that have just been diagnosed, people who've tried different things or just wanted to know about it.'
Walker admits that he was terrified by the notion of a benefit on his behalf and he hoped for the Forum to be half full to at least avoid discomfort among the paying guests and performers. 'It's only a radio show, I'm the first to say that,' he continues, 'but the show does seem to mean a lot to different people. Being an Australian I was a little twitchy about how it would go. Rather than say something good about someone we'd rather put shit on them, it's a sign of affection. I do the radio show; I get maybe five or ten emails when I get home and a handful of phone calls during the show. I'm really not aware of how many people are out there and who's listening.
'We do it [radio] for love; I certainly do. It's a wonderful thing and a wonderful town to do it in. It's just been a joy to me. I never thought I'd find myself in the position I did on the night of the benefit. I joked that it was like being able to go to my own wake. There were all of these amazing people being able to say how they felt about me and me to them without the filters. It was so lovely to meet all these listeners, the friends I haven't met before, and find that we share so much in common. If not 'the', it was one of the greatest nights of my life.'