Deeper Read: Things You (Possibly) Didn't Know About Fiona Apple
Fiona Apple's Fetch The Bolt Cutters is Triple R's Album Of The Week. Described in Jenn Pelly's impactful review as a "wild symphony of the everyday", the album has inspired us to learn more about the acclaimed singer-songwriter – from her love of dogs to her penchant for TV crime drama The Fall.
WORDS GRACE KINDELLAN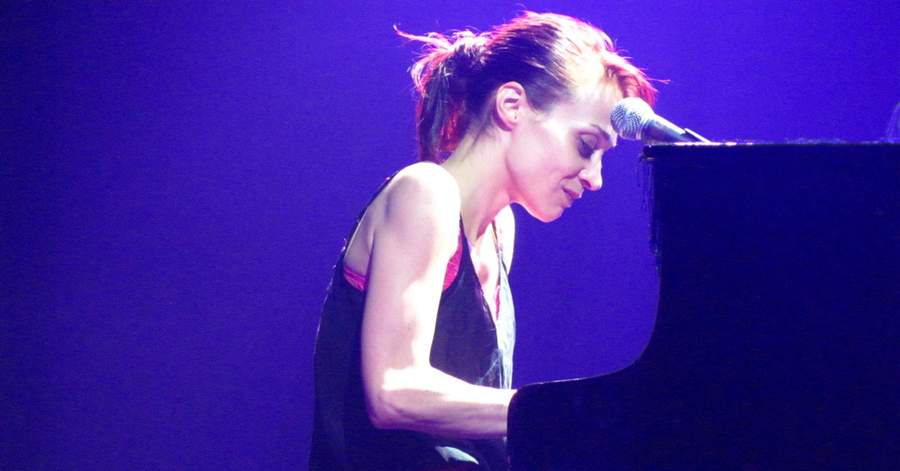 SHE WAS BORN INTO SHOW BUSINESS
Apple's parents met when they were performing in the Broadway musical Applause and she was surrounded by music and art as a child. She requested piano lessons at age eight and started composing songs as soon as she was in front of the instrument. Her childhood was mostly spent with her mother, sister and step-father in Harlem, with summers at her father's house in Los Angeles. Apple's father urged her to make her first demo tape, which ended up in the hands of record producer Andrew Slater via his babysitter; the demo led to Apple's debut album Tidal, released when she was just 19. Apple's older sister Amber performs as a cabaret singer under the name Maude Maggart and her half-brother is actor Garrett Maggart. Her half-brother Bran Maggart is a carpenter who used work as Apple's manager and driver.
WORDS COME FIRST, MUSIC FOLLOWS
Apple's creative process started when she was a child walking home from school, repeating words to herself over and over in time with her footsteps. Her innermost thoughts were merged with the cadence of her body and everyday movements, creating lean songs that express meaning in every beat and melody. As she told The Charlie Rose Show in 2006, "I never sit down and try to write songs. I just kind of rock around a lot with things in my head, and I like to rearrange the words [...] and I like making the rhymes, because I always get so amazed that you can always find a rhyme that makes exactly the right sense, like it was always meant to be there. I really like playing with the words part. And I'll do that without writing anything down, until there's [...] a verse or a chorus, and then I'll sit down at the piano and I'll match it to the words."
FETCH THE BOLT CUTTERS WAS MADE IN ISOLATION (BEFORE ISOLATION WAS A THING)
Apple made the album inside her Venice Beach home, a place she rarely leaves these days, except for early morning walks on the beach with her dog Mercy. At a time when so many of us are feeling trapped by our houses, with walls crawling inwards and doors standing staunchly in place, Apple's love for the structure she lives not just in but with, seems radical. She cites her love and gratitude for the house as a motivational force, telling NPR, "I want to repay this house by making it the music. Because it has been my mother, really; it's been the home of all the music. It's been the womb of everything, for all these years. It's been the womb of where I've developed into an adult. And so I really felt like it's an instrument in itself, it's the microphone: The house is the microphone, the house is the ambiance, the house is a member of the band."
A TEXT FROM KING PRINCESS LED TO FETCH THE BOLT CUTTERS' EARLY RELEASE
When Apple was presented with a schedule of slow-drip single releases and media appearances to create hype before the album came out, she was uneasy. A text from friend Mikaela Strauss, aka fellow recording artist King Princess, spurred her to act. "She just was like, 'You have to release your album now. People need new music to listen to. We need new music to listen to.' So it really just felt logical to me to be like, 'Look. My record is ready. I have no qualms about putting it out and not having a rollout and not being on the charts, or whatever. I'm not worried about that, so let's just push the button and let it go,'" she told NPR.
THE ALBUM'S TITLE IS TAKEN FROM TV DRAMA THE FALL
The line comes from Detective Superintendent Stella Gibson, played by Gillian Anderson, whose determination, imagination and ruthlessness puts her on a strange parallel with the serial killer she's trying to catch. As Apple tells NPR, "During this scene, Gillian Anderson is unlocking this door. They're supposed to wait for back-up to come and she wants to save this girl from behind this door, and it's like a throwaway little line. She just says, 'Fetch the bolt cutters.'" The statement itself isn't very memorable, but it comes at a time when the narrative of season two is coming to a climax and the promise of transformation is tantalisingly close. "I shot up from the couch, and I wrote it on the blackboard immediately and I said, 'That's what my album's called.'" To Apple, the phrase instantly took on a new meaning. "It's sort of 'Fetch your tool of liberation. Set yourself free.'"
FIONA APPLE LOVES DOGS
Like, she really loves dogs. She repeats "My dog and my man and my music is my holy trinity" over and over on "Shameika", the second track on Fetch the Bolt Cutters, an album that thanks and credits her five dogs in its liner notes and features a dog's face on the cover. Fiona Apple even cancelled her 2012 tour of South America to be with her dog Janet in her dying days. In a handwritten letter posted to Facebook, she stated, "I know that she is coming close to the point where she will stop being a dog, and instead, be part of everything. She'll be in the wind, and in the soil, and the snow, and in me, wherever I go. I can't leave her now, please understand. If I go away again, I'm afraid she'll die and I won't have the honor of singing her to sleep, of escorting her out. I know that I will feel the most overwhelming knowledge of her, and of her life, and of my love for her, in the last moments. I need to do my damnedest to be there for that. Because it will be the most beautiful, the most intense, the most enriching experience of life I've ever known."