Community Cup 2022 Artist Line-Up And Theme Announced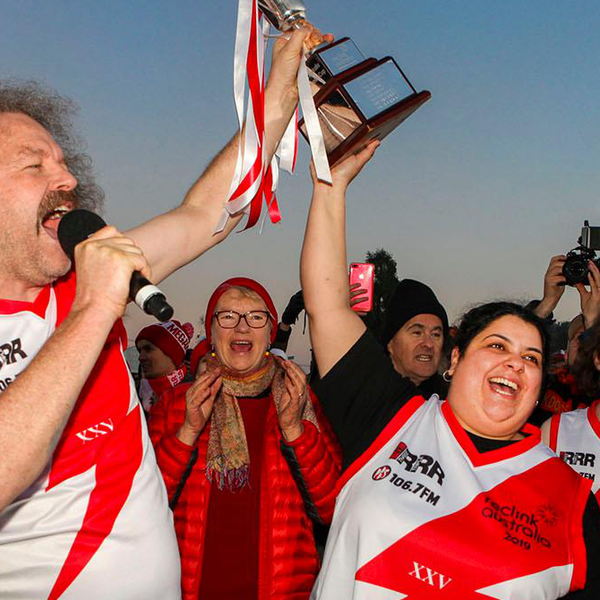 Following on from the announcement that the Reclink Community Cup will return to Victoria Park on Sunday, June 19, we can now reveal this year's music line-up and theme.
In honour of Gunditjmara/Bundjalung singer-songwriter Archie Roach AM and his extraordinary contributions over the years, the theme for the Cup's 26th instalment is 'Let Love Rule' - the title track of his 7th studio album.
We can also confirm that performing live on the day will be Melbourne rock royalty Cash Savage and the Last Drinks, alongside Private Function, Parsnip, intoxicating collective Auscuma Beats and neo-soul outfit Izzy. See the full lineup below.
"'Let Love Rule' is a song about love being the main sentiment in your life, the driving force that inspires you each day to do what you do," says Archie Roach of this year's inspiration.
"In today's world LOVE is expressed in many ways: through respecting one another, caring for one another and hoping that everybody is happy and well in their life," he adds. "That's what letting love rule means to me in today's world. Community is also a tangible expression of love and connection. What better way to express LOVE than to come together, playing a game of footy and listening to some great Australian music?"
In addition to all the onstage action, of course, there is the game itself - where the RRR/PBS Megahertz take on the Rockdogs in what is guaranteed to be an iconic clash of local legends.
The Community Cup is Recklink's biggest fundraising effort of the year, and in 2022 it will hopefully bridge the gap of funding lost throughout the pandemic to continue to support local communities through Reclink's structured sport and recreation programs for at-risk youth, people with mental illness or disability, people experiencing homelessness and domestic violence.
Tickets to the 2022 Reclink Community Cup are on sale Wednesday 11 May via Oztix.
$25 for adults, $5 for 3-16-year-olds, free for under 3s.
Volunteer positions for the day are now open and you can head here for more details.
2022 RECLINK COMMUNITY CUP LINE-UP
Cash Savage and the Last Drinks
Private Function
Parsnip
Auscuma Beats
Izzy.
CHECK OUT THE PHOTOS FROM THE LAST COMMUNITY CUP HERE
[image credit: Tameka Brumby]