The Community Cup Is Back!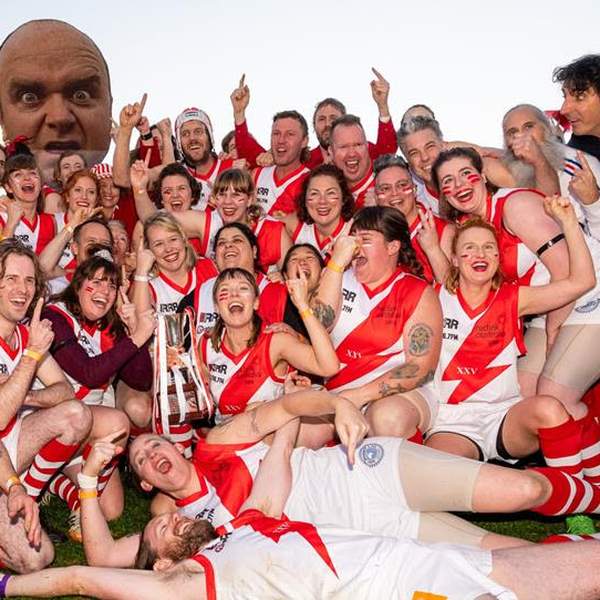 Dust off your Megaz scarf and get ready to rumble because the greatest event on Melbourne's cultural and sporting calendar is back! After a painfully long two-year break, the Reclink Community Cup will return to Victoria Park, Abbotsford on Sunday, June 19. 
Can you bloody believe it?
In case you've been living under a rock, the Community Cup is when the RRR/PBS Megahertz clash with the Espy Rockdogs at Vic Park.
The last time the Cup took place, 11,000 punters turned up for a sell-out event that had it all: streakers, a classy Tim Rogers goal from a tight angle on the boundary, and a brutally fought 1-point Megahertz victory thanks to a late goal from 3RRR's own Levi Heeringa. A true victory for the ages!
In addition to all the usual on-field shenanigans, a brilliant line-up of musical performances and the 2022 theme will soon be announced.
The Community Cup is Recklink's biggest fundraising effort of the year, and in 2022 it will hopefully bridge the gap of funding lost throughout the pandemic to continue to support local communities through Reclink's structured sport and recreation programs for at-risk youth, people with mental illness or disability, people experiencing homelessness and domestic violence.
Tickets to the 2022 Reclink Community Cup are on sale Wednesday 11 May via Oztix.
$25 for adults, $5 for 3-16-year-olds, free for under 3s. 
Volunteer positions for the day are now open and you can head here for more details.
CHECK OUT THE PHOTOS FROM THE LAST COMMUNITY CUP HERE
Photo credit: Dennis Timm