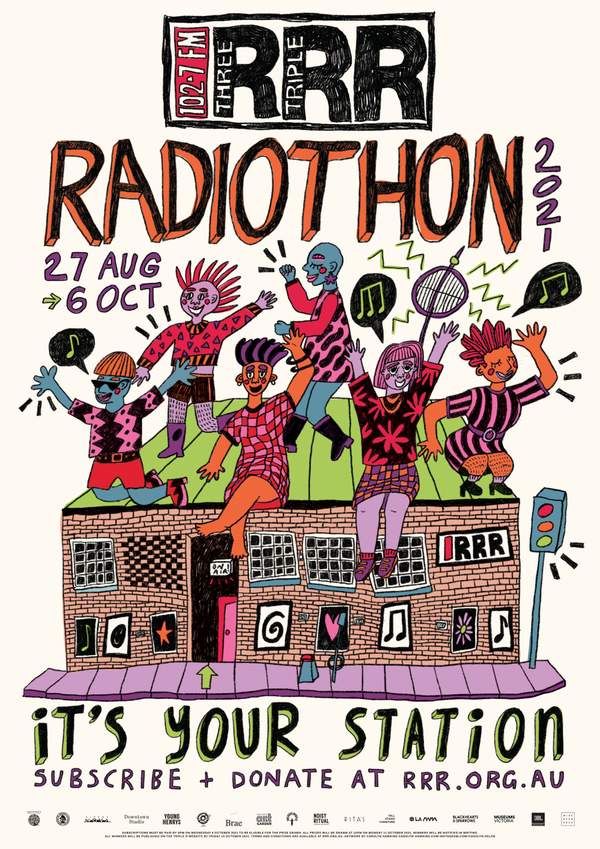 Fri 27 Aug – Wed 6 Oct
It's Your Station!
Radiothon is the biggest, most celebratory time in the Triple R calendar. It's when the station asks for your support – and your support has never been more important.
Triple R is listener-funded radio, which is a wonderful thing. It means that the station is truly independent. It also means that the station can provide a platform for music and opinions that may otherwise never be heard. Radiothon is when we ask you, dear listeners, to subscribe and donate, if you possibly can.
Since the pandemic first took hold, Triple R's volunteer presenters have tried to remain your constant companion, during times of lockdown and times of greater freedom of movement – and geez, as listeners we have leaned on them.
A lot of the time, our volunteers' work is selfless. They're not paid, and in fact, it costs them money and a lot of time to do their shows and off-air roles. There's travel costs, purchasing music, reading material, and in many cases equipment, and the greatest cost of all is the opportunity cost. Mostly, they're giving up paid work to not only present their show every week, but to spend hours preparing for it, too.
So this Radiothon, we celebrate our volunteers. Both those on air who have found ways to continue throughout this harrowing time, many of whom have lost their paid work during the pandemic, and the many volunteers who have stayed on their journey with Triple R, but may have lost the joy of the weekly hang in our once throbbing heart in East Brunswick.
We also aim to celebrate you, the listener who financially supports Triple R with a subscription and/or donation. That's why this Radiothon's slogan is It's Your Station!
Like 2020, 2021 has been an incredibly tough time for so many people, businesses and organisations. Due to the pandemic and the ongoing cancellation of arts and cultural events, Triple R's sponsorship revenue, which traditionally makes up half the station's income, continues to be affected. So Triple R really needs listener support to be as strong as ever, in order to stick around.
Listeners choosing to subscribe and donate has never been more important.
We really hope that during Radiothon 2021, more people than ever before will become proud Subscribers and Donors.
Subscribers also get a heap of great benefits that keep you connected to the station and the Triple R community:
discounts at businesses around town when you flash your Subscriber Card,
the chance to win on-air prizes throughout the year,
the opportunity to attend subscriber events, such as previews film screenings at local cinemas (when possible),
full access to the Triple R audio archives,
free event promotion via rrr.org.au,
The Trip magazine delivered to your letterbox three times a year,
the iconic 3RRR FM bumper sticker, and, most importantly,
the knowledge that you're helping keep this independent broadcaster on air for another year!
Ordinarily, Subscribers can also come to our super-special Live To Air shows in the station's Performance Space. As soon as they can kick off again, you'll be able to go in the running to get your name on the door. In the meantime, we're running virtual Live To Air events to keep you informed and entertained all year round.
When Is Radiothon?
Radiothon 2021 kicks off at 6am Friday 27 August and goes through till 5pm Wednesday 6 October.
Everyone who subscribes during this time goes in the running to win one of the ripper Radiothon prizes, too.
How Much Does It Cost To Subscribe?
There are a bunch of different categories you can subscribe under:
Passionate $150
Full $85
Concession/Strapped/Under 18 $40
Business $150
Band/Musician $85
DJ/Producer/Audiophile $85
Visual Artist/Designer $85
Pick whichever one suits you best!
How Do I Subscribe And Donate?
Just hit Subscribe and Donate. Then, simply follow the prompts.
You can also choose to "auto-renew" your subscription – this way you won't accidentally forget to re-subscribe at this critical time of year.
In case you don't have internet access, you can still give us a call on (03) 9388 1027 and one of our friendly staff members will process your subscription and/or donation for you – but please only do so if you can't jump online. Due to restrictions, we sadly aren't running a phone room as usual this year, so we don't have heaps of people available to take calls. Oh, and make sure you call between our office hours: Monday to Friday from 10am to 6pm and Saturdays from 10am to 4pm.
What Else?
Thank you!
People like you make Triple R the special and genuine community that it is. Like the volunteer presenters who have carried us all through this pandemic, Subscribers and Donors carry the station through directly funding it – no matter how big or small your contribution may be.
That's why It's Your Station. And that's something to be incredibly proud of.
Looking for the prizes? Head over this way.