From an episode of Uncommon Sense∙Presented by Amy Mullins
Interview
Uncommon Sense: David G. Haskell On The Beauty Of Listening In Nature And The Crisis Of Sensory Extinction
Host Amy Mullins is back and joined by American biologist David G. Haskell who talks about his new book on the evolution and beauty of sound in the natural world and across human history. David explains that to listen attentively is a political and moral act – "it ignites curiosity, it teaches us what's beautiful and broken in the world and then leads on to other things."
This message couldn't be more important as David shares how humans are now silencing and smothering many of the natural sounds of the living Earth. He tells Amy that, human-caused "noise is a very severe problem for many species. The problem is worst of all in the oceans, particularly near busy shipping lanes or areas of active oil exploration. ...It's a problem though that can be addressed through re-engineered ships, through careful routing of ships, and slowing them down in the most critically important areas, because when you slow down, even by 10% you reduce the amount of noise by an incredible amount." David also outlines how noise is a human health issue too.
"My invitation is to take this practice of just a few minutes a day – step outside and just listen without judgement, without any sort of expectation. Just be open to the pure diversity and physicality of the sonic world, whatever it is, whether it's human or non-human sounds."
David G. Haskell is a professor of biology and environmental studies at Sewanee: the University of the South, and is a Guggenheim Fellow. His new book is called, Sounds Wild and Broken: Sonic Marvels, Evolution's Creativity and the Crisis of Sensory Extinction (out now via Black Inc).
For Amy's past interview with David on The Songs of Trees, listen here (March 2020).
Photo credit: Katherine Lehman.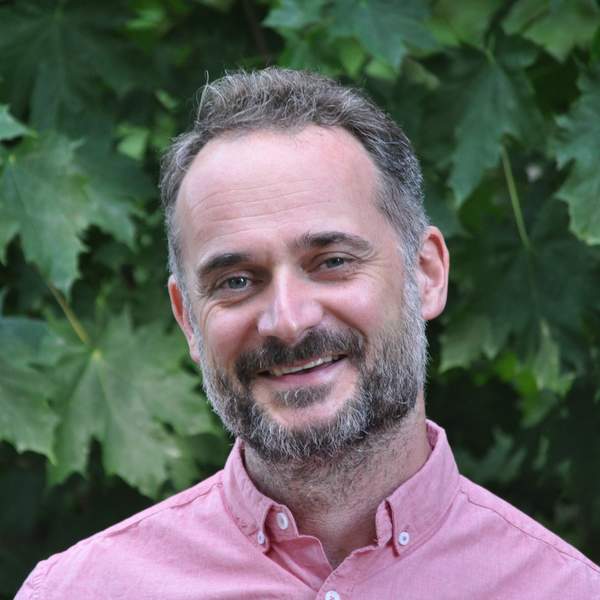 Listen to Uncommon Sense: David G. Haskell On The Beauty Of Listening In Nature And The Crisis Of Sensory Extinction
01:01:06∙12 July 2022
∙