Presented by Kate Kingsmill
Interview
Ed Kuepper and Jim White On The Distant Sky
They booked a tour before they had even played together, and now they're collaborating at RISING Festival for the second time. Ahead of their June 8 show, Ed Kuepper and Jim White join Kate Kingsmill on The Distant Sky to talk about the pair's admiration for one another and to give listeners a taste of the forthcoming gig with a special in-studio performance.
"The Dirty Three were like a totally different thing, they were quite original and I was taken with the band as a concept and especially Jim as a drummer," Ed tells Kate of the first time he saw Jim play live. It was 1994 and the trio were supporting one of Ed's bands. "Over the years we played on similar bills and I always really enjoyed what he was doing and thought he'd be a drummer I could work with."
As for Jim, he learnt to play drums to The Saints' 'I'm Stranded' on an armchair in his loungeroom while watching the legendary band on Countdown. Years later, he explains, Jim would happen across The Laughing Clowns playing at his uni: "they totally blew my mind."
Ahead of their forthcoming show at The Forum, where the pair will play songs from across Kuepper's extraordinary 45-year career, they talk to Kate about how after years in each other's orbit they are finally enjoying getting the chance to jam together.
Listen to the full interview below as well as a very special RRR in-studio performance.
Ed Kuepper and Jim White play RISING Festival at The Forum on Wednesday June 8. Head here for ticket details.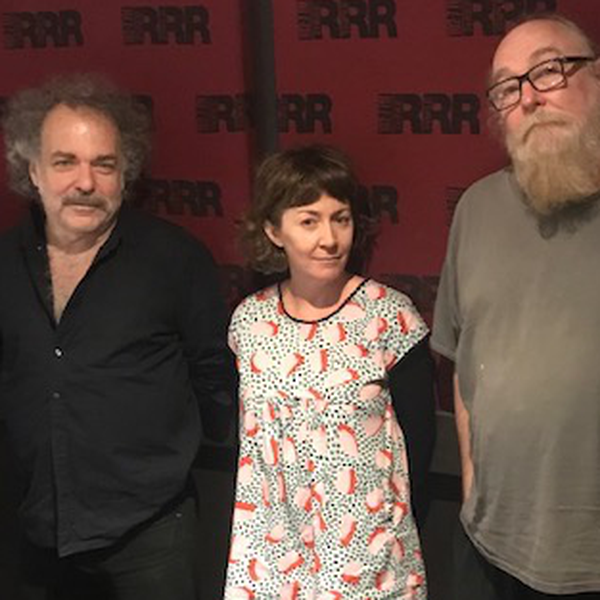 Listen to Ed Kuepper and Jim White On The Distant Sky
41:40∙18 May 2022
∙