Presented by Vanessa Morris
Interview
Banksia: Yasmin Silveira and Sharn Geary talk about new jewellery exhibition 'Layers of Blak' at Koorie Heritage Trust
Palawa artist Yasmin Silveira and Blak Design Coordinator Shahn Geary (Bundjalung) join Vanessa Morris on Banksia to yarn about new First Nations jewellery exhibition Layers of Blak at Koorie Heritage Trust open from 1 October 2022.
Yasmin Silveira, who was part of this year's Blak Design program along with ten other artists from different disciplines, explains how her work in the exhibition reflects elements of culture.
"My work is based on this sort of symphony of shell designs and shell shapes that I've used, that I collect on Bunurong Country, that also I wanted to pay homage to the shell collecting that my old people do on Tebrakunna Country in Tasmania.
"So I wanted to connect those two elements of culture together, and I think quite a few artists did the same - we all sort of pared back to using natural materials and paying homage to the land that we collected those materials on."
When determining the exibition themes Layers of Blak the artists came together with materials collected and used in their work, including ochre and shells.
"The theme layers, talks to the layers of Country and our layers of connection to community and our identity, our skin, our mob."
Program coordinator Sharn Geary talks about their experience with the Blak Design program and what to expect next:
"Next year's going to be ceramics for the discipline, so we're changing disciplines and expression of interest will be open very soon."
"Looking again to work with the NGV, RMIT, the Ian Potter Centre, we're going to be having two ceramicists mentors who will mentor the Blak designers and teach them new skills that they might not have had before, the same magic will happen again."
Artists include: Thelma Austin (Gunditjmara), Mandi Barton (Yorta Yorta/Barapa Barapa/Wemba Wemba), Lorraine Brigdale (Yorta Yorta), Nikki Brown (Bidjara), Deanne Gilson (Wadawurrung), Tammy Gilson (Wadawurrung), Elijah Money (Wiradjuri), Yasmin Silveira (Palawa), Sammy Trist (Taungurung), Dominic White (Palawa) and Tracy Wise (Barkindji/Ngiyampaa).
Yasmin Silveira also runs First Nations arts business Black Wattle Arts Collective.
Find out more about the Layers of Blak exhibition which is open until 19 February 2023 and the Blak Design program here.
Listen to the interview below.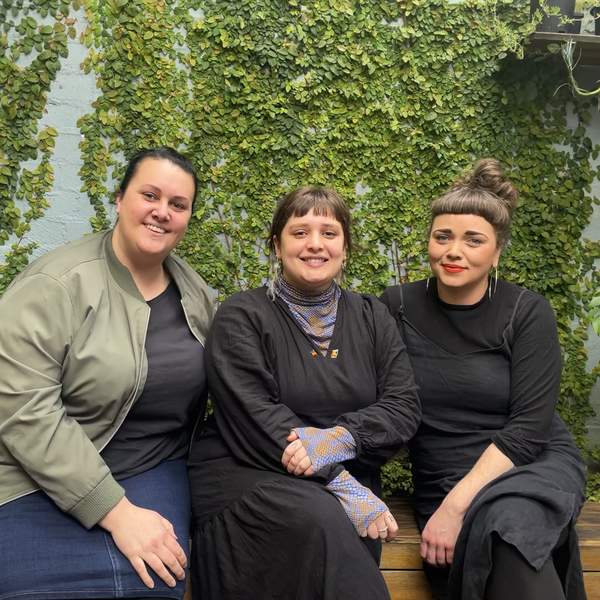 Listen to Banksia: Yasmin Silveira and Sharn Geary talk about new jewellery exhibition 'Layers of Blak' at Koorie Heritage Trust
15:38∙26 September 2022
∙