From an episode of Banksia∙Presented by Vanessa Morris
Interview
Banksia: Sean Miller talks ceramics and receiving the ICA South East Australian Indigenous artist prize for their work Galibay on Country
Gamilaroi artist Sean Miller joins Vanessa Morris on Banksia to talk about receiving the 2022 Indigenous Ceramic Award's South East Australian Indigenous artist prize for their work Galibay on Country.
Sean explains how prominent and intricate patterns featured in works represents their connection to country:
"I've got a little bit of a connection to dendroglyphs, they were the carved trees that were used in bora ceremonies back on country, there could have been a wedding or funeral tree there too - a lot of them were unfortunately chopped down back a hundred odd years ago. The patterning on these is my contemporary view of those patterns or symbols on there."
The 2022 Indigenous Ceramic Award exhibition features work from 26 Indigenous artists from across 16 language groups who came together during the recent awards ceremony, which he explains:
"It was such an amazing experience, just meeting artists from [..] different mobs from all around the country, with artists from as far as north Queensland, central desert mob, [..] even just Sydney, its amazing to talk ceramics and ideas and skills with other artists, I love it, its great."
Sean also talks about their work with The Torch, a program that has been providing art, cultural and arts industry support to Indigenous offenders and ex-offenders in Victoria through its Indigenous Arts in Prisons and Community program.
The Indigenous Ceramic Award exhibition is currently on display at the Shepparton Art Museum (SAM) until 4 December 2022.
Listen to the full interview below.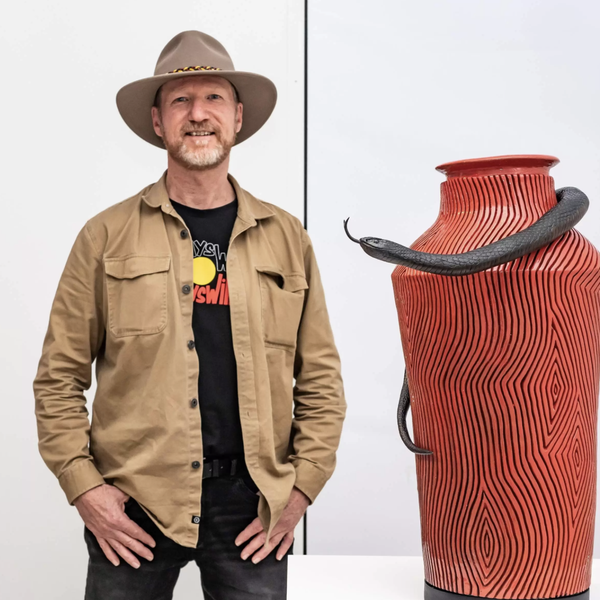 Listen to Banksia: Sean Miller talks ceramics and receiving the ICA South East Australian Indigenous artist prize for their work Galibay on Country
19:30∙24 October 2022
∙