Presented by Vanessa Morris
Interview
Banksia: Kiri Tawhai on Little Malop Street Project and Yookapa Exhibition
Proud Noongar, Ngapuhi and NgatiTuwharetoa woman, mentor, curator and artist Kiri Tawhai joined Vanessa Morris on Banksia to discuss the opening of the Little Malop Street Redevelopment Project at the Geelong Arts Centre.
Featuring four new permanent works from First Nations artists Kait James, Gerard Black, Tarryn Love and Mick Ryan, Kiri spoke about how she worked with each of the artists as the project's mentor, the uniqueness of each work and artist, and how they will play a role in educating future generations.
The pair also discussed Yookapa exhibition It Burns For Us which she co-curates with Tarryn Love and features works from First Nations artists and is currently on display at Platform Arts.
It Burns For Us features works from Jessi Rebel, Savanah Jenkins, Indie Bell, Bri Pengarte Apma Hayes, Bindy Wicks, Gerard Pol, Idris McChesney, Kelsey Love, Lowell Hunter, Kiri Tawhai and Tarryn Love.
Kiri also spoke about her arts practice as a multimedia artist.
Find out more about the Little Malop Street Redevelopment Project
It Burns For Us is at Platform Arts until 23 September
Image source: Platform Arts by Leiko Lopez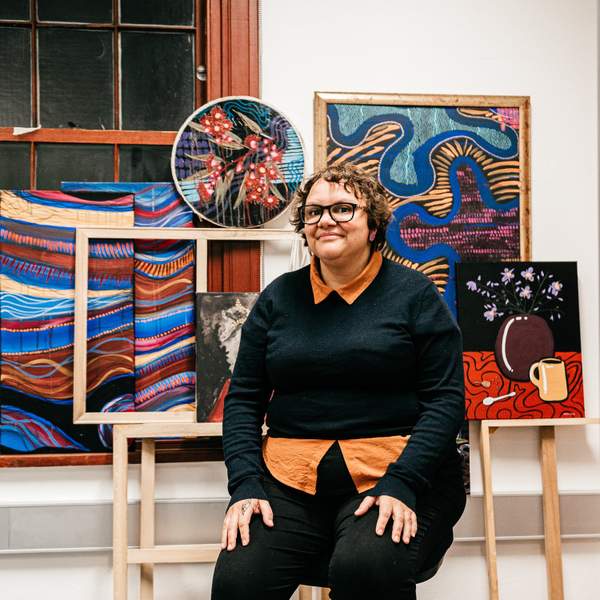 Listen to Banksia: Kiri Tawhai on Little Malop Street Project and Yookapa Exhibition
16:06∙18 September 2023
∙