From an episode of Banksia∙Presented by Vanessa Morris
Interview
Banksia: Kinya Lerrk's Emma Bamblett and Megan Van Den Berg yarn about their new shop and celebrating First Nations businesses
Kinya Lerrk's Emma Bamblett (Wemba Wemba, Gunditjmara, Ngadjonji and Taungurung) and Megan Van Den Berg (Dja Dja Wurrung, Yorta Yorta and Boon Wurrung) joined Vanessa Morris on Banksia to talk about their new shop in Preston and celebrating First Nations businesses.
The retail space showcases the Kinya Lerrk range including candles and plaques, as well as products from over 30 First Nations businesses and artists including Jala Jala Treats, Mick Harding's Ngarga Warendj, Blak Brews, Clothing the Gaps, Koorie Circle, Haus of Dizzy, and more, which Megan explains:
"I think Emma and I were quite blown away by, you know, just putting all of these products in the one shop, how amazing Aboriginal business is, and I think that's why some of the people liked coming to the shop, because they knew some of these things existing and then there's more."
Since opening in Preston, it has quickly become a space of connection and gathering for community, where in its first week Uncle Kutcha Edwards popped in often, which Emma explains, "Very privileged to have a three day visit from Uncle Kutcha and Aunty Fiona [..] three days in a row, he's come into the space, sat on the couch, made connections with customers.. also we've made a connection."
"I've now got my dad's artwork showcased on the walls... he produced a large mass amount of paintings and he loved Queen Aggie Edwards and she's painted in all of his pictures and it was lovely to have Uncle Kutcha come in and share with me his connection to Queen Aggie.. his great grandmother."
Kinya Lerrk which means women coming together in Wemba Wemba, first started creating acknowledgement of country plaques in 2019 and has grown since.
In the new year, they are planning to host workshops, a performance from Uncle Kutcha and exhibition from Jandamarra Cadd.
For more information visit the Kinya Lerrk website and for updates follow their Facebook and Instagram.
Kinya Lerrk is now open at 134 High Street Preston.
Listen to the full interview below.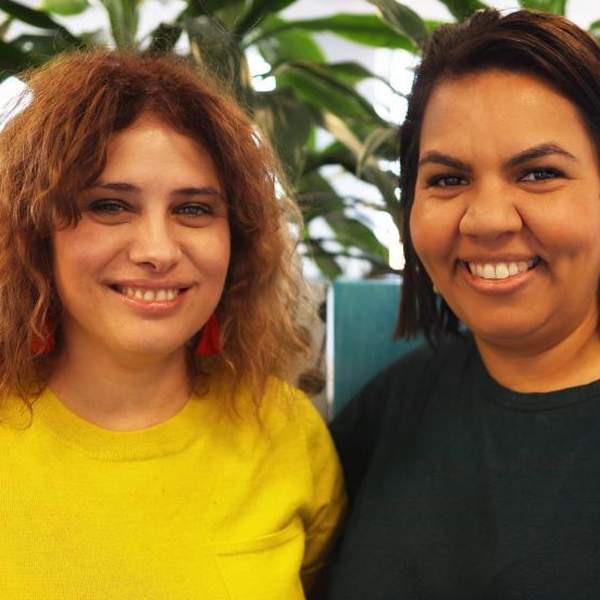 Listen to Banksia: Kinya Lerrk's Emma Bamblett and Megan Van Den Berg yarn about their new shop and celebrating First Nations businesses
18:47∙12 December 2022
∙