From an episode of Banksia∙Presented by Vanessa Morris
Interview
Banksia: Kimberley Moulton on Naadohbii: To Draw Water exhibition featuring First Nations artist works from Australia, Aotearoa and Turtle Island
Yorta Yorta woman Kimberley Moulton, Senior Curator for the South East Aboriginal Collection for Museums Victoria, joins Vanessa Morris on Banksia to discuss new exhibition Naadohbii: To Draw Water at Bunjilaka, Melbourne Museum.
Naadohbii: To Draw Water is a curational partnership between Museums Victoria, Aoetearoa's Pātaka Art + Museum (New Zealand) and Turtle Island's Winnipeg Art Gallery (Canada) where it was first premiered in 2021.
"We came together to develop this exhibition two and a half years ago, so to have it here, is really exciting."
In discussing the exhibition which features works from over 20 artists across two galleries at Bunjilaka including Birrarung and First Peoples, Kimberley explains:
"Its a mix of art, so we have digital works, projection works, we have beautiful paintings, cultural practice weaving and possum skin cloaks - for the exhibition I commissioned a new possum cloak made from Dr Vicki Couzens, who is a phenomenal artist and cultural practitioner."
Works presented in the Naadohbii: To Draw Water tell stories in a variety of ways that respond to water and eco events involving water around the globe, "the artist are reflecting on the environmental aspect of water, the political, the cultural aspect."
"I think for us as curators, we were really trying to create this access of solidarity between us all and communicating what water means to us, its such a pertinent issue [..] in the development of this exhibition"
"A couple of years there were huge, and continue to be huge ecocidal events happening around water, both in Canada, and in New Zealand in terms of broken treaties and pipelines and degradation of water and country - and then here in Australia, we had the mass fish kills in the Murray Darling Basin, and drought."
Naadohbii: To Draw Water is on display at Bunjilaka, Melbourne Museum until 26 March 2023.
Listen to the full interview below.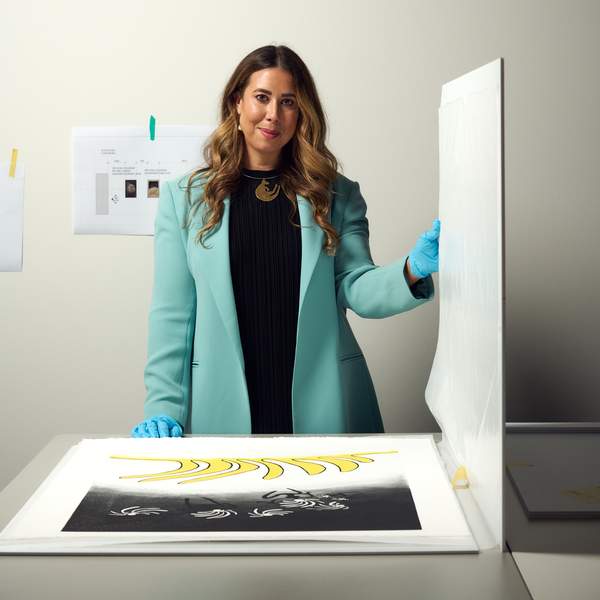 Listen to Banksia: Kimberley Moulton on Naadohbii: To Draw Water exhibition featuring First Nations artist works from Australia, Aotearoa and Turtle Island
18:35∙3 October 2022
∙