From an episode of Banksia∙Presented by Vanessa Morris
Interview
Banksia: Ian Hamm On New Exhibition At Koorie Heritage Trust
Hosted by Vanessa Morris, Banksia is a new pop-up show on RRR celebrating First Nations arts and culture.
Twenty-five years since the 'Bringing Them Home' report was launched, Vanessa is joined by Chair of Koorie Heritage Trust and member of the Stolen Generations, Ian Hamm, to discuss the new exhibition: Barring Nganjin - Our Path Our Journey.
Opening on Sorry Day this year, the exhibition is by, of and from Stolen Generations Survivors, who have used art as a way to share their stories.
"A lot of people have used art as a way of working through their life," Ian explains. "Telling their story, exploring their Aboriginality – baring in mind a lot of people grew up away from the community ­­– so the production of art is a really important thing for them to do."
Ian and Vanessa also discuss the work of the Koorie Heritage Trust, Connecting Home and Link Up, who all work assisting members of the Stolen Generations.
Listen to the full interview below.
Barring Nganjin - Our Path, Our Journey is on now at the Koorie Heritage Trust in Federation Square until mid August. Head here for more details.
[Image: Uncle Eric Thomas Brown (Gomeroi), "Men's Business 2", date unknown, synthetic polymer paint on canvas, 760 x 1040 x 45mm. Collection of Link-Up Victoria. Photo by Christian Capurro 2022]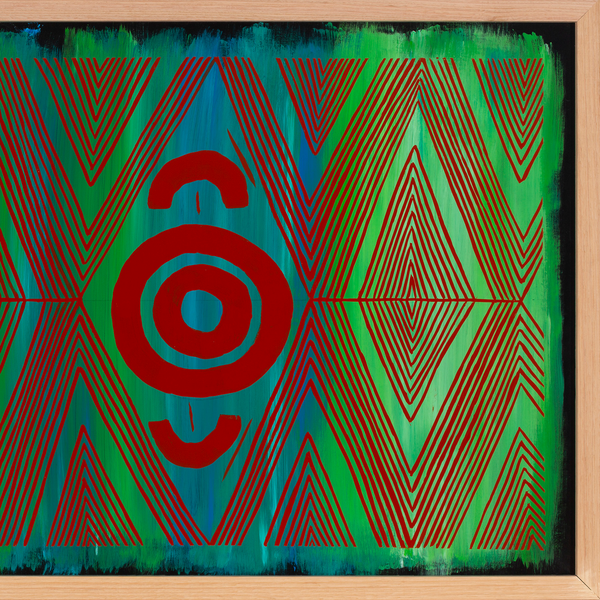 Listen to Banksia: Ian Hamm On New Exhibition At Koorie Heritage Trust
13:34∙30 May 2022
∙